It's World Bee Day and I am celebrating, along with many designers from Honey Bee Stamps and other companies across the nation. Did you know that the bee symbolizes community, brightness and personal power? I think that alone calls for a celebration and a special day! I created this bee-themed card to celebrate these beautiful striped darlings. Check out Honey Bee Stamps Blog for more inspiring ideas to celebrate the Honey Bee. 
To make the card, I used the following Honey Bee Stamps products:
To start, I stamped, color and die cut the bear, mini bees, branches, beehive and the word phrases. I die cut the cottage window three times and layered the pieces to make the window trim stand out a bit. I cut a rectangular piece of pattern paper to add to the back of the window (to look like wallpaper inside the house), and layered the elements.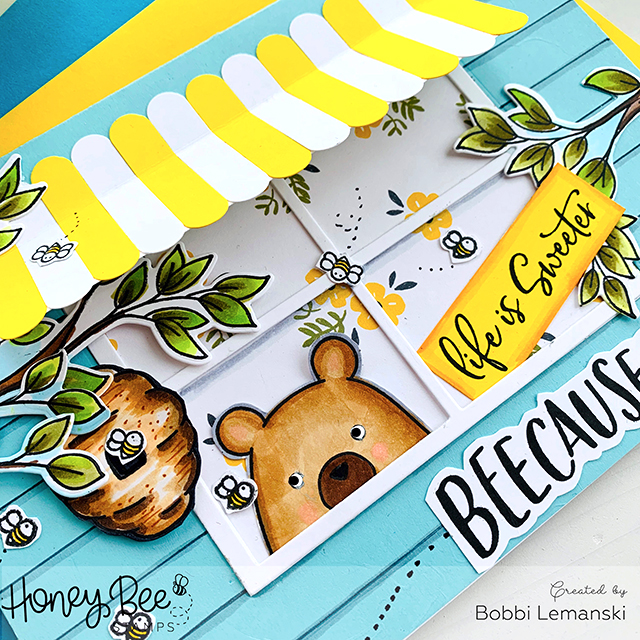 To create the card front, I used a ruler and fine gray tip marker to draw horizontal lines on the front to mimic siding on the exterior side of a house. I used my C3 and C1 Copic Sketch markers to add some shading below each line for a dimensional effect. I created the awning by adding vertical bars of color in white and yellow together. I have a punch that includes a rounded edge, but the awning could be made with any edge like straight or zigzag.  The Cottage window die set has a really cute awning die that you could use to make this, too. The die in the set fits the short side of the window so you would need to piece two together. Since I wanted my awning to be more dimensional and wider, I created this one instead. Once the awning strips were secured together, I used my Scor-Pal to create a crease at the top and added dimensional foam underneath the awning to make it pop out on the card. 
Once the major elements were adhered to the front of the card, the sweet mini bees were added. I also drew in a few black dots behind each bee to show motion in the air. I also altered Bill the Bear's eyes by coloring them in black and adding white to the lower right corner so that the eyeballs are focused on that cute beehive outside the window.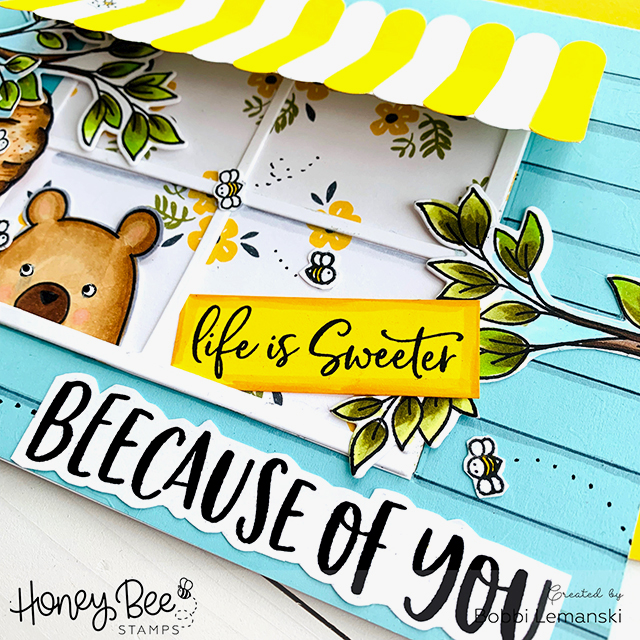 Thanks for visiting! I hope you have a BEE-YOU-tiful day! 
Adding h♥art into every design
Bobbi ♥ Design