Hello! We've got a new La-La Land Club Kit to share today and it is one that has been requested by many kit subscribers and followers. The kit is centered around offering support, hope and courage to those suffering from illness and/or disease. I feel like we all know someone fighting a health concern or something big in life. How nice to send a card and let them know you are there for them.  The La-La Land Crafts Club Kit includes Courage Marci and Here For You stamp sets as well as four dies – FIGHT letters, two awareness ribbons and the HOPE plate. I've got two cards to share that show off the kit contents.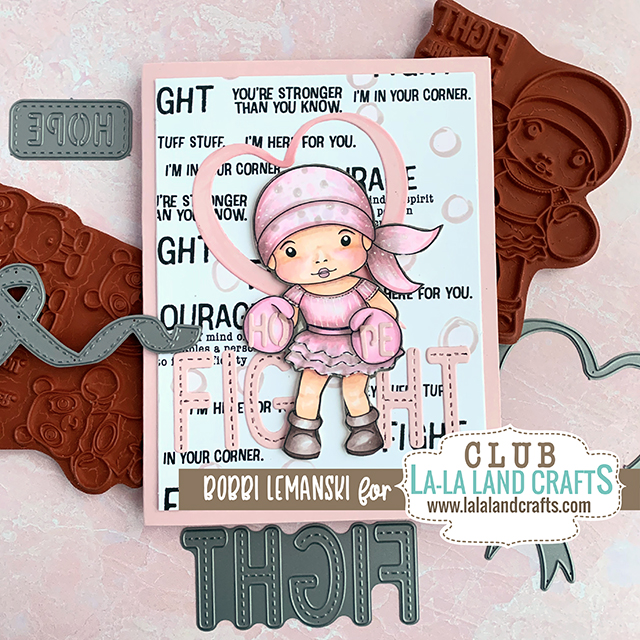 To make this 5″ X 7″ card, I used the hopeful and inspiring verses from the two stamp sets to create the unique background for Marci. I also added the heart-shaped awareness ribbon and the large stitched letters, FIGHT. The small hope letters were added to her boxing gloves, too. Marci was colored using the following Copic colors listed below.
TIP: For this card, I colored in Marci's entire head wrap, but you could color in the top portion to be hair and leave the wrap as more of a half wrap / headband design. Either way, Marci looks adorable!
Coloring Details
Skin: E04, E11, E00, E000
Cheek: RV11, RV10
Lip: RV93, RV91
Clothes and Head Scarf: RV11, RV10, E71, E70, white gel pen
Boots: E77, E71, E74
Fight Stitching: Fine-tip brown marker
Background Design: E70, RV10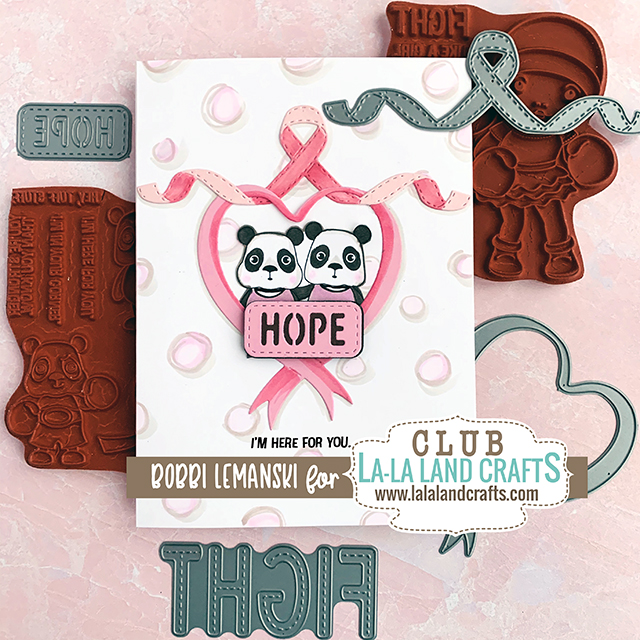 My second 5″ X 7″ second card uses the panda duo image from the Here For You set. I created a whimsical background with my Copics and layered the two ribbons. I intertwined the ribbons to allow the heart to hang down and create a frame for the two panda pals. The HOPE plate was raised by adding a brown piece of cardstock and black foam to the back. I wanted this word to really stand out on the card. Lastly, the "I'm here for you." phrase was stamped at the bottom.
TIP: Notice I added pink tees to the pandas to dress them up. It's a fun way to add a little personal detail. Here's the colors I used to color this card:
Coloring Details
Pandas: W1, W3, 100, RV10
Clothes: RV11
Background: E70, RV10
Ribbon: RV11
Finding the right words is hard sometimes when the situation is tough and the fight gets difficult. Last week, my oldest sister was diagnosed with cancer and started chemo treatments on Saturday. It was a tough day, but she needed to know we were there to fight with her and support her.  I plan to send a card here and there to let her know how much I care about her and that I'm here to help at any time. It's amazing how a few supporting and encouraging words and/or gestures can make a big difference in someone's day.
Sign up by December 25! Want this kit? Sign up by December 25, 2019 to receive this one in the mail. After December 25, this kit will no longer be available to purchase. Here's a link to the page to sign up. I'll be sharing two more cards later this month. Watch for those soon!
Here's a link to the reveal video! Caution: I have a cold so my voice is very rough in the video 🙁
Want to see more ideas and inspiration from me? Subscribe to my blog, BobbiHartDesign.com.
I'll send you updates on new posts!
You can also find me on Instagram as @BobbiHartDesign and on Facebook as BobbiHartDesign.
Bobbi Hartmann Lemanski, Bobbi Hart♥ Design,
Adding h♥art into every design