It's cold in Wisconsin and I'm ready to escape Winter and head to a warm place.  I was inspired by the idea of a vacation for my latest Inky Paws Challenge #89 project. This challenge is a sketch challenge with layers of cardstock and a circular focal point.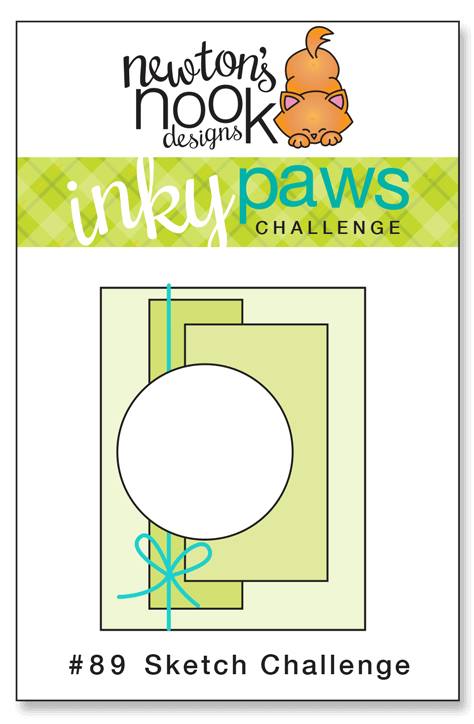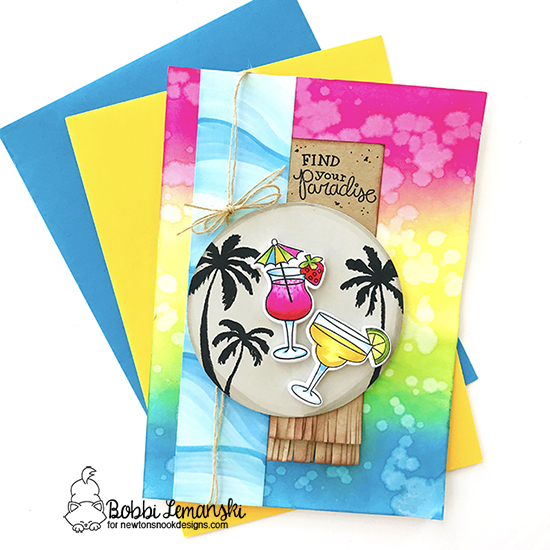 To create my card, I used Ranger distressed inks in Picked Raspberry, Squeezed Lemonade, Citron and Mermaid Lagoon for the background. I flicked water drops on the ink using a watercolor brush and used a paper towel to blot the cardstock dry. This made a fun "splotchy" look on the blended colors, like drops from the featured drinks. The sketch has two layers of cardstock over the background so for my second strip, I used Copics in B00, B02 and B04 and created waves to mimic ocean waters. My third strip is simply kraft cardstock that I cut slits in at the bottom to create fringe. My thought was to make it feel like a tiki hut roof with the fringe. Natural-looking twine was used to create the ribbon/bow in the sketch. For the focal point, I used the stamp sets, Paradise Palms and my very favorite set by Newton's Nook – Cocktail Mixer for the drinks. The drinks are "popped" up using craft foam cut to the same size using the Cocktail Mixer coordinating die set. I love these drink designs so much! If you check out my Instagram page, you'll see it is probably my most used set of all times! Love it!
I hope my card helps to transport you for just a moment to a warmer weather climate. Spring Break is just around the corner now!
It's your turn. Create joy to inspire your soul and allow you to shine on! Bobbi