There's one week left to participate in the Inky Paws Challenge #91. Link your card by the end of day, Friday, February 22, 2019 to enter. This week's challenge is a color challenge. Here's my card using the challenge colors – white, black, gray and pink. I used the following sets from Newton's Nook Designs to make this card:
My thought behind this card was to design a scene of humorous "surprises" for someone waking up on his/her birthday. The surprise could be a bunch of flamingos at your campsite (or in front of your living space) OR perhaps its finding a coon in your trash! The scene of surprises coordinates with the "surprise" phrase that I used. 
In our neighborhood, you'll often see a flock of pink flamingos in a neighbor's front yard. Our high school graduation committee "attacks" a house with flamingos as a way to get village families to donate to project graduation. You have to donate to get rid of the flaming pink flock!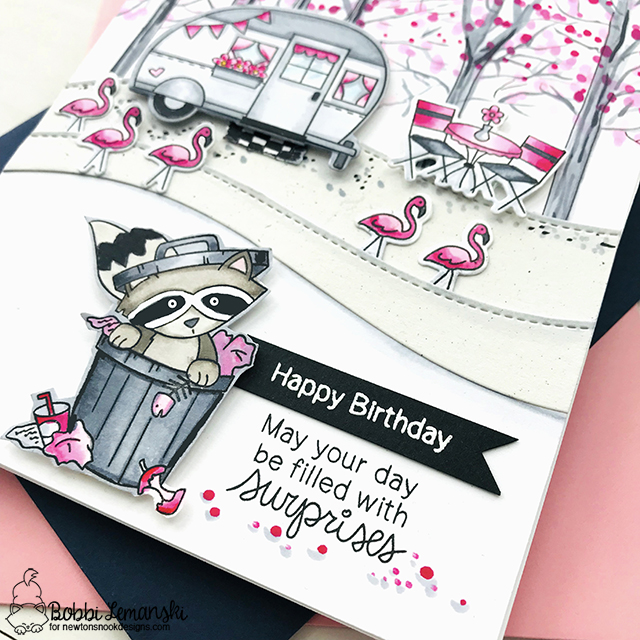 To create this card, I needed to make a foreground and background area. In the foreground is this cute raccoon peeking out of the campsite trash. Since the card challenge uses 4 colors, I needed to color all the trash in this limited set of colors. I kept the ground white and added a little color in the background.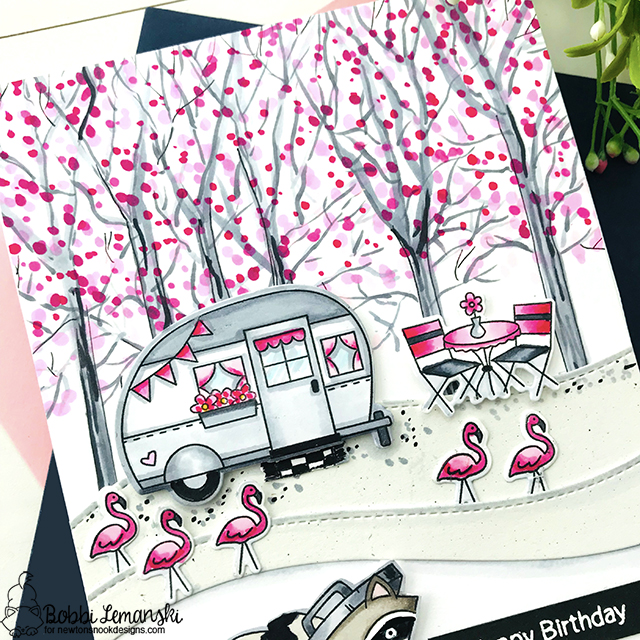 For the backdrop, I hand drew trees and limbs in grays and added leaves in pinks. I added the cute camper, patio furniture and flamingos for the campsite setting.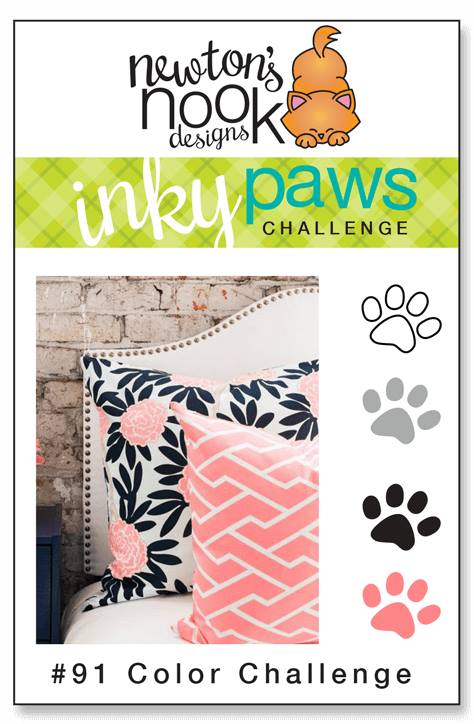 Now it's your turn to make a card using the color combo of black, white, gray and pink. The Inky Paws Challenge is a smaller challenge so entrants have a good chance of winning unlike some challenges. The winner is randomly chosen from the entries. Please note: you must use Newton's Nook products to enter. 
Thanks for visiting! Have a wonderful day filled with awesome surprises! 
Pouring my h♥art into every design! 
Bobbi ♥ Design