Dance and Twirl, Ballerina Bunnies! I'm not sure which one is cuter, but these bunnies are adorbs! This is a new set just released by Craftin' Desert Divas. I used all the images in the set and one of the phrases to make this card. The letters DANCE were die cut from the die set called, Stitched Alphabet Dies. I used distressed inks in rainbow colors and then splotted water on top followed by a paper towel blot to soak up any extra water. I love the effect this gives.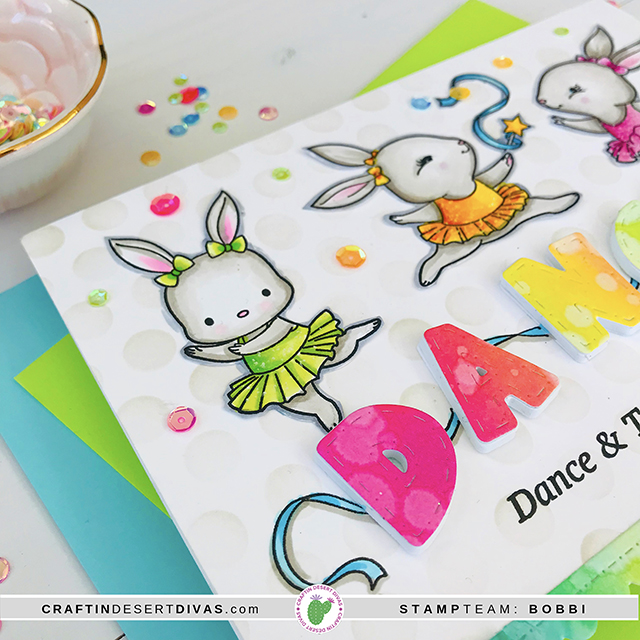 Each DANCE letter was also backed with white fun foam (2mm) so that they could be dimensional on the page. I wanted a piece of ribbon to flow behind the letters so instead of using real ribbon, I hand drew a few joining lines to resemble a twisted piece of ribbon. This is super easy to do. In fact, I masked and stamped the ribbon in the set to create the ends and drew in the middle sections between the letters by hand.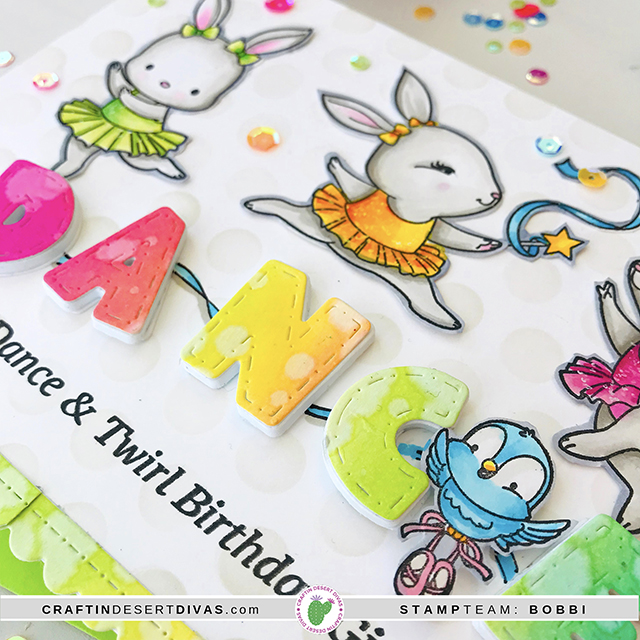 The blue ribbon behind the letters helped to tie in the theme of the ribbon with the bunny and bird images in the set. There's a sense of unity with the repetition of the blue ribbon design.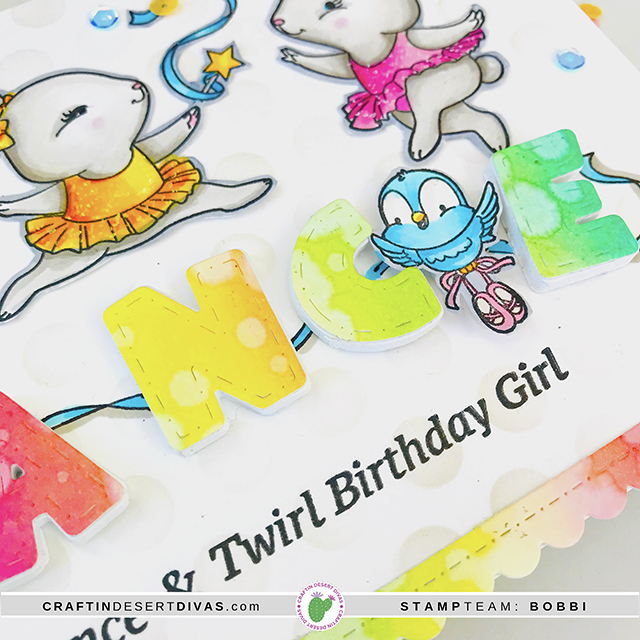 This little bird design is so adorable. I felt he needed his own space on the card. I just had to highlight him here!  Lastly, the scalloped edge at the bottom of the card was cut using the Inside Scalloped Rectangle Dies. I used one side of the rectangle to create a whimsical edge to the card. My card is 5″ X 7″ in size. These bunnies are a very nice size!  I think this will be a perfect birthday card for my grand-niece who is a little ballerina! 
Thanks for visiting! Have a perfectly delightful day. I hope you dance! 
Pouring my h♥art into every design! 
Bobbi ♥ Design