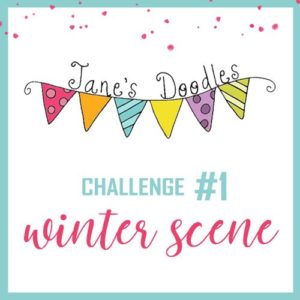 Today is the first day of the very first challenge for Jane's Doodles.  Challenge #1 is a winter scene challenge. Grab your stamps, markers and inks and and let's have fun! You have until 11:00 PM CET (i.e., 4:00 CST) on 1/21/2020 to link your card on the the Jane's Doodles Challenge Blog. You can find details of the challenge here.
For my inspiration card, I've created a winter scene valentine. I'm using the following Jane's Doodles products:
I have hearts on my brain these days and I love the idea of making a wintery card that is not for Christmas or New Years. In Wisconsin, Valentines Day usually has snow on the ground or snow falling from the sky so why not make this challenge card a valentine card?!
This is a 5″ X 7″ card. I used Neenah 80 Lb. Classic Solar Crest cardstock for my card front and 110lb. for the card base. To make this card, I created a mask for the evergreen and stamped the background with overlapping trees from the sets.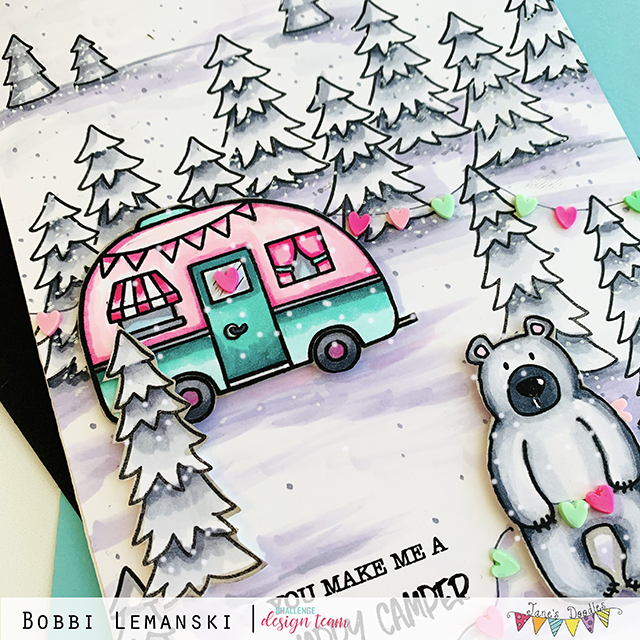 I stamped, colored and fussy cut the camper, one tree and the bear and added them to the scene with foam tape to make them stand out. Next, the phrase was stamped next to the bear. I also added thin black lines using a fine-tip black felt marker between the camper, trees and bear for a continuous string of hearts. Small Clay Bit hearts in minty greens and pinks were hung (adhered) to the string using glue.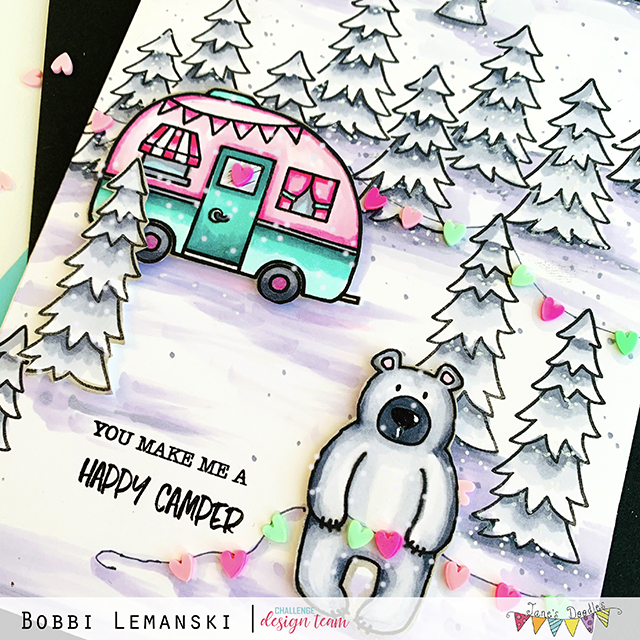 Shading on the ground in blue violets and cool grays plus sprinkles of snow falling from the sky creates a white and bright scene background for this sweet bear and vintage camper. I think this could be a sweet valentine for someone you'd like in your "camp," someone you actually camp with or someone you'd love to share a campfire with someday!
Now it's your turn to create your own one-of-a-kind winter scene. Make your card, link it to the challenge blog, then wait to see if you are the random winner of the $30 challenge giveaway. Details on the Jane's Doodles Challenge blog! Shop Jane's Doodle's anytime here! 
If you want to see more ideas and inspiration from me, subscribe to my blog, BobbiHartDesign.com. You can also find me on Instagram as @BobbiHartDesign and on Facebook as BobbiHartDesign.
Bobbi Hartmann Lemanski, Bobbi Hart♥ Design, Adding h♥art into every design