It's Blog Hop Day 1 and you're at Bobbi Lemanski's blog!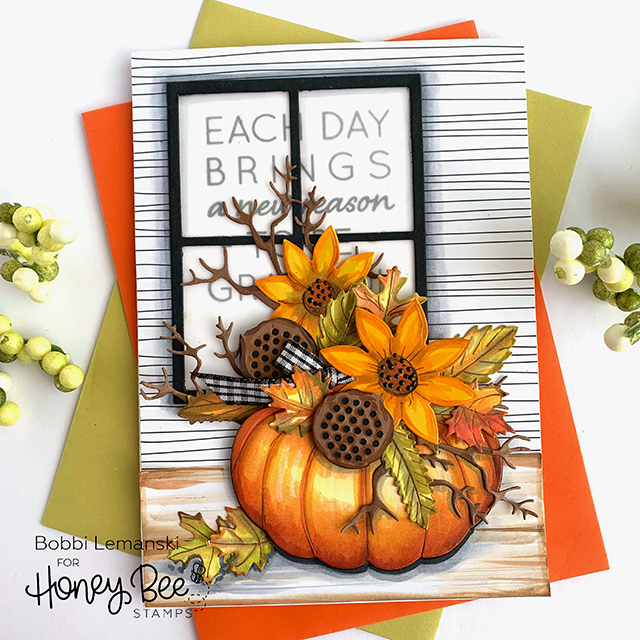 Y'all! It's Fall at Honey Bee Stamps. Melissa and team's latest release is all about Autumn Blessings. I feel very blessed to be part of the Honey Bee team. I get to design and create with all its wonderful stamping products. Today is no exception. I'm excited to tell you its been INSPIRATION WEEK all week on the Honey Bee Stamps blog and today we're doing a Blog Hop with a chance for prizes. Two people will win a prize pack worth $50 on each blog hop day, Friday, 8/30 and Saturday, 8/31. That means you have four chances to win $50 by commenting on each blog, each day. Also, don't forget to check out all the new sets and designs on the Honey Bee Stamp blog. All week long the entire design team has been sharing ideas using the new fall release, Autumn Blessings. Let's get hoppin' with my card for the blog hop today. There's a link to the next blog at the end, too.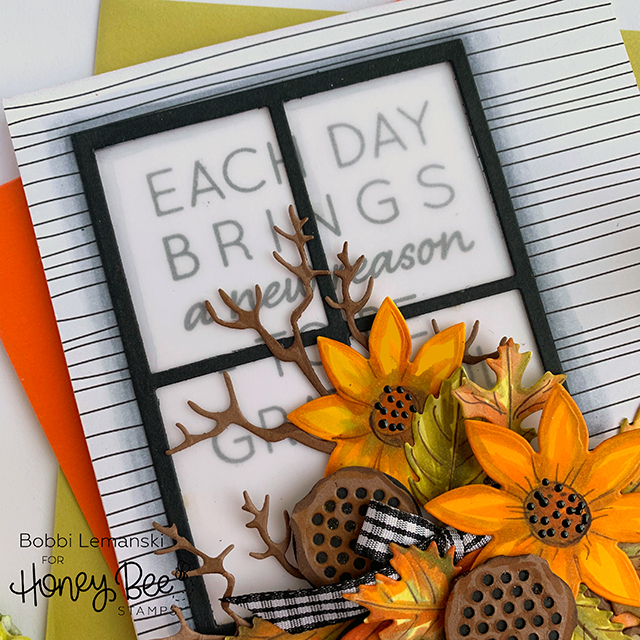 My card uses the new Fall Bouquets die set along with the Grateful Each Day stamp set. These two sets pair so well together. I'll be sharing another card using this same combination of sets, but with a whole different look on the Honey Bee blog on Sunday, 9/1. Watch for that soon!  Today's card also features that fabulous Cottage Window Die that I've used a few times already. It's the perfect sized window for my cards. I grew up working in my mom's floral shop so this card was right up my alley. 🙂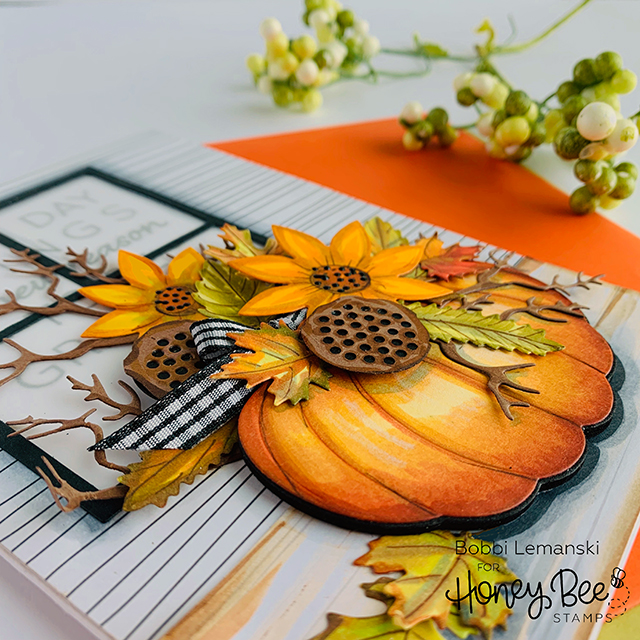 This card comes with a lot of texture and interest. First the pumpkin has been raised using black craft foam under for a nice solid dimension. Next, all of the flowers from this die set layer together to create beautiful works of art. I also added some Liquid Pearls in black to the centers of some of the flowers for more texture and appeal. (You can find Mercury in the store which would work, too.) The background for the front card panel is made of two patterns papers. The top is a stripe pattern paper from The Bee's Knees 6″ X 6″ paper pad and the bottom portion is a wood-look paper from The Great Outdoors 6″ X 6″ paper pad. I added some "aging" to the bottom wood paper using my Copics in browns for more dimension.While both papers subtle, they offer a layer of texture to this card.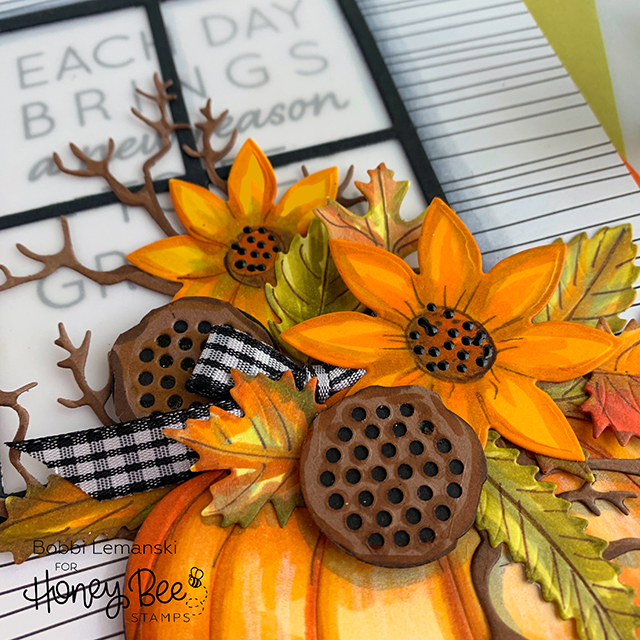 What's fun about this window is that there is vellum inside it for the glass panes and you can look right inside the card to see the beautiful Grateful Each Day phrase inside. I'll show the inside in just a bit. The vellum gives it a realistic feel and captures your attention – soft on the outside and bold on the inside. 
I also wanted to share how I made those dried lotus pods and fall sticks in the bouquet. The lotus pods were made by simply using one of the flower center dies in the new die set and circle die cutting around it. I also fussy cut a few curves in the outer circles to make them less perfect, like a dried pod and added a smaller black piece of cardstock behind the open circles of the pod. I think this looks pretty cool and is another way to get an element for your fall bouquets. The sticks in the bouquets are from the Haunted House Add-On die set (also new in this release). I cut up the tree to make sticks for my arrangement. They don't look "creepy" in this bouquet!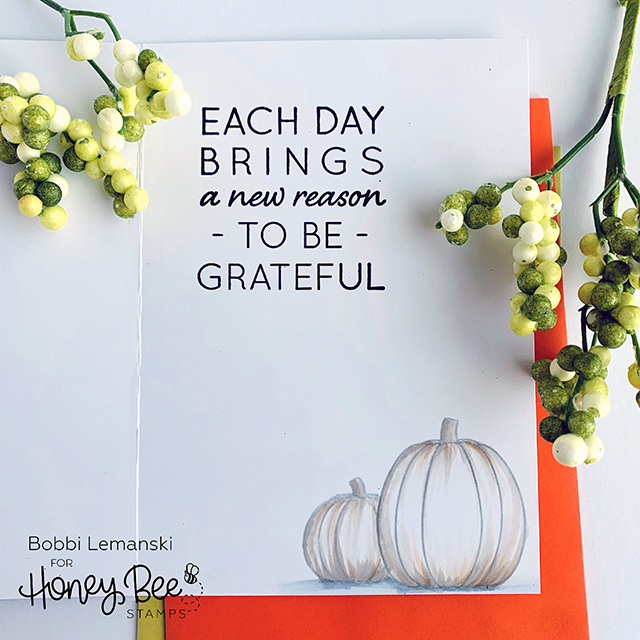 Here's a look at the inside of the card. You can see the verse that shows through from the window and then I added some pumpkins in the lower part using the stamp set, Pumpkin Patch, another set also part of this release. I wanted the inside to be more balanced so by adding the pumpkins there's a little extra surprise inside!