Hi friends. It's time to celebrate the new winter and holiday sets by Jane's Doodles. Jane just release three new clear stamp sets and one new stencil in her store including:
My tags today feature the new Merry Mice stamp set and the new Drops Stencil.
Hop with us today and leave a comment at every stop for a chance to win a free set of your choice. Winner will be announced on Monday by Jane herself on her IG and blog pages. Also, FREE SHIPPING all weekend long. There is no code needed. You can shop now HERE before she sells out of these sets!  I have the blog hop stops listed at the end of this post so watch for it. Also, don't forget to leave a comment at my stop, too. Let me know in the comments which tag is your favorite! I'd love to know.
About the Tags…
For all three tags, I used the following Copic marker colors:
Reds: R89, R46, R29, R22, R17, R14, and R81 and Roo (for cheek blush and ears)
Red-Violets: RV09, RV55, RV02, RV00
Blues: B05, B02, B00, B000
Oranges: YR68
Yellows: Y38, Y19
Grays: C5, C3, C1, C0, C00
Greens: YG67, YG17, YG03
Browns: E59, E57, E55, E43, E42, E40
Plus I used my Gelly Roll White Pen for highlights and snow
Jane sent me some sequins in my last order (so like her to do this little add-on) so I used them on all three tags. I love pink and orange together and when you add the bold turquoise blue, it really makes an impact on gifts under the tree!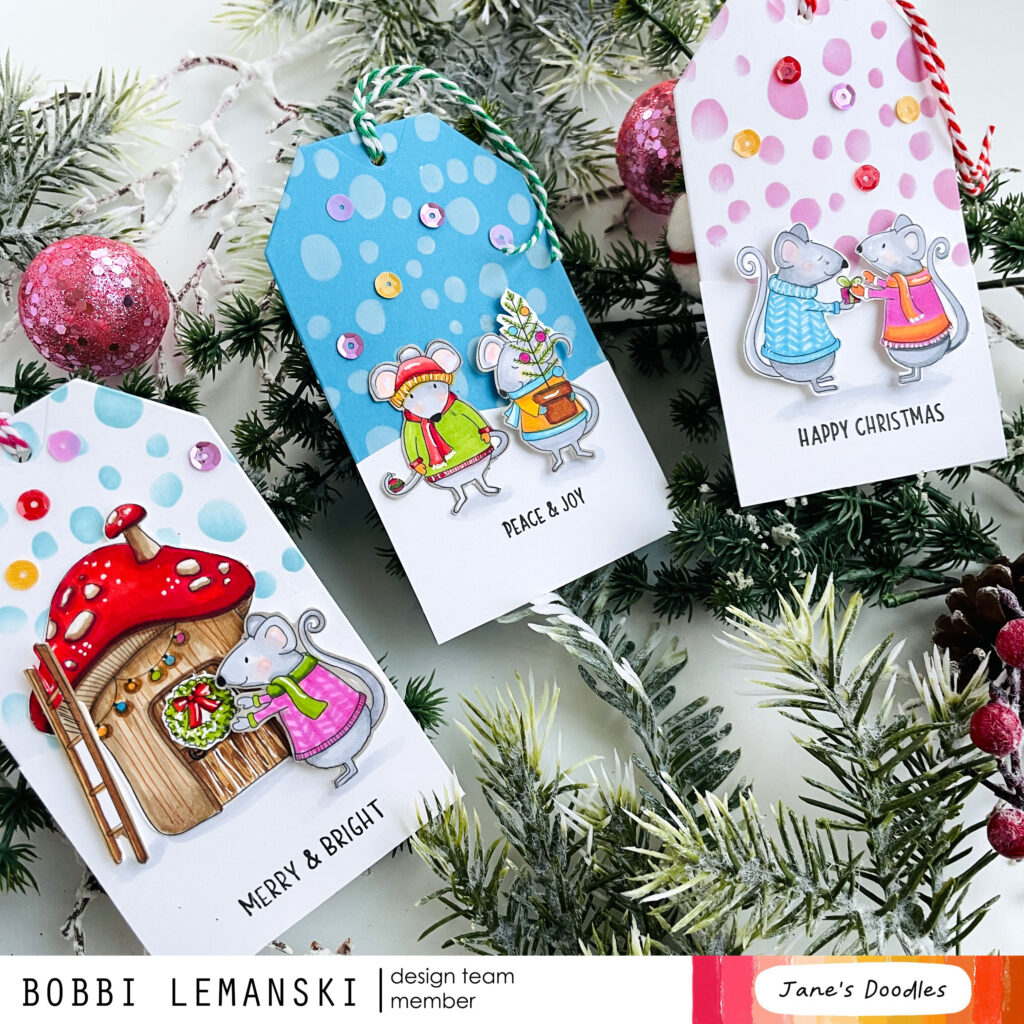 There's four cute mice and a really adorable mushroom "hut" in the set along with phrases, a ladder, wreath for the door and more. I used most of the items on these three gift tags for Christmas. I used thicker Baker's Twine I bought at a Walmart a few weeks ago for the tag strings. They came in green, raspberry and orange along with three other colors.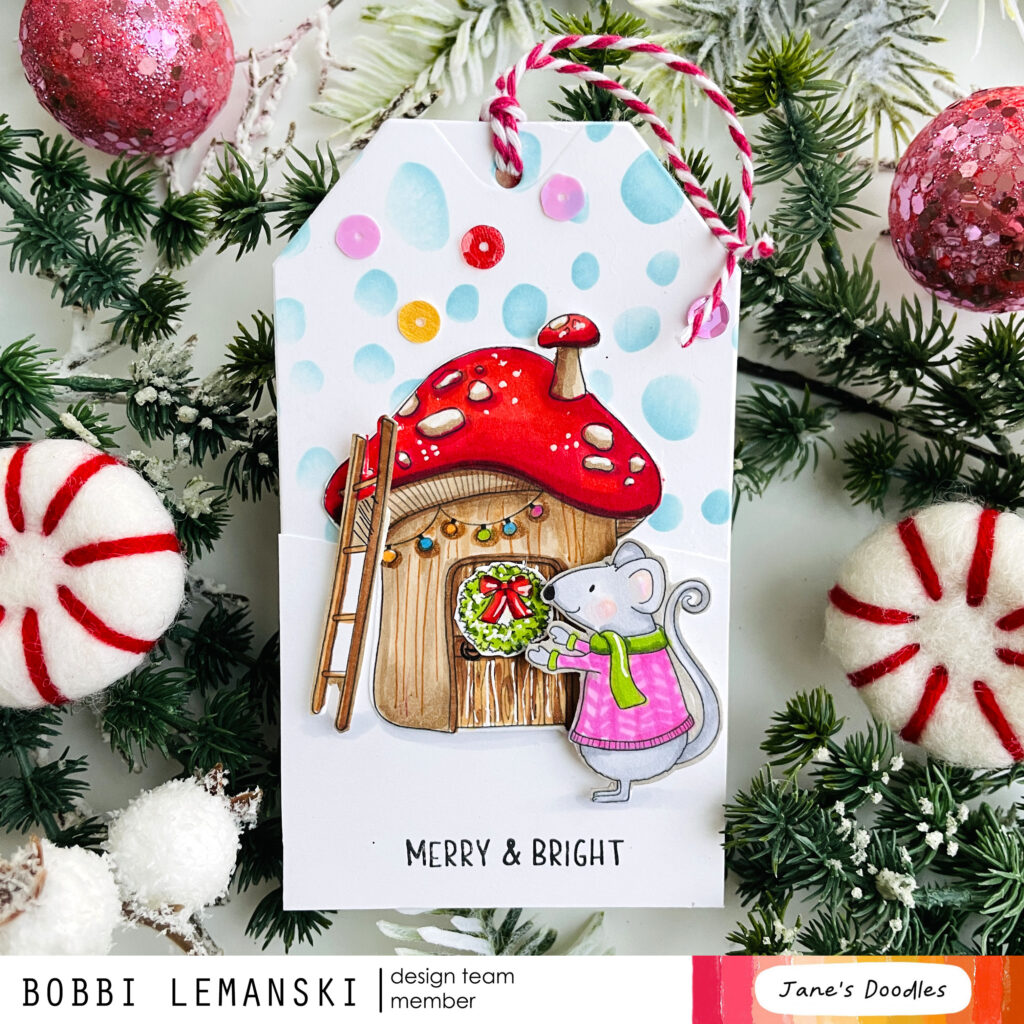 My first tag features the cute mushroom house and hands out mouse. I think it looks like she is fixing the wreath for the holidays. Her hut has lights and everything. I used foam tabs under the mouse and ladder to create dimension on the tag. I'm using the Hero Arts Nesting Tags dies. I used the largest size for each tag. The phrase is from the same set.
For the background, I stencilled on the organic snow shapes from the Drops Stencil. This stencil is new! I used Mermaid Lagoon Distress Oxide Ink for the blue color.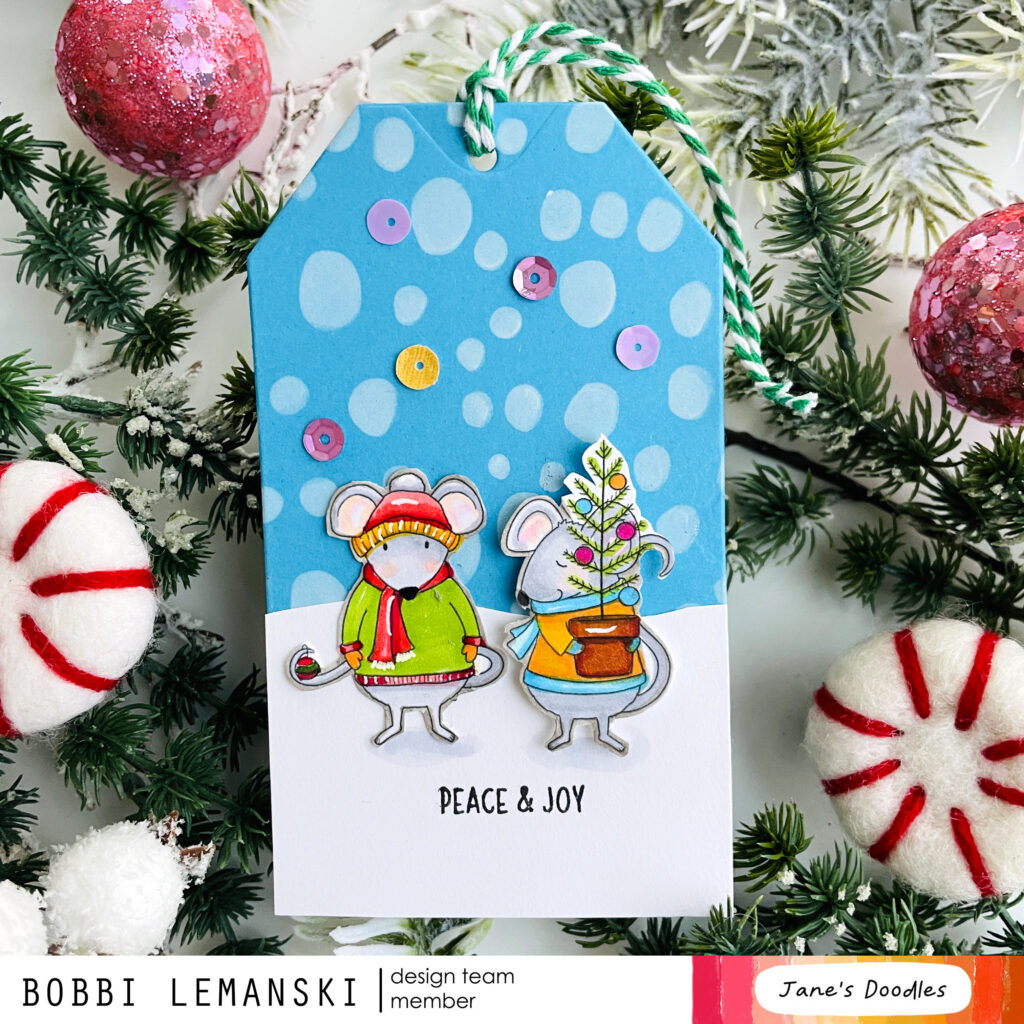 My second tag features the adorable mouse holding a tree and her Christmas buddy. I decked them out in bright winter clothes that will really stand out on a gift under the tree.  The Drops stencil filled the sky with organic snowfall which I love. I used my Honey Bee Stamps Bee Creative white ink pad to stencil the color on. This product is new and amazing, especially for snow on your holiday projects. The phrase is from the new set, Happy Christmas. I think it looks like the names of the mouse which is pretty cute!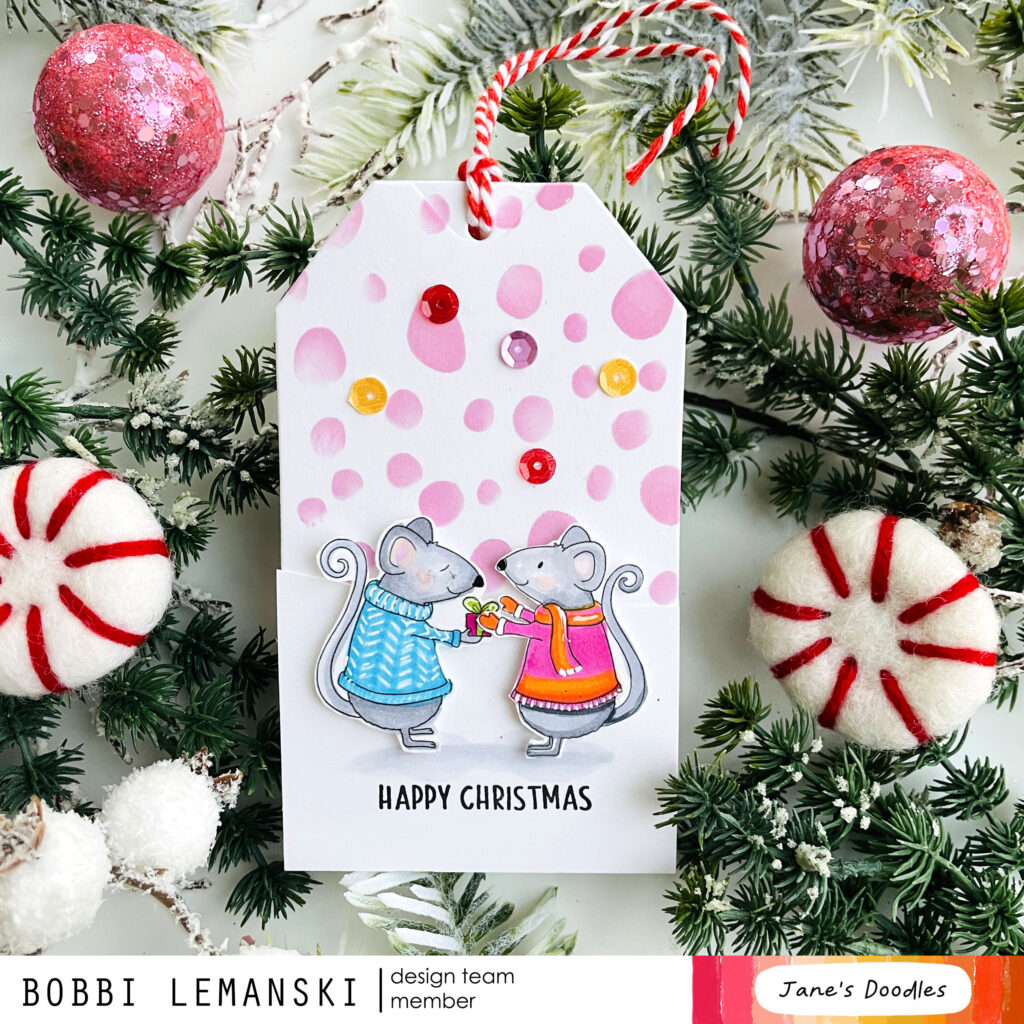 For my third tag, I used the two mice with hands out. One is holding a gift for the other. How cute is this couple! After all, Christmas is about giving. I used the Drops Stencil for the snow fall and Kitch Flamingo Distress Oxide Ink for the color.
You can shop the entire Jane's Doodles store here. If you decide to place an order, please use the links in this post so that Honey Bee knows which ideas inspired you!
Thanks for stopping by today. If you want to see more ideas and inspiration from me, subscribe to my blog, BobbiHartDesign.com. I'll send you updates on new posts! You can also find me on Instagram as @BobbiHartDesign and on Facebook as BobbiHartDesign.
HOP ORDER
Marion https://mademarion.vagg.org/
Neha https://periwinkle-creations.blogspot.com/
Bobbi https://bobbihartdesign.com/
Lien https://studiokatoblog.wordpress.com/blog/
Claudia http://claudiacubas.blogspot.com/
Tinne https://www.instagram.com/robinette_crafts/
Katja https://www.instagram.com/kati_stampingchicks/
Sam (guest) https://www.sams-studio.ca/
Laura (guest) http://www.laurafadora.com/
Jane's Doodles blog https://janesdoodles.blogspot.com/