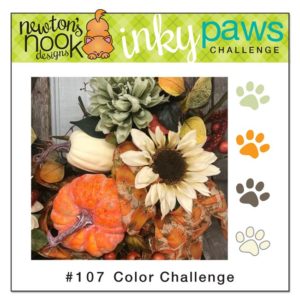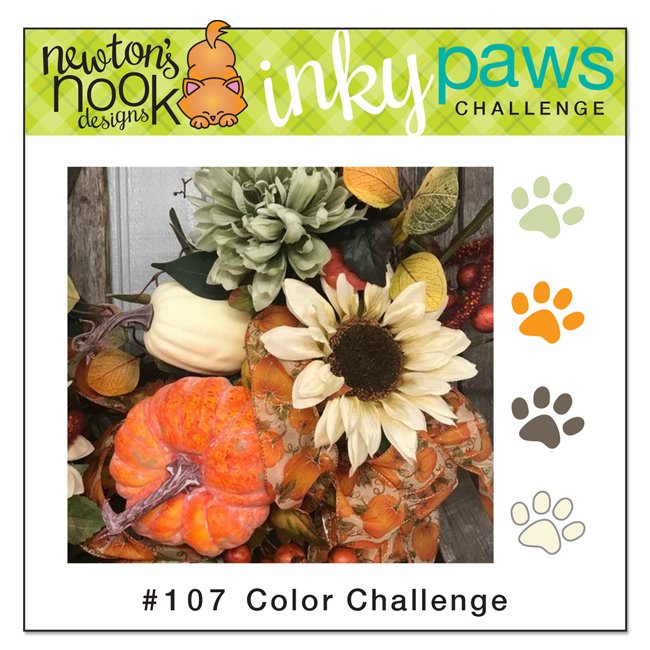 Hey there! What?! What the Cluck?! The Inky Paws Challenge #107 due date is fast approaching. Link your card by this Friday, October 8, 2019 to participate. Use Newton's Nook products to be eligible for the random drawing for a $20 gift credit to the Newton's Nook Designs store!
My inspiration card today uses the color scheme required in this color challenge of moss green, orange, brown and cream. I used a newer stamp set called, Cluck by Newton's Nook Designs. This is a set with a whole lot of personality and fun characters! The phrases are pretty funny, too! :0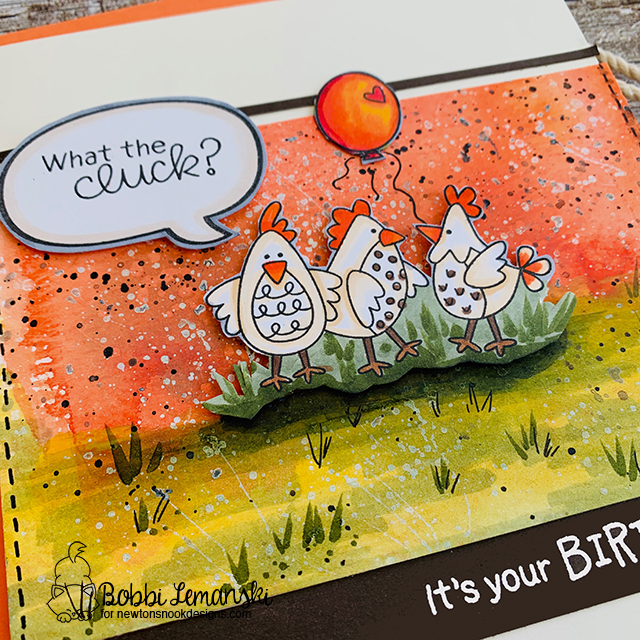 To make this card, I started by adding watercolor to my watercolor paper strip in greens and oranges. I admit, my undertone is more of a yellow green than a moss green, but I applied some Copic coloring over it in a moss green. I used BG93 and some other greens to make it more mossy for the challenge. I also splattered white paint and some black watercolor paint on top of the washed background for more interest in the background. One may see it as a bit messy, but I love a little mess or grunge at times! Some blades of grass, pebbles and shading were added to the green ground, too.
I stamped, Copic-colored and cut the chickens. I have the coordinating die set for this set, but I wanted a little ground beneath their feet so I fussy cut this particular image today. I added more moss green color around their feet and added some foam tape behind the image to "pop" it up off the background.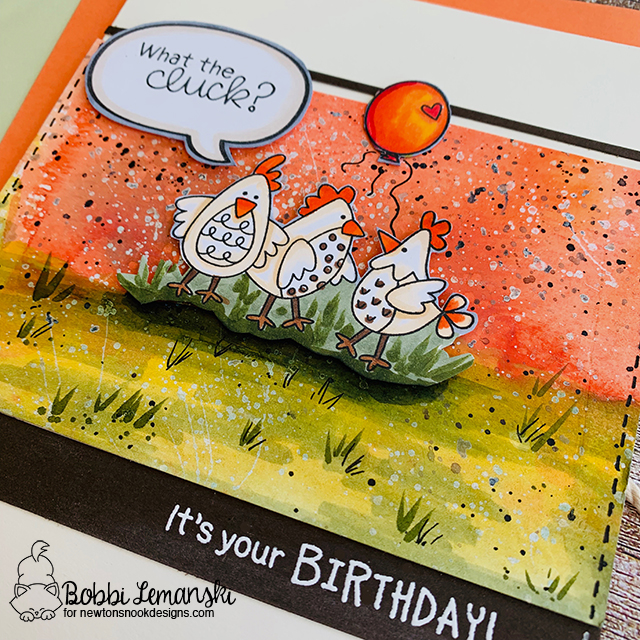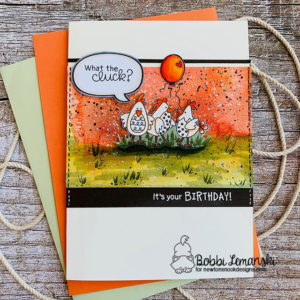 To assemble the card front, my feature watercolor strip was added to the front. A thin strip of brown cardstock was added above it to bring some brown to the top. I also added a strip of dark brown with the phrase, "It's your birthday" (embossed in white) below the watercolor feature strip on this warm gray 5″ X 7″ card base. I added some dark brown stitching to the sides of the strips as if they were sewn on the front. Lastly, I had to add that funny phrase in a speech bubble and pop it up using some foam tape underneath it. I also added an orange balloon to the birthday chicken. I think they may a cute trio of celebrating chickens!
See you over at the Challenge. I can't wait to see what you create!
You can find me on my Instagram as @BobbiHartDesign and on Facebook as BobbiHartDesign.
Bobbi Hartmann Lemanski, Bobbi Hart♥ Design,
Adding h♥art into every design