Limit 6 items… Don't you just hate when you have seven items and the limit is six in the dressing room? Well, our sweet and adorable Cheeky Honey by The Greeting Farm is pampering herself with some retail therapy today. While she looks fabulous in her dress, she will look great in those six items in her dressing room, too. 🙂 This adorable woman is part of the Cheeky series of stamps by The Greeting Farm. Voluptuous and attractive, any woman (or man) would probably enjoy this stamp on a card. 🙂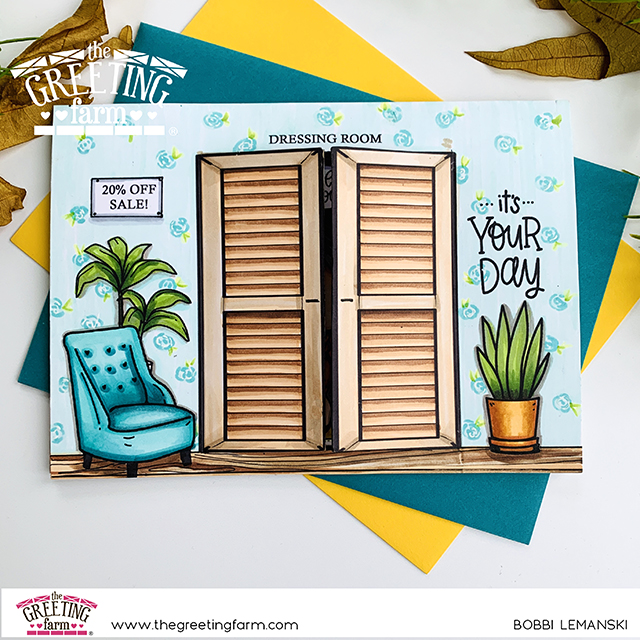 This 5″  X 7″ card is a peek-through window card featuring two scenes in one. On the outside, the card features a waiting area, in front of the dressing room. I envision this to be a pretty swanky and stylish clothing boutique. I'm the mom that always looks for a chair to use while my teenage daughter is trying on clothes in the dressing room. 🙂 I had to include a teal chair here, too. A few plants and a 20% off sign adorns the dressing room double doors.  I created this scene using some digital stamps by The Greeting Farm. Here's what I used to make the entire card:
Cheeky Honey (available to order on 9/15/2020) – featured character
Porch – Full length mirror
Porch 2 – Shutters to make the louvered dressing room doors
Bakery Cafe – wood bench and cushion along wall
Build A Living Room – Rug, guest chair, plants
Birthday Girls – Clothing and shopping
SUV – Shopping bag
Movie Night – Clothing item draped on bench
Phrases – Gorgeous Day, You're Fabulous,
Spa Pack – It's your day
I hand drew the wood floor, wallpapers(stripes and floral design), hangers and hanger rod inside the dressing room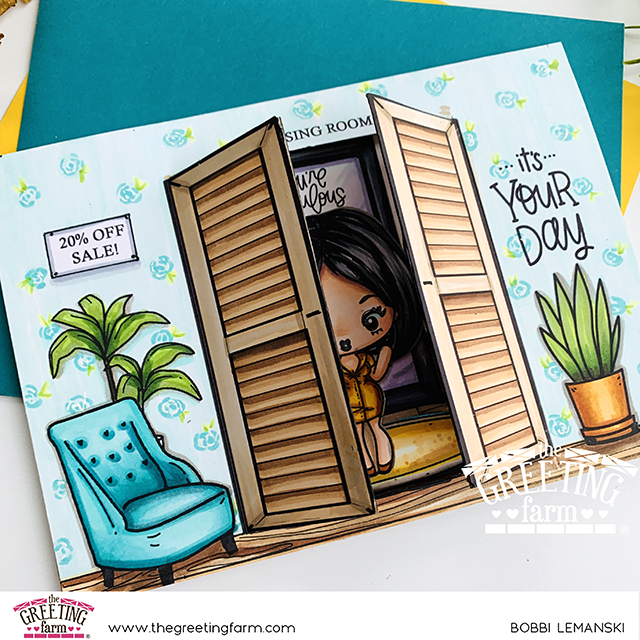 When the card is closed, you can still sneak a glimpse of something inside the double dressing room doors. How cute is she peeking out?!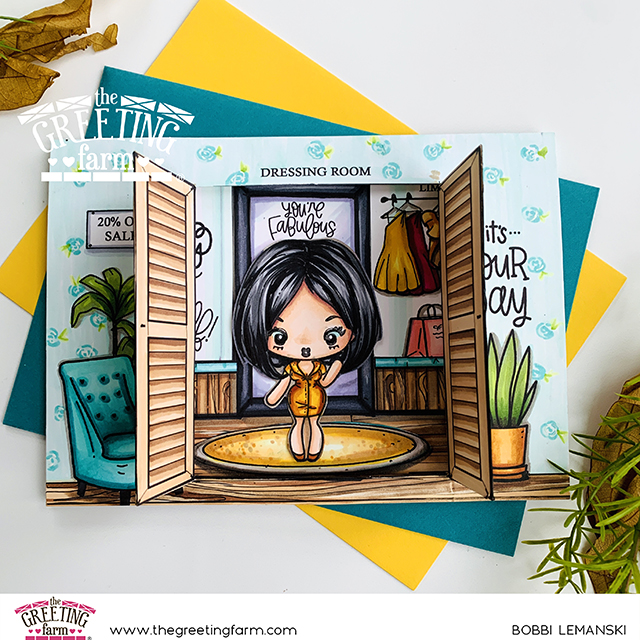 Here's what you see when the doors are wide open. The dressing room mirror, wood floor and area rug are centered in the opening and highlight Cheeky honey beauty.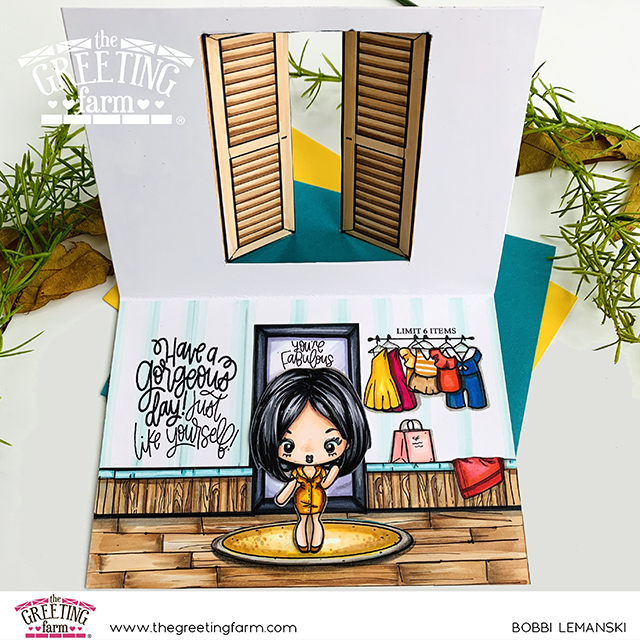 When the card is flipped open, the entire dressing room is revealed including some refreshing phrases that really pump a girl up on her special day! Don't we all need some encouragement in the dressing room?!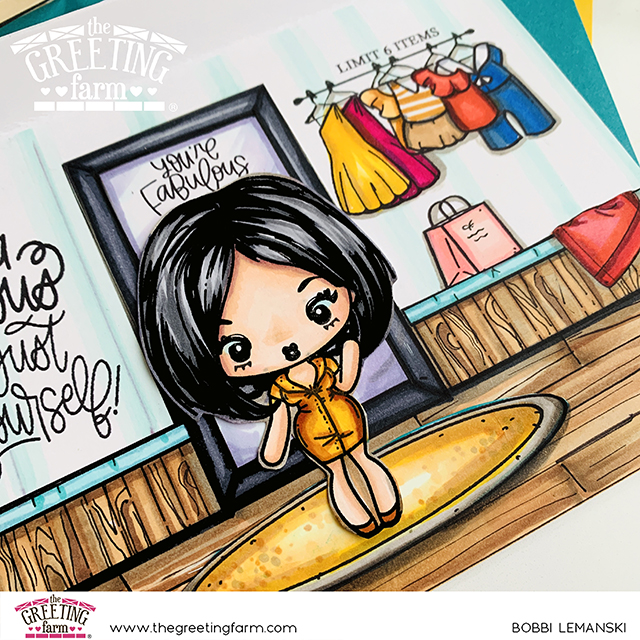 Here's a close up of the Cheeky Honey image. Color her in any color you like – hair, eyes, skin, outfit. Personalize her to fit the recipient. I made a blonde with blue eyes that looks like a friend of mine celebrating next month. Cheeky Honey is part of The Greeting Farm September release and will be available on 9/15/2020 in its online store here!
Make sure to check out all the fun ideas using Cheeky Honey on The Greeting Farm blog today. (Look for the 9/10/2020 blog post.)
Want to see more ideas and inspiration from me? Subscribe to my blog, BobbiHartDesign.com. I'll send you updates on new posts! You can also find me on Instagram as @BobbiHartDesign and on Facebook as BobbiHartDesign. Bobbi Hartmann Lemanski, Bobbi Hart♥ Design, Adding h♥art into every design