Hello Friends! I'm sharing two cards using a fun new set by Spellbinders and Fun Stampers Journey called, Trip Around the Sun.  This is such a fun and easy set to make cheerful and bright cards for friends and family. The set is all about the sun and a whole trip around it to your next birthday. There are so many ways to use this birthday set. I made two cards to share with you. Both card share similar designs, layouts and phrases. These are quick and easy cards to make that anyone can make. Oh, and no coloring required. 🙂 I have friends who hate to color so this set would be perfect for them!
Card 1: Trip Around the Sun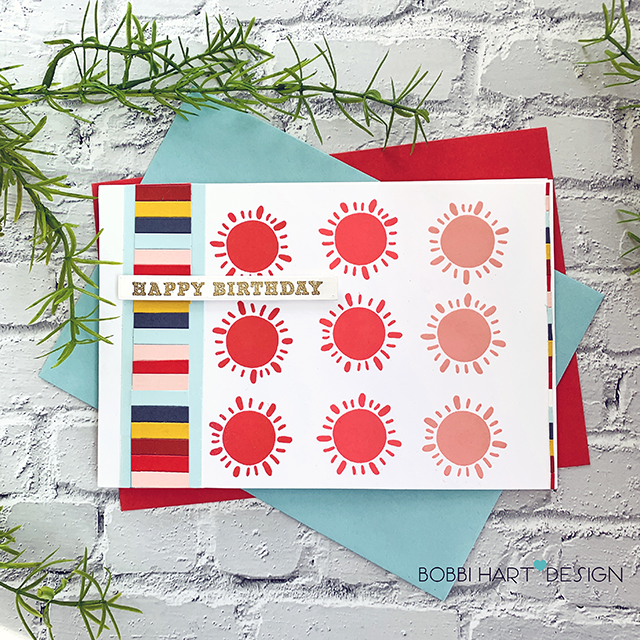 My first card is very bright and happy and includes a gradient of suns in three colors of a coral red. While a sun is generally considered yellow, I took liberties with the color here. I also added a fun and bright border using 1/4″ wide strips of scrap cardstock to make this colorful border. After all, a year of life and a birthday celebration should be colorful and bright!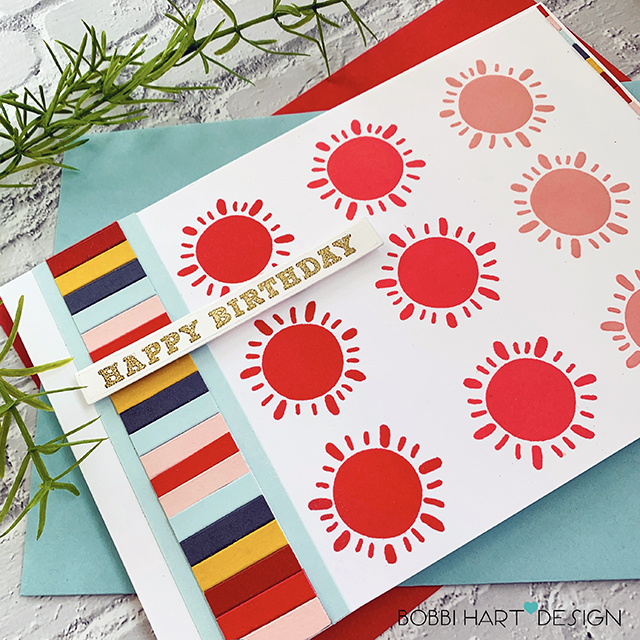 I added the "happy birthday" phrase to the front. I embossed it in gold on white cardstock and popped it up using dimensional foam.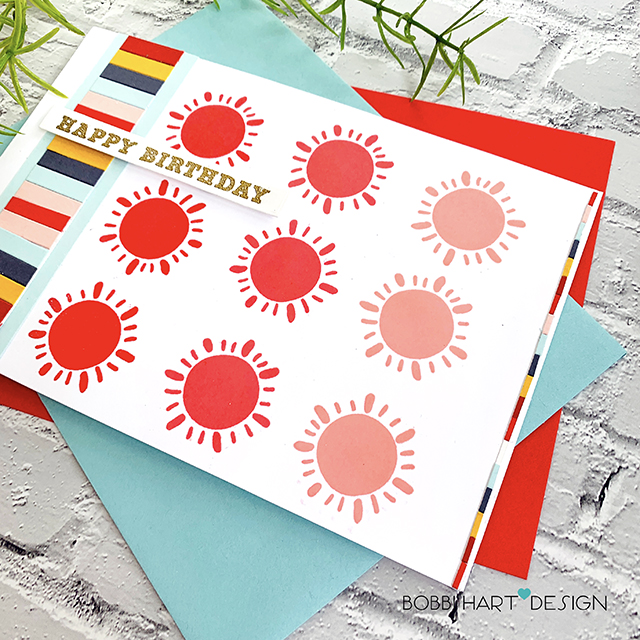 Notice, the small border on the right. I sliced a bit off of the wider border on the left and added it to the right. I love that extra touch. It's a nice finish to the open edge. I think it looks so cute. 🙂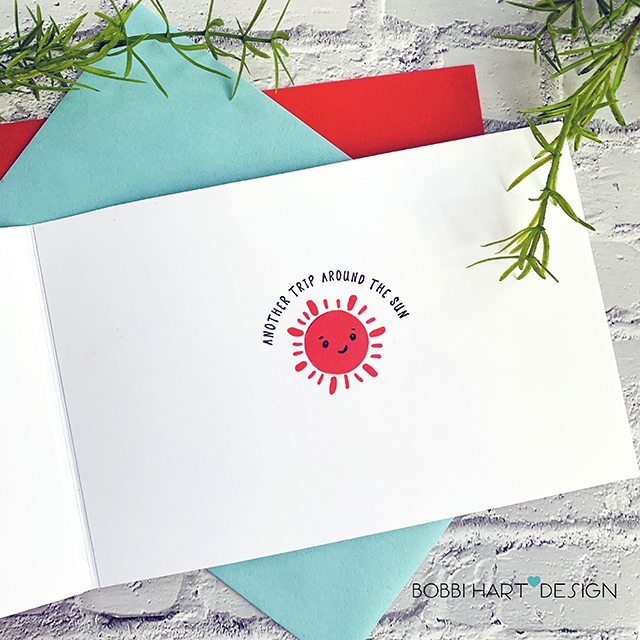 Inside the card, I added one sun in the medium coral shade used on the front and added one of the faces to it from the stamp set. The phrase, "Another Trip around the sun" finishes off the inside of this 5″ X 7″ card.
Card 2: Sending Sunshine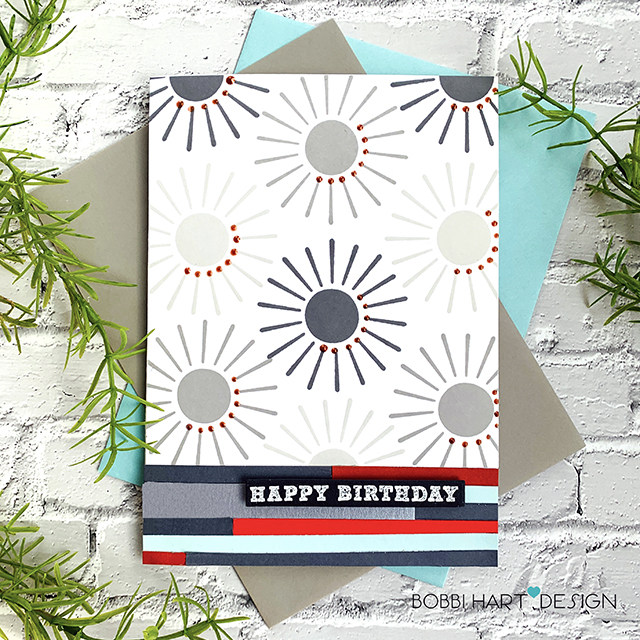 My second card is also a 5″ X 7″ card. I used a different, larger sun shape from the set on this card. This color scheme has more of a masculine look than my first card. I stamped the larger sun in three gray tones to make the card front.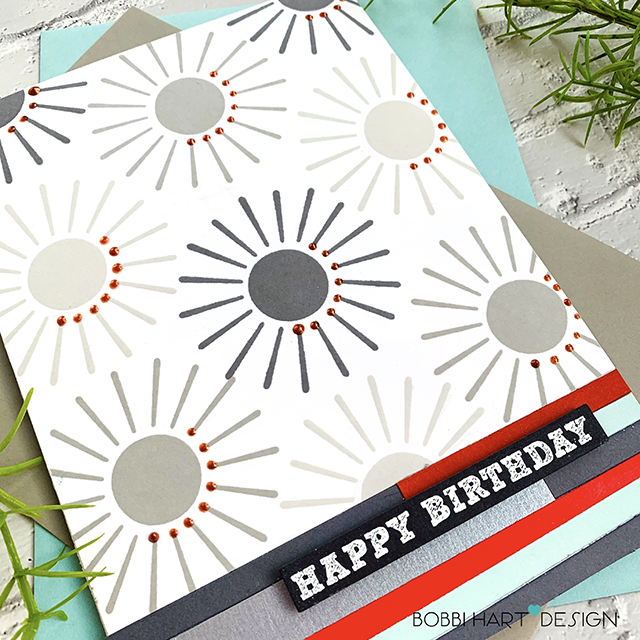 I added Pearl Pen in Copper to just a section of the rays on each stamped sun for a pop of metallic copper on the gray. I love how this looks!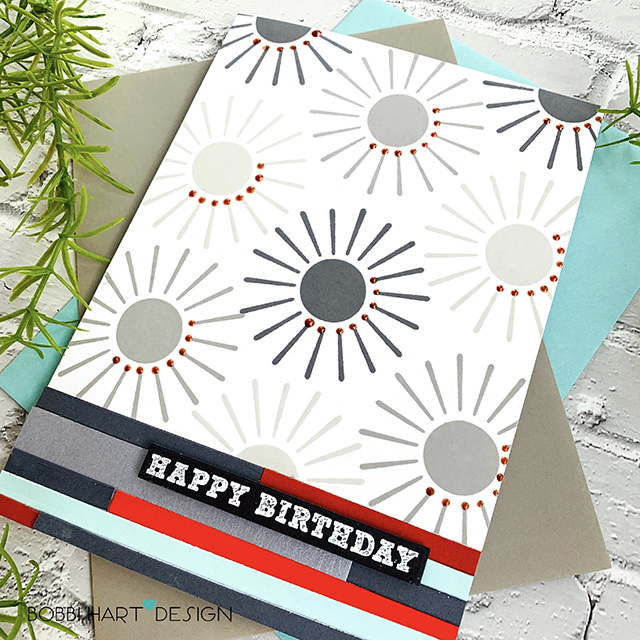 Below the suns design, I added strips of color in metallic gray, charcoal gray, rust, orange-red, and a light aqua color. On top of these strips, I added the "happy birthday" phrase embossed in white on black cardstock and popped it up a little.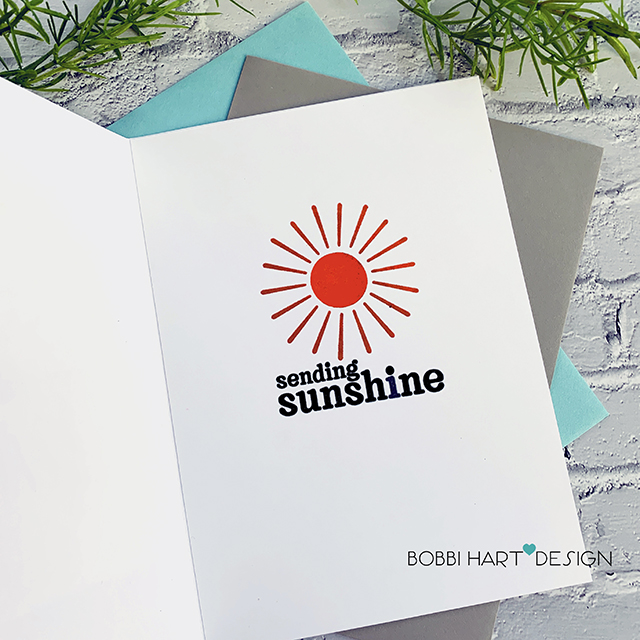 Inside the card, I stamped the "sending sunshine" phrase inside in black and also stamped the same sun design in copper colors using two ink pads.
You can shop this product, A Trip Around the Sun and all Spellbinders and Fun Stampers Journey products today!
Thanks for stopping by today. If you want to see more ideas and inspiration from me, subscribe to my blog, BobbiHartDesign.com. I'll send you updates on new posts! You can also find me on Instagram as @BobbiHartDesign and on Facebook as BobbiHartDesign. Bobbi Hartmann Lemanski, Bobbi Hart♥ Design, Adding h♥art into every design