Hello! It's Paperie Ink day. Every Friday, I bring you a new idea using Paperie Ink products. Today, I'm not only bringing you a new project, but a new stamp set, too! It's called Kebin the Penguin.  This little tuxedo-wearing cutie is absolutely darling in all of his fun poses in this set. He's even wearing a Santa hat in one. 🙂 I paired sweet Kobin with the Christmas tree from Like Christmas. The rest of the images I used are in the new penguin set. By the way, this is just one of the five new sets that were released this week!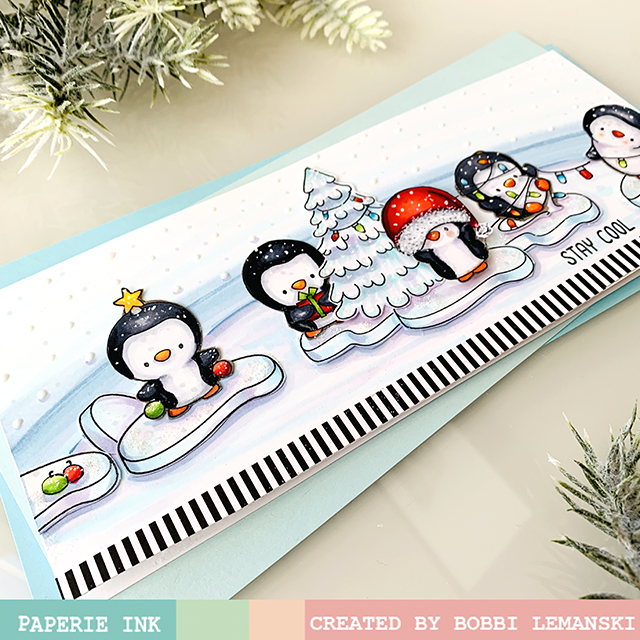 This slimline card measure 8-1/2″ wide X 3-1/2″ tall. I knew this arctic landscape could only be the home to a very icy and snowy tree. No green evergreens here.  Blues, blue-violets, and aquas were used to color the landscape and tree to create this cold, frigid scene. These soft pastels are a perfect backdrop to the strong black and white penguins and striped border. The pattern paper is from My Favorite Things, Black and White Stripe 6″ X 6″ pattern paper.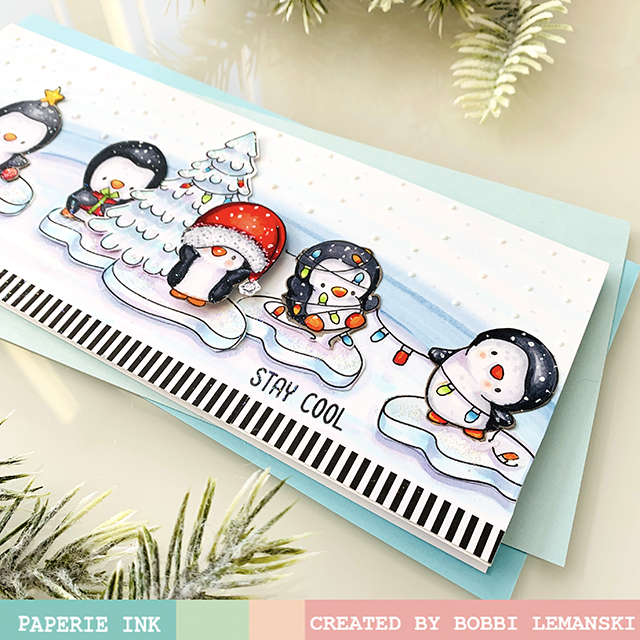 I placed the icebergs in the snow covered/iced-over waters to "ground" the penguins. To connect the iceberg scenes, I added an "extension" to the string of lights that are wrapped around the one penguin so that they reach from the Christmas tree to the far right penguin on the adjacent right iceberg. On the other side of the tree, there's a penguin ready to place red and green ornaments on the tree. I hand drew two ornaments on the far left iceberg, too. On the center iceberg is the icy tree with the Santa penguin and sweet present holder, too. The dimensional snowflakes in the sky were created with Pearl Pen White Opaque. I have had it for years, but hard to find now. Glossy Accents would work or Nuvo Drops in Frosted Lake, too!
Here are the Copic colors I used for this festive card:
Landscape/icebergs:  Blues: B00, B000, BG0000 / Blue-Greens: BG000, BG0000 / Blue-Violets: BV00, BV000, BV0000
Black penguins: 100, C9, C7, C5, C3, C1, BV0000, BV000
Orange penguin feet and beaks: R14, YR07, YR68, Y38
Green ornaments, present bow, string lights: YG17, YG03, YG00
Red lights, Santa hat, present: R29, R24, R17, R14 (R20 for the penguin cheeks)
Shading and snowflakes: C3, C1
Stay cool, my friends! Thanks for stopping by today. If you want to see more ideas and inspiration from me, subscribe to my blog, BobbiHartDesign.com. I'll send you updates on new posts! You can also find me on Instagram as @BobbiHartDesign and on Facebook as BobbiHartDesign.
Bobbi Hartmann Lemanski, Bobbi Hart♥ Design, Adding h♥art into every design