Hey fashionistas! I've got another fashion card using the new digital sets by The Greeting Farm. The sets are Miss Anya Dress Up and Fashion Sayings. For this 5″ X 7″ card, I created a scene with some help by using elements from other digital stamps.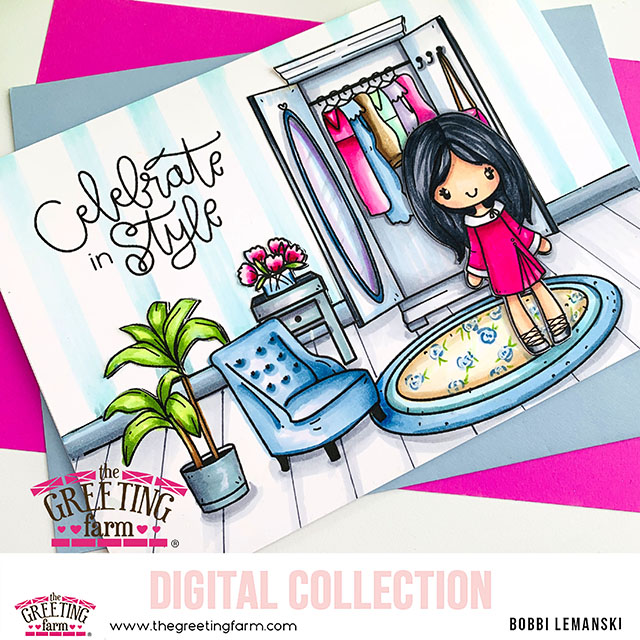 In addition to Anya, her outfit, the wardrobe, and hanging clothes from the Miss Anya Dress Up digital set, I also used the Build A Bedroom digi set for the chair, rug, plant, vase of flowers and side table. I drew the wood floor, base board and added striped wallpaper in the background. I added a printed rose floral design on the area rug, too. I used the following Copic colors:
Blues: B21, B41, B45,
Grays: C9, C5, C3, C1, C0
Blue/greens: BG72, BG00, BG000
Greens: YG67, YG17, YG03, G0, YG41
Browns: E55, E53, E50, E000, E00, E11, E04
Red Violets: RVs: Rv09, RV02, RV11, RV00
Blue Violets: BV000, BV01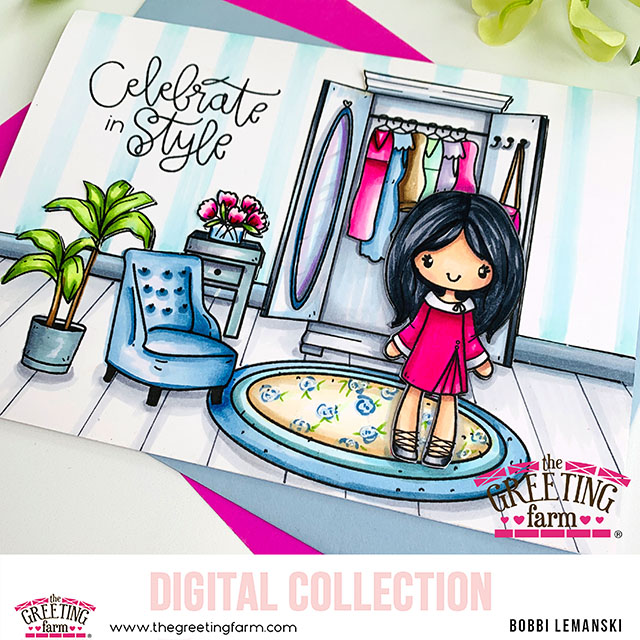 To make sure no Copic bleeding is shown, I attached the card front and card interior to a white card base with a cutout on the front to match the door opening. Both colored panels were attached to the base to finish the card.
Thanks for stopping by today. If you want to see more ideas and inspiration from me, subscribe to my blog, BobbiHartDesign.com. I'll send you updates on new posts! You can also find me on Instagram as @BobbiHartDesign and on Facebook as BobbiHartDesign.
Bobbi Hartmann Lemanski, Bobbi Hart♥ Design, Adding h♥art into every design