I am pretty sure penguins are not in the fall forest, but penguins in sweaters seems like a stretch anyway ? That's called creative craftiness! It's Bobbi here with another card featuring Jane's Doodles products. I'm using the following stamp sets: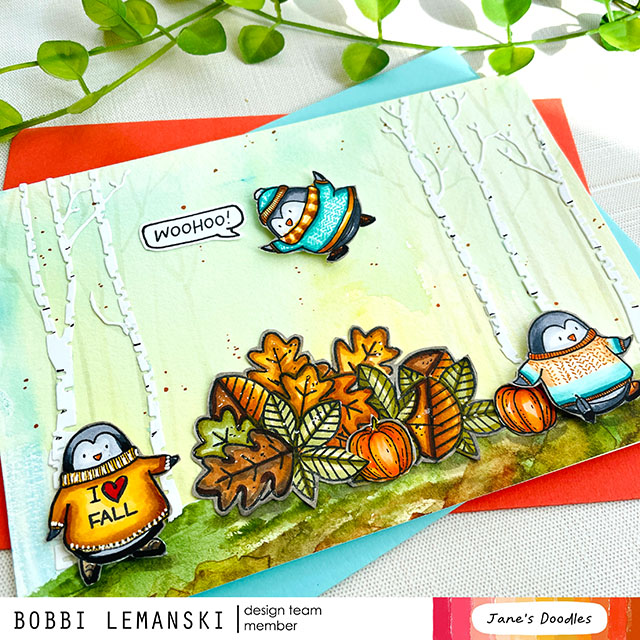 To create this 5″ X 7″ card, I started with a watercolor background of soft blues and yellows on a 5″ X 7″ watercolor front panel. I also used darker watercolors in rusts, golds, and greens for the ground cover. I used Kuretake Gansai Tambi watercolors (48)  and Canson XL Bristol Smooth watercolor paper to create the background. I added birch tree die cuts in white. I used a die by Cottage Cutz for the birch trees. I also used a W2 Copic to create additional, distant (fainter) trees in the background for depth, too.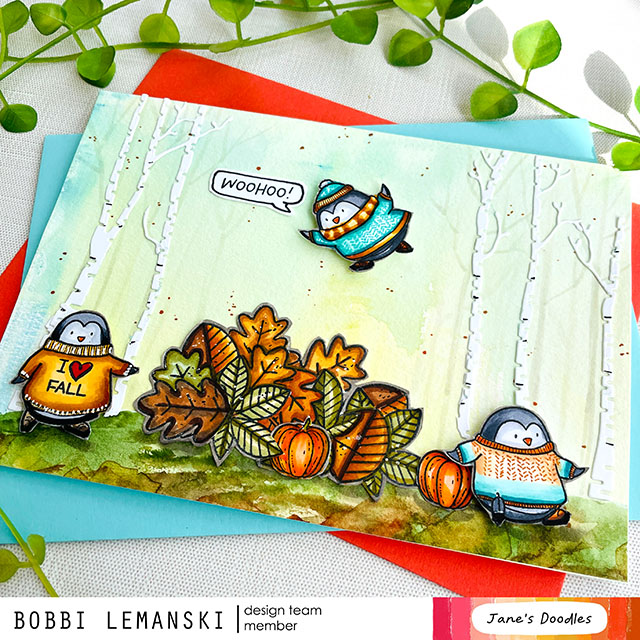 For the leaves, I used the smaller-sized  leaves in the Thankful set to create the look. I used masks to stamp the pile, stamping front to back to create the bunch. I colored the leaves using: YG95, YG93, YG63, YG61, YR27, YR24, YR21, E59, E57, and E55.
For the penguins, I stamped all three characters and colored the sweaters in teals, oranges and golds – BG49, BG23, BG11, YR68, YR24, Yr27, YR21 and R17. I colored the penguin bodies in cool grays – C7, C5, C3, C1, C0. I added a sweater knit look to the penguin's sweaters on two of them.
The penguins and leaf pile were added to the scene. I used Scrapbook Adhesives White Foam Squares to attach the penguins to make them stand out. To finish the card front, I added small dots of rust to the sky to look like debris/leaves falling from the trees. Lastly, I added the "woohoo" by stamping it on white cardstock, hand drawing a speech bubble around it and attaching it to the background.
If you decide to place an order, please use the links in this post so that the companies know what inspired you. I appreciate it very much. It helps me to continue to bring more ideas to you!
Thanks for stopping by today. If you want to see more ideas and inspiration from me, subscribe to my blog, BobbiHartDesign.com. I'll send you updates on new posts! You can also find me on Instagram as @BobbiHartDesign and on Facebook as BobbiHartDesign. Bobbi Hartmann Lemanski, Bobbi Hart♥ Design, Adding h♥art into every design