Hello friends. Ready for a ride through the countryside this fall? Well, Mr. Bear and Ms. Bunny are already on the dirt path to Grandma's house (or someone's house!) Apple pie, fresh preserves, chin-dripping apples… this crew has all the warm feels of fall. Today, we are celebrating the release of Jane's Doodles latest set on Instagram and the blogs, called Warm Hugs. You can join us by hopping on here and following the hop participants listed below. Hop designers include Jane's design team and several guests such as Laura Bassen and Yana!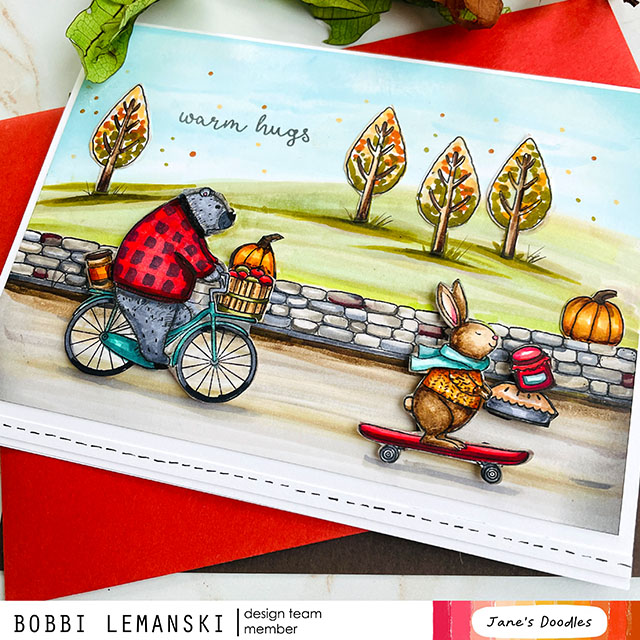 For this 6.5″ wide card X 5″ tall card (fits inside an A7 envelope), I created a fall countryside scene along with a brick fencing along a dirt path. This set has lots of fun fall accessories so I added the pie, and preserves to the bunny's ride and the coffee cup, pumpkin and apple barrel to the bear's ride (he could handle more weight on the bike!) I stamped all the images – bear, bunny, trees, accessories and added them to the backdrop. I used dimensional tabs under the bear and bunny to make them pop up more.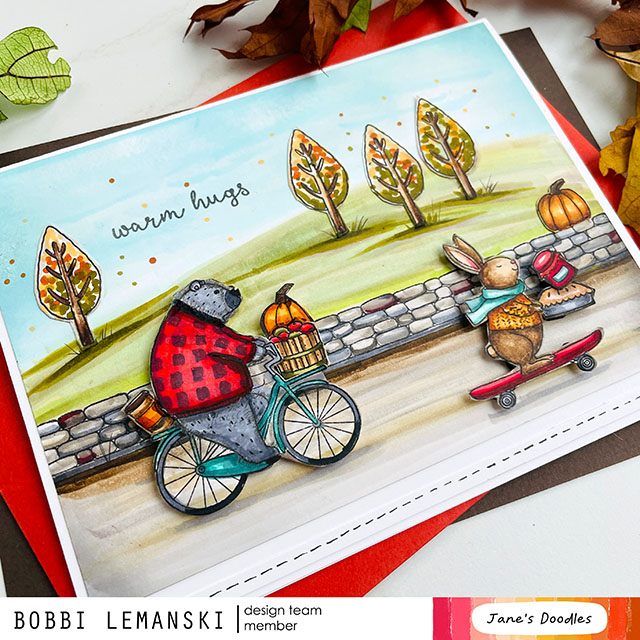 I added a buffalo plaid plaid design to bear's shirt and a cable knit design to bunny's sweater (which I drew on him). Keeping with the fabric texture idea,  I added a small faux black stitch detail at the bottom for a little pizzazz. It felt warm and a little homemade which fit the feel of this set.
If you decide to place an order, please use the links in this post to Jane's Doodles so that the companies know what inspired you. I appreciate it very much. It helps me to continue to bring more ideas to you!
Thanks for stopping by today. If you want to see more ideas and inspiration from me, subscribe to my blog, BobbiHartDesign.com. I'll send you updates on new posts! You can also find me on Instagram as @BobbiHartDesign and on Facebook as BobbiHartDesign. Bobbi Hartmann Lemanski, Bobbi Hart♥ Design, Adding h♥art into every design
Hop Order
Marion https://mademarion.vagg.org/
Milka https://craftymilka.blogspot.com/
Katerina https://www.instagram.com/katerina_vorsobina/
Claudia http://claudiacubas.blogspot.com/
Bobbi https://bobbihartdesign.com/ *YOU ARE HERE*
Katja https://www.instagram.com/kati_stampingchicks/
Tinne https://www.instagram.com/robinette_crafts/
Janine – http://ellabella-kreativ.blogspot.com/?m=0
Amanda (guest) https://twiddlersnook.blog/
Hanh (guest) https://www.instagram.com/hanhmadecards/
Laura (guest) http://www.laurafadora.com/
Yana (guest) https://www.yanasmakula.com/janes-doodles-bear-on-a-bike-warm-hugs-card-blog-hop/
Jane's Doodles blog https://janesdo