We are celebrating the new Pajamas stamp set by Jane's Doodles with an Instagram Hop!  This set is quirky and fun like all of Jane's stamp sets. It also comes in several languages including Italian and German, too! I had so much fun with this set. Here's some cards I made featuring these pj-wearing creatures!
Take It Easy Sloth Birthday Card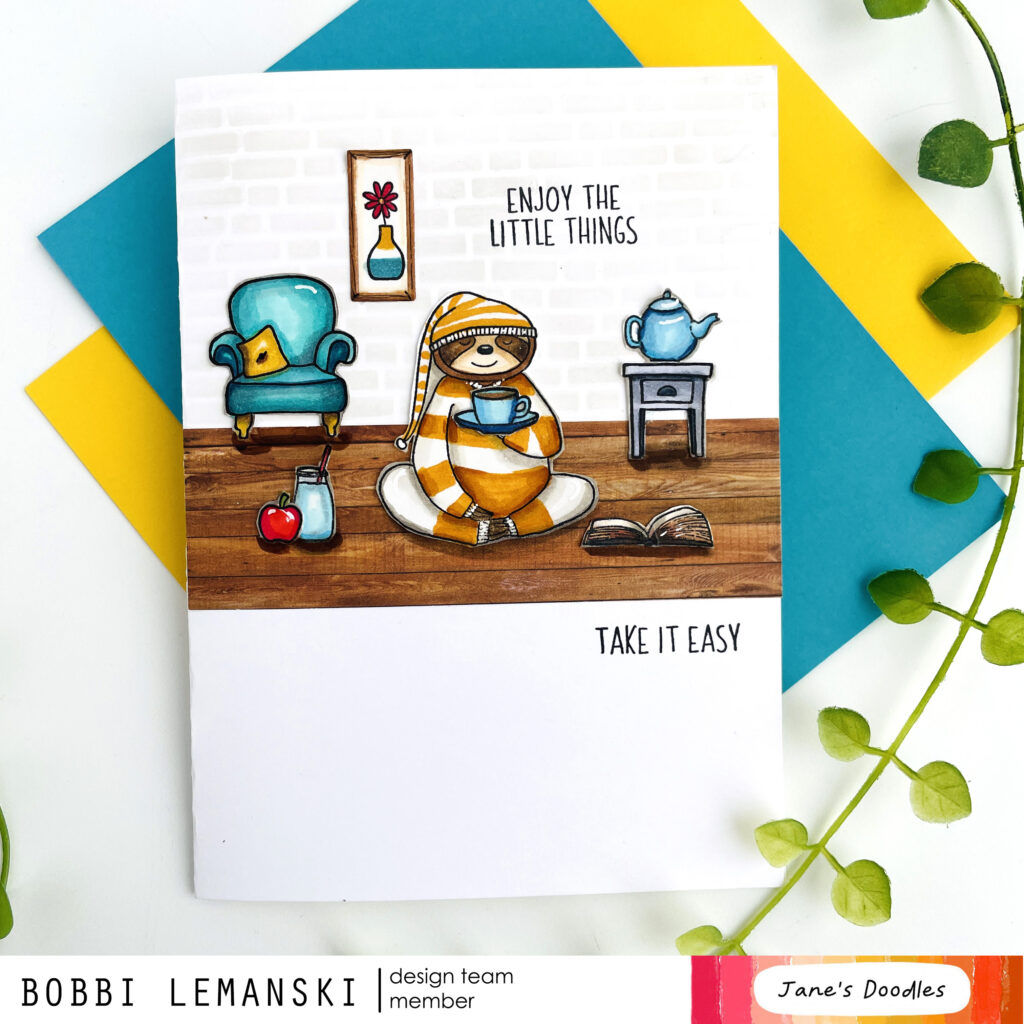 For this 5″ X 7″ card, I started by stenciling a brick background for the background of the scene using the Hero Arts Brick Wall Stencil and Distress Oxide Ink in Lost Shadow. It's subtle and light. I also used a wood pattern paper for the scene floor. It's from the Grain and Grunge paper pad by Honey Bee Stamps. You can buy it at Simon Says Stamp, too.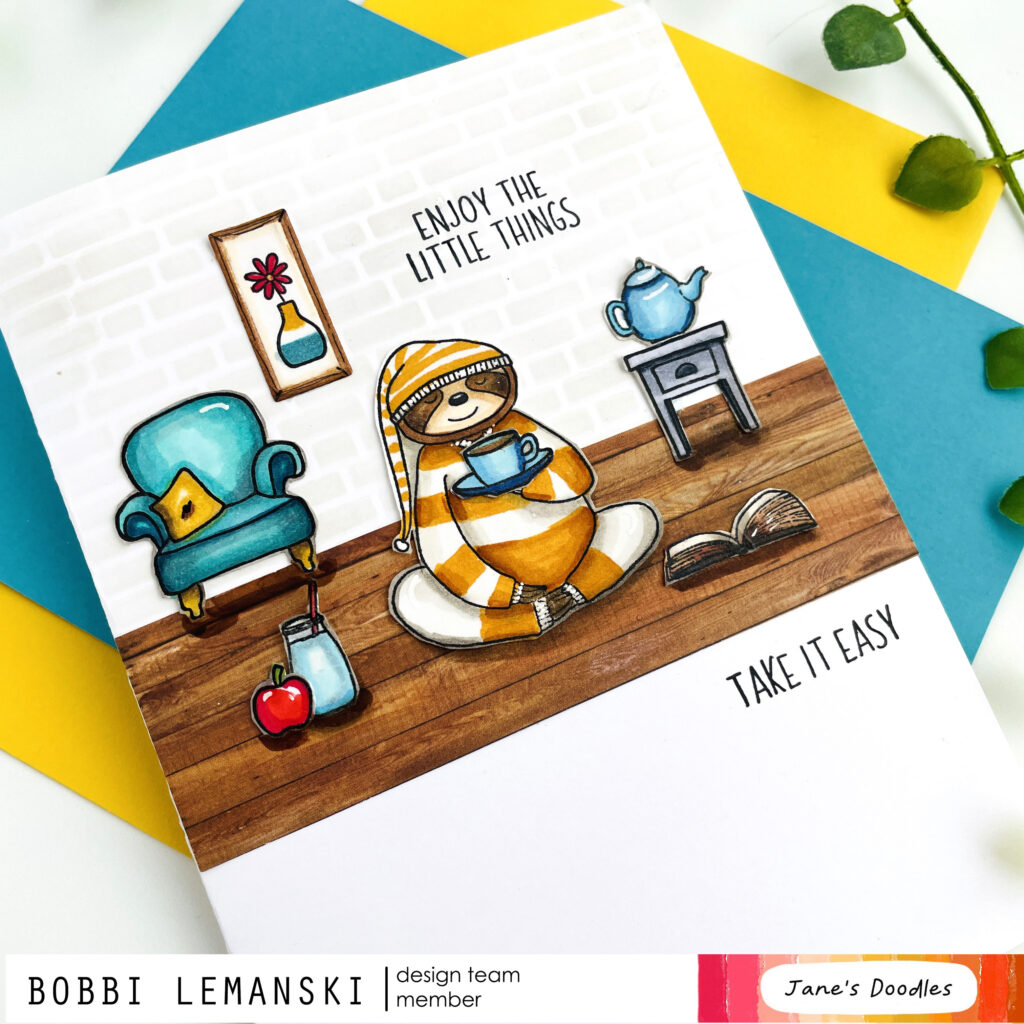 For the foreground, I stamped a chair, table, and wall-hung picture from the Cozy Up stamp set and the sloth, open book, teapot, apple, drink and and teacup from the Pajamas set. I colored the images using the following Copic Sketch Marker colors:
Chair/pillow: BG59, BG13, BG72, BG11, YR24, YR21
Sloth: YR27, YR24, YR21, W3, W1, W0, E43, E42, E59, E57, E55,
Teacup/Teapot: B39, B45, B12, B00
Picture: E55, E43, BG72, BG13, E43, E40, W1
Apple: R29, R17, R14, R22, YG67
Drink: BG01, B00, R29
Table: C5, C3, C1
Book: E49, E43, E42
I added all these colored elements of the scene and stamped two sentiments from the Pajamas set on the card front to finish it. I used the English version stamp set.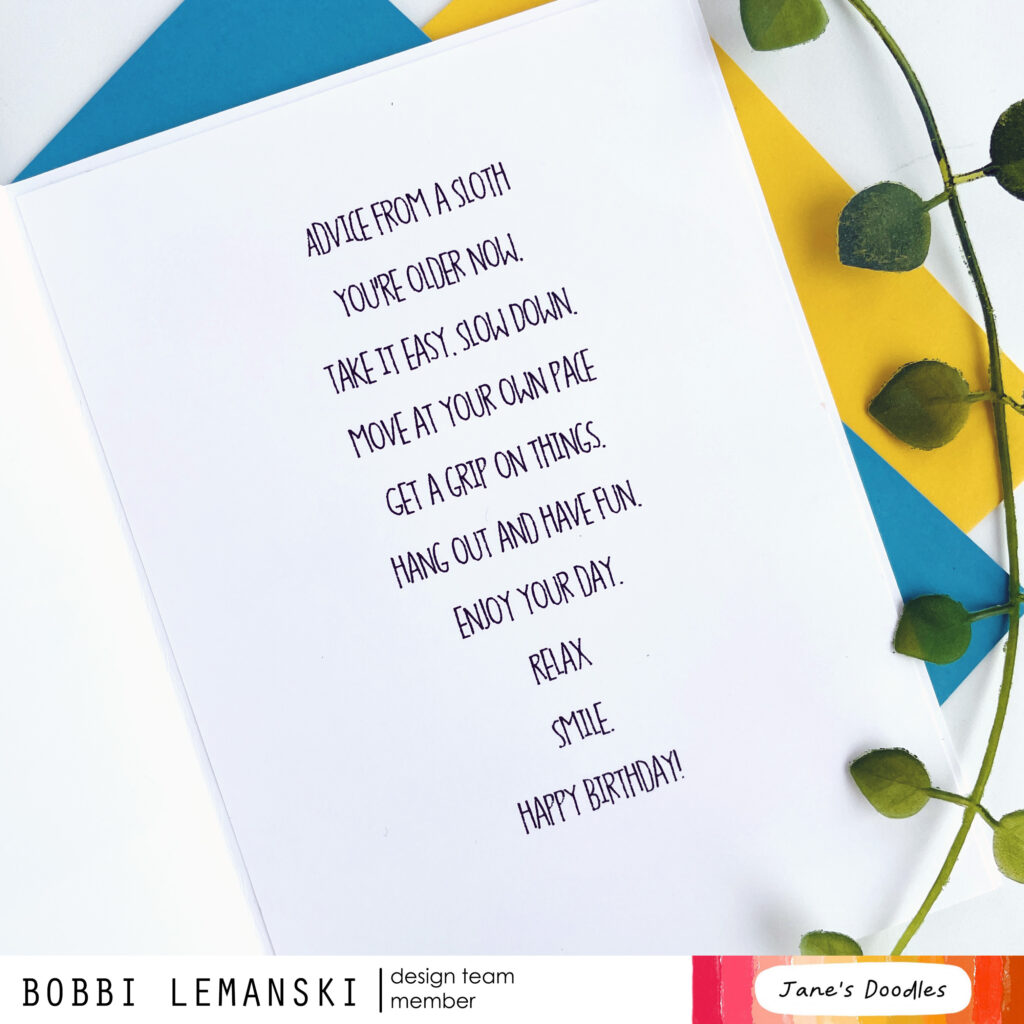 Inside the card, I added a little phrase to turn this card into a funny birthday card. I simply set this up using my laptop and printed it out on 80lb Neenah Solar White cardstock. I used this same cardstock for the card base. card front panel, and stamped images.
Feel Better Jammies Card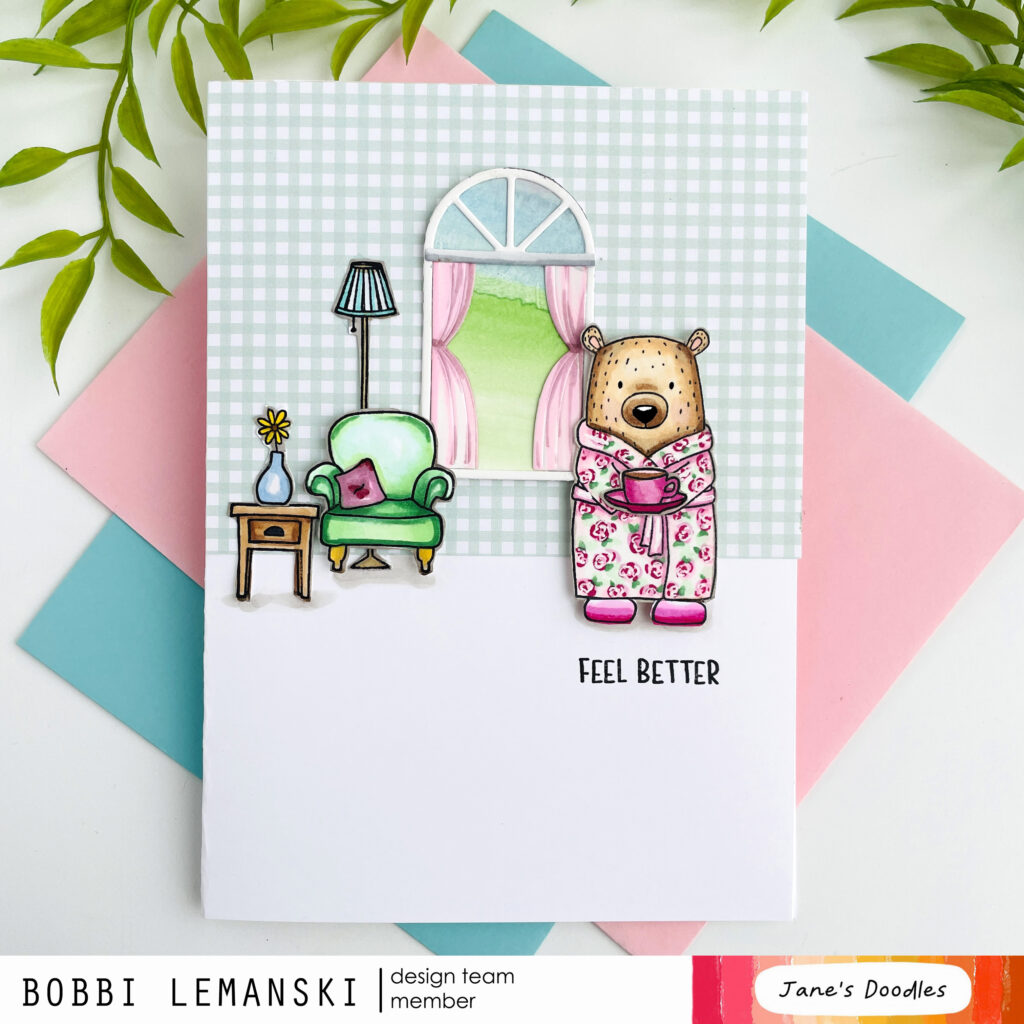 To create this 5″ X 7″ card, I used a gingham pattern paper for the wallpaper in this sweet bear's home. I made the window using Sunny Studio Stamps Wonderful Windows die set. I used a piece of watercolor paper in the window to create an outside landscape. I added furniture – chair, table, vase, and lamp – from the Cozy Up stamp set. I used the following Copic Sketch Marker colors to color the images:
Chair/pillow: YG45, YG11, G00, G000, Y26, Y28, RV95, RV91, RV02, R89
Vase: B12, B00, Y18, Y08
Curtains: RV09, RV55, RV02, RV00
Lamp: BG13, C3, Y28
End table: E59, E57, E55, E43, 100
I added highlights on the items using my Sakura Classic White Gelly Roll white pen.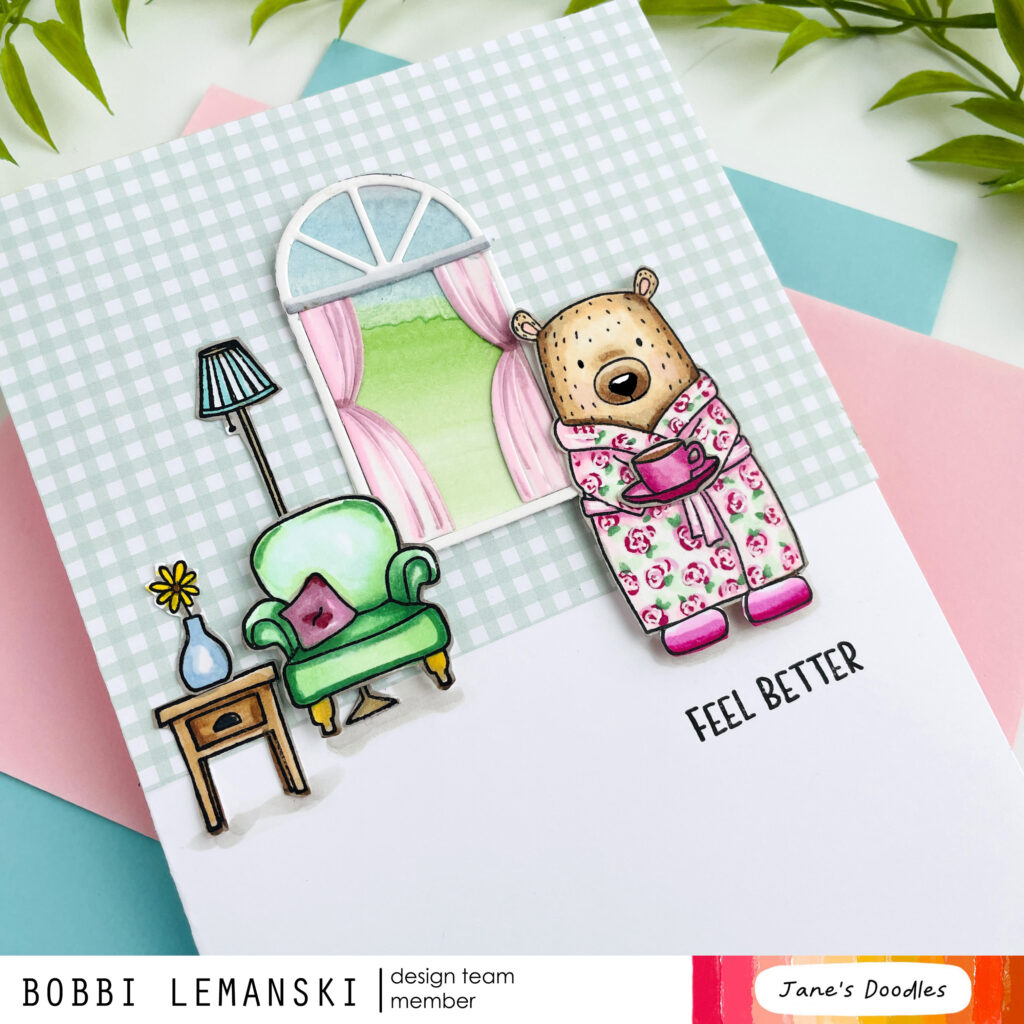 I stamped the bear and added a rose print design to her robe, a teacup in her hand and some slippers on her feet. I used RV09, RV55, RV02 and RV00 as well as YG67 and YG03 to create the rose with leaves print. I also used my Sakura Classic White Gelly Roll white pen to add highlights. I stamped the sentiments from the Pajamas set to finish this one.
Bear: E59, E55, E53, E51
Robe/slippers/teacup in hand: RV09, RV55, RV02, RV00, YG67, YG03, E44
You can shop the entire Jane's Doodles store here. If you decide to place an order, please use the links in this post so that Honey Bee knows which ideas inspired you!
Thanks for stopping by today. If you want to see more ideas and inspiration from me, subscribe to my blog, BobbiHartDesign.com. I'll send you updates on new posts! You can also find me on Instagram as @BobbiHartDesign and on Facebook as BobbiHartDesign.