I have never wanted Spring to come more than I do right now. I'm tired of cold, ice and snow. Today's card transports me to another time in the year that is heavenly….you know the season where you walk out and hear the birds chirping, the bees buzzing and life is sunny and good? I used the following Honey Bee Stamps products for this card:
For this card the leafy branch from the Birds and the Bees stamp sets creates a tree.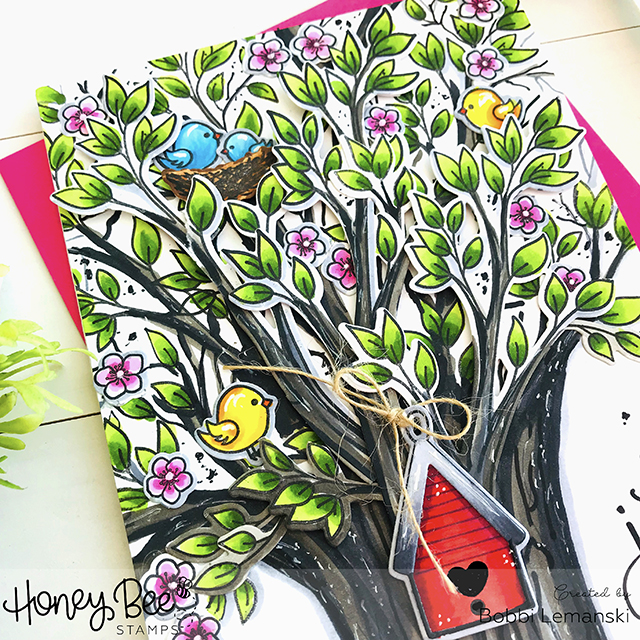 To make the treetop, I used about seven stamped images of the leafy branch from the Birds and the Bees stamp set. Four branches were stamped on the card front and three were cut out and added later.  For the four background branches, I carefully masked the bottom portion of the branches to make them shorter, allowing room for the trunk part. Each one was colored in. For the leaves, my go-to Copic Sketch colors are YG67, YG-25 and YG-03. I love the yellow greens because they are bright and cheerful. For the branches, I used combinations of the cool and warm grays. 
The top of the tree was well on its way, but I still needed a trunk to make these branches into a tree. I hand drew curved lines from the branch bottoms (the outside branches on each side) to the bottom of the card front to form the trunk. I added lines in the gray tones – warm and cold – to mimic tree bark. 
Three of the seven colored branches were die cut using the coordinating dies and added to the front using dimensional foam. This layer gives depth and fullness to the tree. Now I was left with the awkward ends of the forefront branches. Here comes the bird house….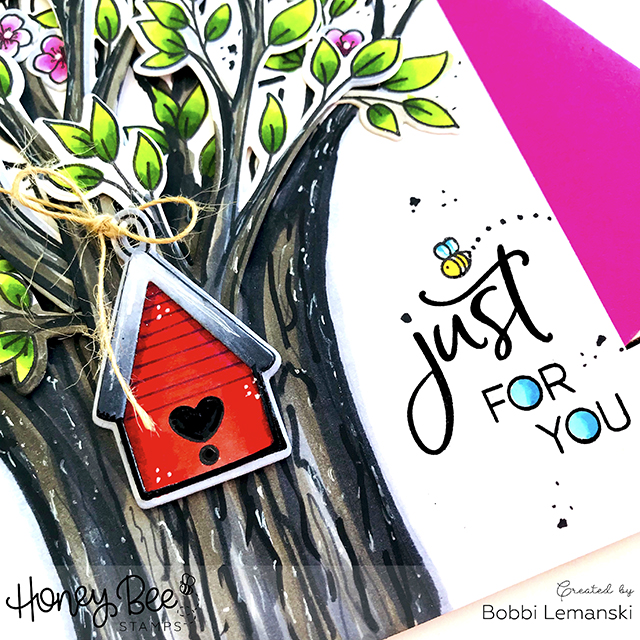 To cover the foreground branch ends, I added the birdhouse colored in Copics, R-89, R-27 and R-14. I added shading and the roof using C-3, and C-5. The dies for this set include two pieces for the birdhouse for added dimension.  A thin piece of twine connects the birdhouse to the tree branch at the top of the house. 
 I used B-04, B-02 and B-00 for the blue birds and Y-15, Y-08 and Y-38 for the yellow birds. The phrase was created using the sets listed at the top. I also added a little bee, colored in the o letters with the Bs to match the birds and lastly added some random black dots to finish it off. 
Thanks for visiting. Have a very Spring-like day!
Pouring my h♥art into every design
Bobbi ♥ Design