Hello, friend! Thanks for stopping by! Today I'm making a  few splashes and I'm excited to share why.
Splash 1 – I'm jumping into the Design Team Pool!
First, I'm excited to announce that I've joined the Paperie Ink Design Team. I'll be sharing new ideas and fresh stamp sets in the upcoming days and months. Paperie Ink designs are sweet, lovable and whimsical. (Wait till you see the latest release available on Saturday, May 8, 2020!) I'll be showing more tomorrow so stay tuned!
Splash 2 – I'm Throwing a Set out of the Prairie Ink Pool to You!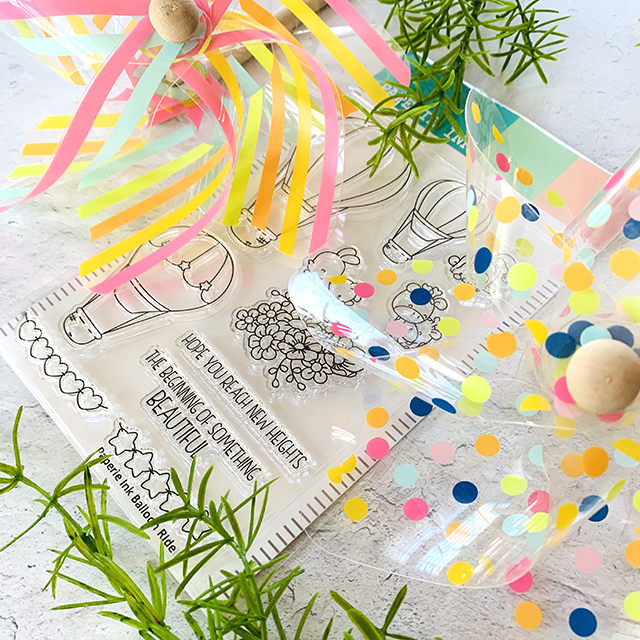 Second, I've got a giveaway going on to celebrate my design team announcement on Instagram @bobbihartdesign. Sherry of Paperie Ink has given me the set, "Balloon Ride" to give away to one lucky winner! Head to my IG page for a chance to win it! You have until Sunday, May 10 at 10:00 PM CST to enter.
Splash 3 – Making a Splash with Hello Sunshine!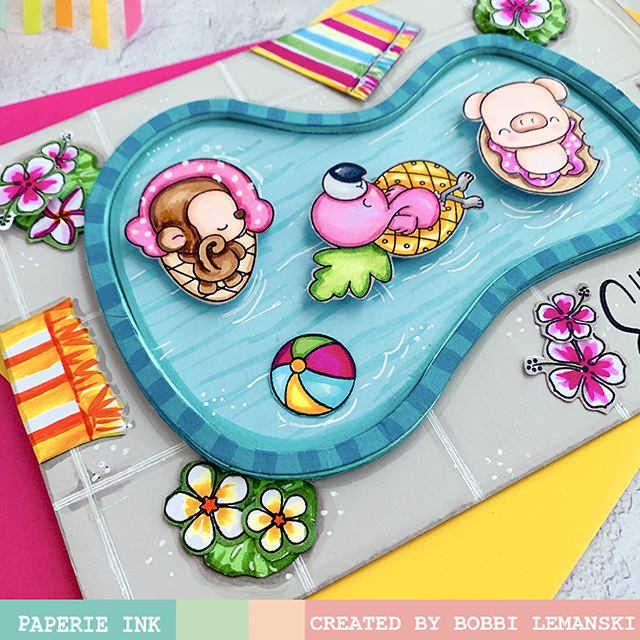 My last splash is this sneak peek of a new set called, "Hello Sunshine" to be released on Saturday, May 9, 2020. These sweet pool lounge characters are making a splash and enjoying the pool together. The set includes six lounging animals (I'm using three here), six pretty flowers that I've "planted" in the pots along side the pool and the "Hello, Sunshine" scripted phrase.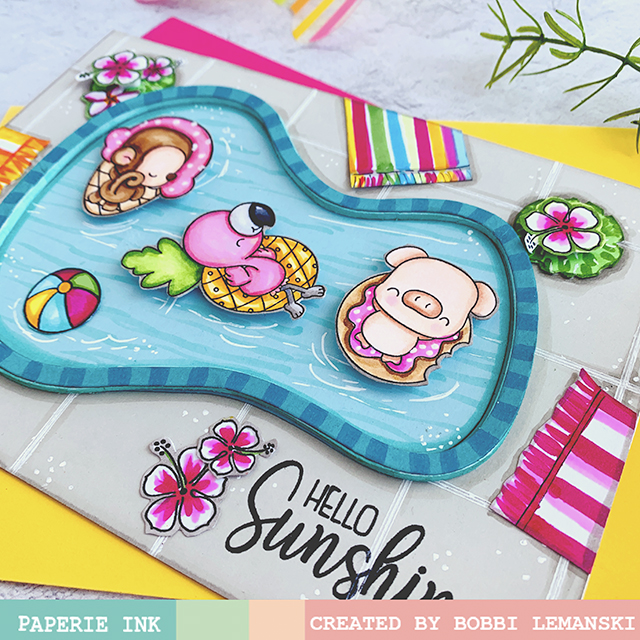 To create this 5″ X 7″ card, I used a ruler and a Signo White Gel pen to create the background tile design for the in-ground pool. The pool was created using the Avery Elle, Splash die set. I die cut the pool border/walls out of 2mm white craft foam for added dimension and well… to keep the water in the pool. 🙂 I hand-colored three pool towels to place on the decking for added color on the cement and added the pots of flowers for accents. Lastly, I added the phrase in the lower right corner and a couple of hibiscus for added color. You can shop this set (available 5/9 in the shop) and others at Paperie Ink here!
Want to see more ideas and inspiration from me and Paperie Ink? Subscribe to my blog, BobbiHartDesign.com. I'll send you updates on new posts! You can also find me on Instagram as @BobbiHartDesign and on Facebook as BobbiHartDesign.
Bobbi Hartmann Lemanski, Bobbi Hart♥ Design, Adding h♥art into every design