I've got another wish for you… a Make A Wish card, that is! I shared a sneak peek of this set early last week and now the set is available at Craftin' Desert Divas. You can see my prior post here  for my last card done in teal blues and purples. My card today is done in a fresh Spring green and pinks coloring combo. I used all of the fairies again because it's hard to choose just one! I think they are all adorable and super cute together.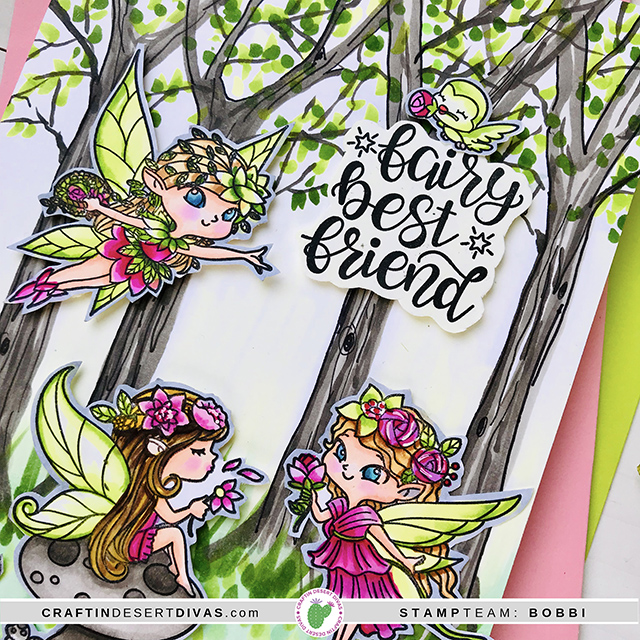 Everything on my card was colored in Copics and mostly in the yellow-greens (YGs) and red-violets (RVs). These color families are always so fresh together. I hand drew some of the scene background such as the trees and the foreground grassy landscape. There's a slight yellow tint in the sky, but it's a little harder to see in the photos because it is so faint. It helps to soften the overall look, however. The characters have been "popped" up with foam cushion as well as the phrase, "fairy best friend." Don't you just love the font used for this phrase and the other phrase in the set?! This is a set that I fell in love with when I saw it and love it even more after using it. 
Hurray! It's release day. 🙂 Check out the entire March release at Craftin' Desert Divas today and follow their blog to see new the latest projects using the new sets! 
Thanks for visiting! I hope all your wishes come true today. 
Pouring my h♥art into every design! 
Bobbi ♥ Design