With Saint Patrick's Day on Sunday,  I had green clovers on my mind this week. My father-in-law (aka Gramps) is of Irish descent and is very proud of his heritage. My husband and kids are all in for being "Irish," too. Gramp's mother (my husband's grandmother) was born on St. Paddy's Day and her maiden name was Dwire. Gramps is battling cancer these days and I thought it would be fun to let him know how much he is loved on his special Irish day! 
I'm using the following Honey Bee Stamps  stamp sets and dies: 
I just adore the fox in Warm Wishes and fortunately for me, he has a four-leaf clover in his set! Gramps wears glasses so I had to give this cutie a pair of spectacles, too. I borrowed those from Mae the Mouse!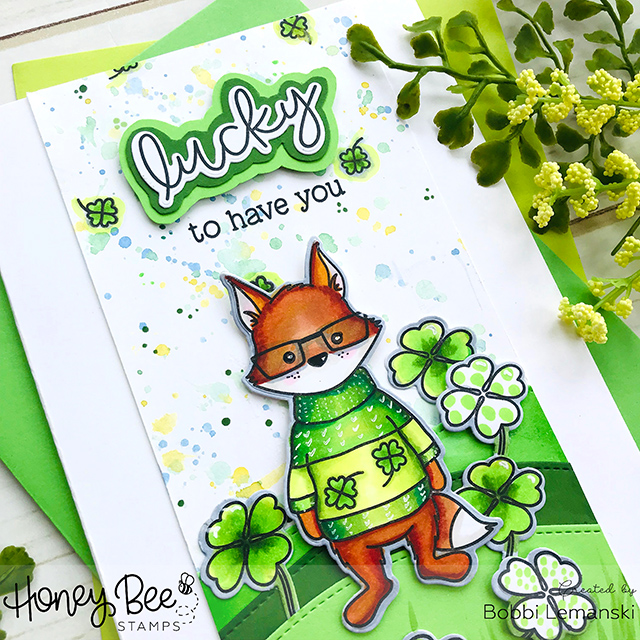 I colored the cute fox using Copics. I created the background by flicking watercolors in blue, yellow and green on white cardstock. A also added some more intense colors using Copics and stamped and colored small clovers over the watercolor spots. The bottom of the card is three layers of green hills using the Hill die Honey Cuts using Hill Borders Honey Cut dies.
I added "Happy Saint Patrick's day" to the inside of this card. I think my father in law will enjoy getting this unexpected card. He will love that we recognized his special day. 
Thanks for visiting! Hope your day is filled with luck and maybe some green beer ;0)  
Pouring my h♥art into every design! 
Bobbi ♥ Design