Hey, there! It's day 2 of the April Release Sneak Peeks for Craftin' Desert Divas. I am sharing a card I made using the stamp set, Chef Trolls. If you like to cook or know a lot of chefs, this may be just the right set for you! It's full of adorable characters and some fun accessories, too. I'm also using a new stencil. If you look closely, the wallpaper in the scene was made using the Moroccan Tile stencil. This stencil and stamp set will be available on Wednesday, April 17 along with many other brand, spankin' new sets to be released this month.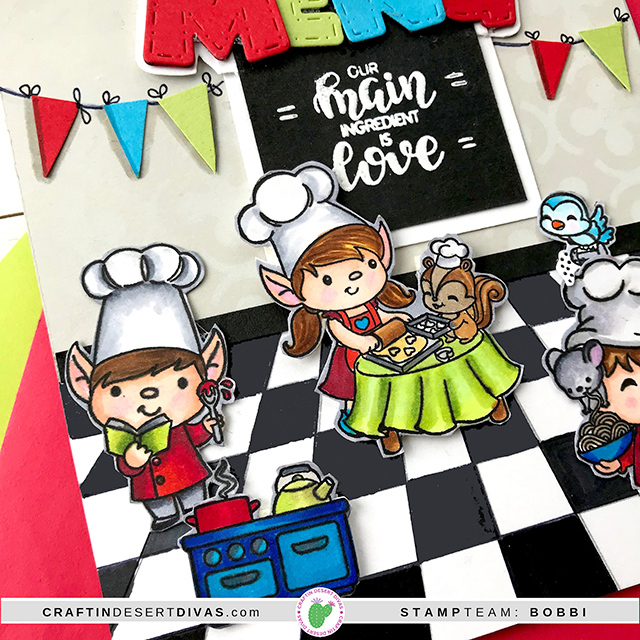 This entire scene rests on an old fashioned checkerboard floor. These are fun to make and easy to draw once you create a centerpoint. When I'm making these types of floors, I use a scrap piece of paper and draw a center point above the actual floor top line. A sticky note works great. Just stick it on your card front, right above where you want your floor to end and your back wall to begin. Create a "center point" on the sticky note by penning a dot on it. From there, I simply draw lines from the point (on the sticky note) to the bottom edge of the card front to create my vertical lines. You will need to "fan" them out to create the illusion of distance. I use my ruler and eyeball my horizontal lines, adjusting them to be a little narrower each time to give the illusion of distance. If this is something you want to learn more about and try, there are a lot of wonderful videos on YouTube that show how to do this. Search on "one point perspective drawing" to find many out there to watch and learn from.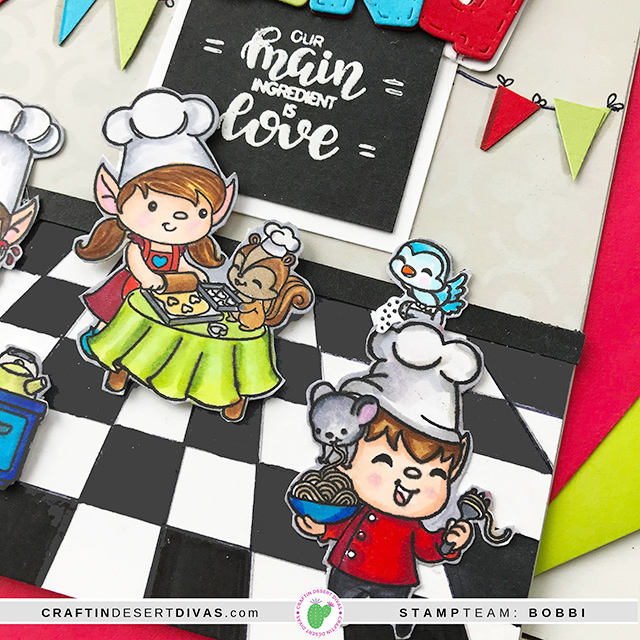 Next, I stenciled the back wall to look like wallpaper in an old-fashioned Italian restaurant. I colored all my characters in using my Copic Sketch markers. The chalkboard sign was stamped and embossed using white embossing powder using one of the phrases in the set. I handcut and drew the string lines for the banner hanging on the wall. The letters "MENU" were die cut using the Stitched Alphabet Dies. I did put a little white border around the MENU sign to make it pop a bit off the gray wallpaper. I also added that cute birdie on the chef's hat popped a few of the images for more dimension. That wraps up this tasty card! 
Thanks for visiting!  Have a tasty and fabulous day! 
Adding h♥art into every design
Bobbi ♥ Design