It's Friday and a good day to share a little yummy goodness from Honey Bee Stamps.  I created this delish mason jar smoothie card using the following Honey Bee stamp sets: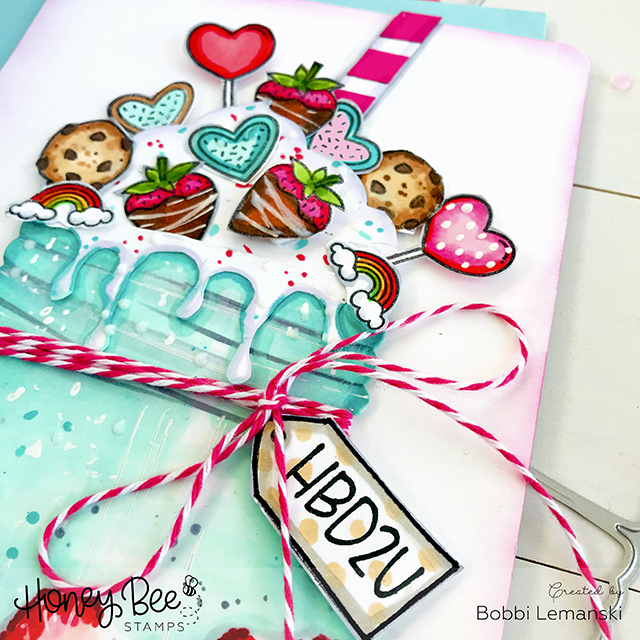 I love when I see these fun smoothies on Pinterest with all the fun stuff on top so I loaded this one up, thanks to the stamp set, Mae the Mouse. I added a dollop of whip cream using the die from the frappe shaker card die set. Then came all the sweet treat toppings to place on the cream. Chocolate covered strawberries, cookies, sprinkles, hearts, heart pops, you name it, it's on there! I also hand cut white cardstock to create the illusion of whip cream melting down the side of the mason jar opening.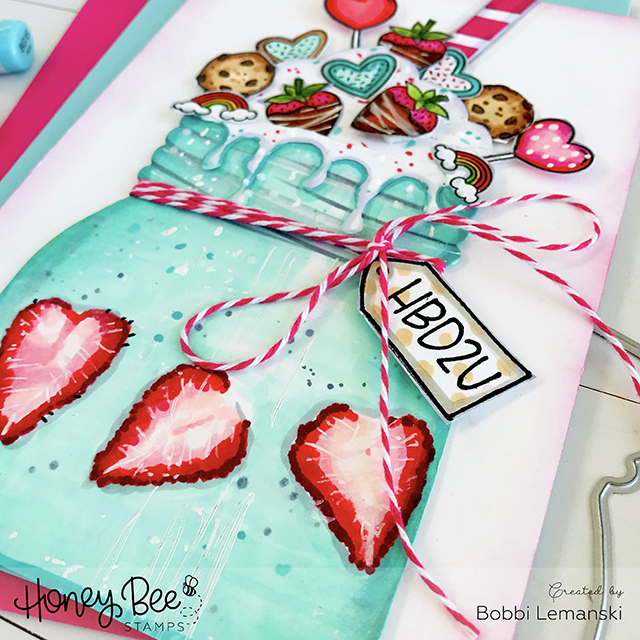 I wanted this smoothie to show some fruit in the jar. I hand drew some hearts in the mason jar and colored them in to look like sliced strawberries in a minty fresh smoothie. Using BG11, BG 15 and G00, I created the minty goodness around the berries. 
To finish off the card, I added pink and white baker's twine around the neck of the mason jar and attached the tag (from Piece of Cake) to the neck of the jar. I added dimensional foam to the entire smoothie to "pop" it a bit from the background. I sponged a little Picked Raspbery Distressed Ink around the borders of the background and rounded the corners to create a softer appearance. That wraps up this scrumptious card!
Thanks for visiting!  Have a berry smooth day! 
Adding h♥art into every design
Bobbi ♥ Design