I have something exciting to share today. Here's an opportunity for you increase your Copic coloring skills while giving back. Crafts for Paws is a non-profit organization that helps rescue dogs in need. I took this Copic coloring class and learned so much from the instructor and president of Crafts for Paws, Elena Cazares. For only $5.00, you can purchase this class and help a fur friend in need!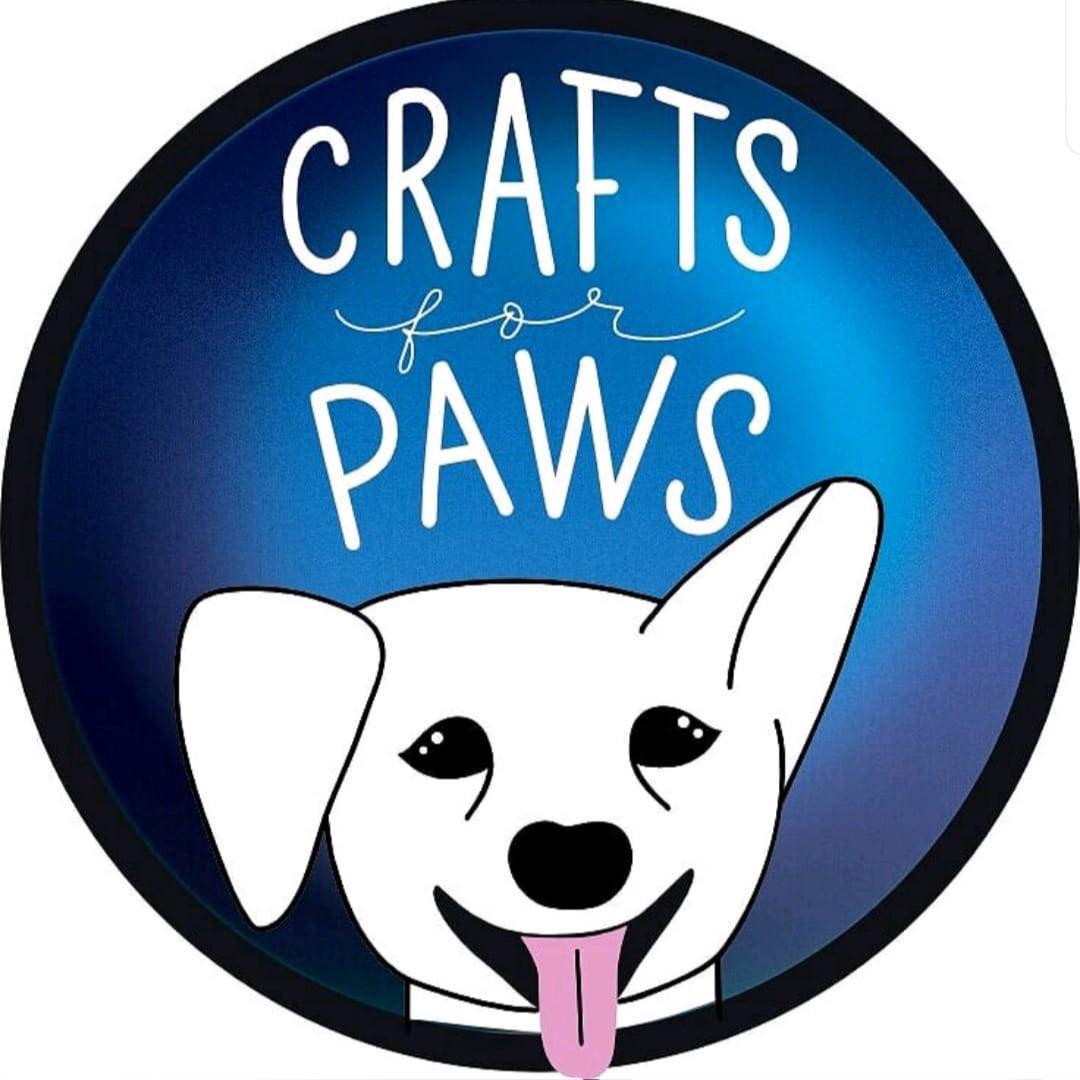 About Crafts for Paws 
Crafts for Paws uses 100% of its proceeds from items sold on the CraftsforPaws.com site and in its Facebook group to help animals in Texas. They specialize in supporting higher than usual medical cases that would otherwise prevent a dog from being adopted as well as helping out two Sanctuaries in the DFW area that rescue old and sick dogs. They offer shelter and give dogs a nice, cozy and loving home for the rest of their lives. 
When you purchase products or tutorials, your money is being used to help dogs in need. I'm sharing one of the tutorials that is available now on CraftsforPaws.com.  This month's tutorial is called "Overly Happy Tulips."  It's a pitcher vase filled with beautiful tulips.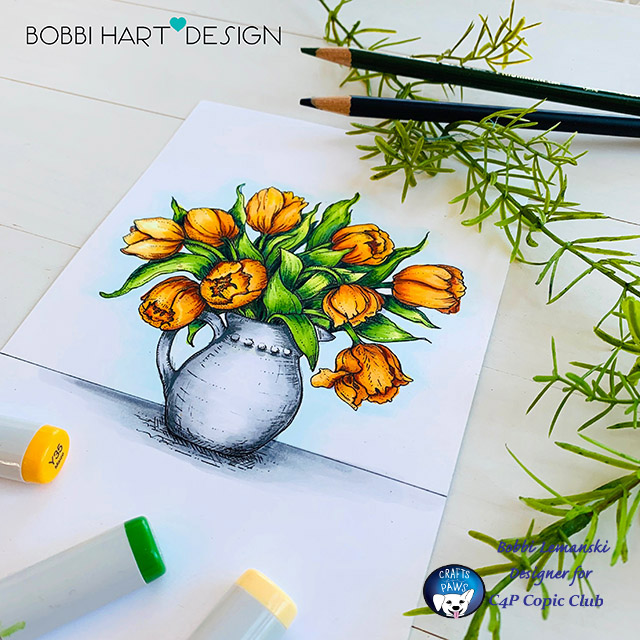 When you purchase this class for $5.00, you get the following:
A step-by-step video with Elana demonstrating each coloring technique as she completes the look
The supplies list with pre-selected colors hand chosen by Elana to achieve the same look
A downloadable file for coloring 
I created this coloring after watching the tutorial. Elena is fabulous! Her sweet, soft voice makes learning fun and relaxing. I found it very easy to follow her instructions. Elana will have a new class each month that you can purchase and did I mention only $5.00 each? What a deal! Another benefit – no subscription. Pay only for the months you like!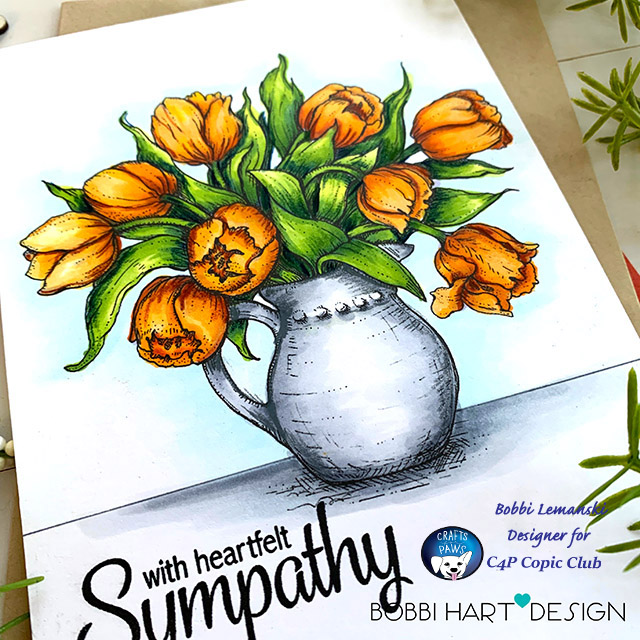 In this class, you'll learn many techniques, explained step-by-step, including under painting, color sculpting, depth and smooth-blending. I'm a self-taught colorer so I really appreciated learning new techniques, including what colors to use for the under painting to achieve more depth in my coloring. It's fun, informative and best of all, you pick the time to attend! It's online. All you have to do is show up at your laptop anytime with your Copics and pencils in hand!
If you have a limited number of Copics, no worries! You can change up the colors to fit your supplies. Elana gives you the colors she's using, but she also encourages  you to try new color combinations, too. I plan to color this picture again using other color combos. It's great practice AND you get a new look each time. When you purchase the class, you have the image to color over and over again. Just print it off using your laptop and printer and you're ready to create a another project.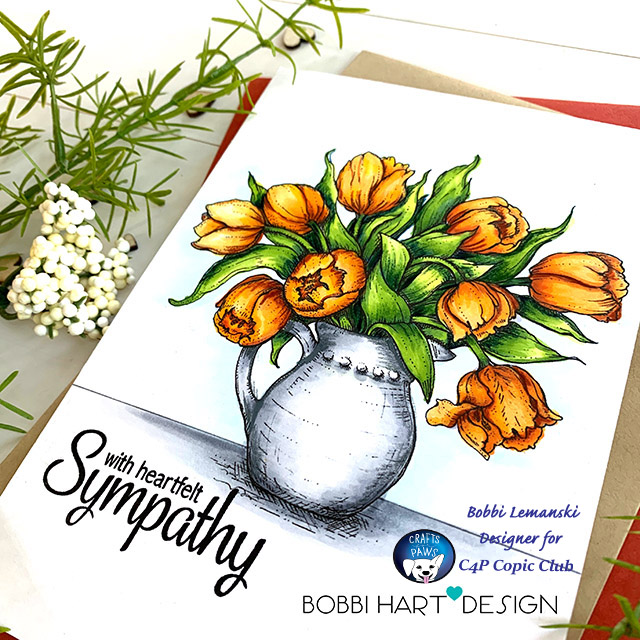 About My Card
Once I colored my image, I made it into a sympathy card. I used Your Next Stamp, Whatnot Sentiments Seven CYNS400 for the phrase. This is a great set to have in your stash. I do make a lot of sympathy cards and I thought these happy tulips may bring peace to someone suffering. I also think these tulips would be great for get well, birthday and more, too! 
Grab your Copics and colored pencils and color away! We can't wait to see what you do with these tulips! 
Adding h♥art into every design
Bobbi ♥ Design