Hello! Today I'm sharing two more cards I made using the La-La Land Crafts September, 2019 monthly club kit.  For more details on the kit and to join, you can go to Club La-La Land Crafts page to learn what options you have for joining. For my card, I'm using one of the stamp sets in the kit called, Squeeze the Day (love it!) which also happens to be a phrase in the set. The stamps are red rubber and come unmounted so you can use them in your stamping tool, easily.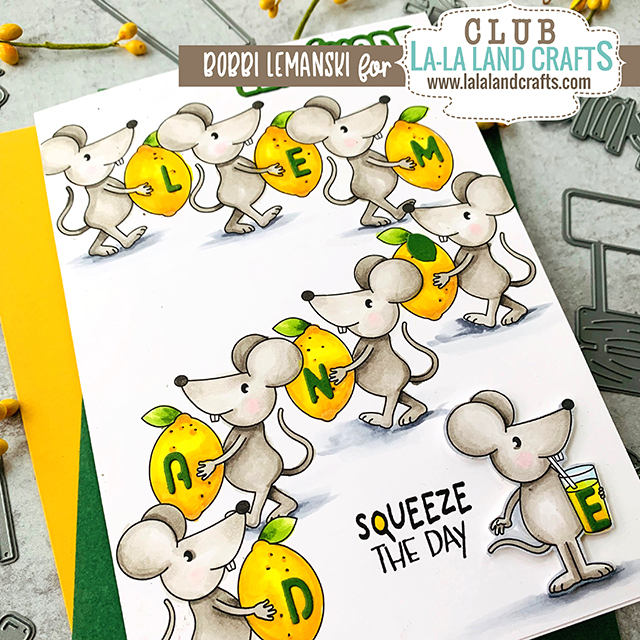 To make this card, I used two techniques that are easy to do if you have some patience! I needed my mice to walk in both directions to create a meandering path down this 5″ X 7″ card. I also needed them to overlap somewhat to get enough mice to spell the word, "lemonade." To do this, I created a mask for my mouse holding the lemon image using a sticky note piece. I stamped and cut it out and placed it over the adjacent mouse each time I stamped. I also needed the mice to look different ways so to make this happen, I used a large square stamp (with no image) to transfer my design from my stamp to the square stamp and then to my paper. This takes time, but with a stamping tool, you can stamp multiple times, making sure to get a perfect final image. This is harder to do if you don't have a stamping tool.
A mask was also needed for the opposite direction mouse. I created it just like I did the first mask, using a sticky note. I love how this turned out.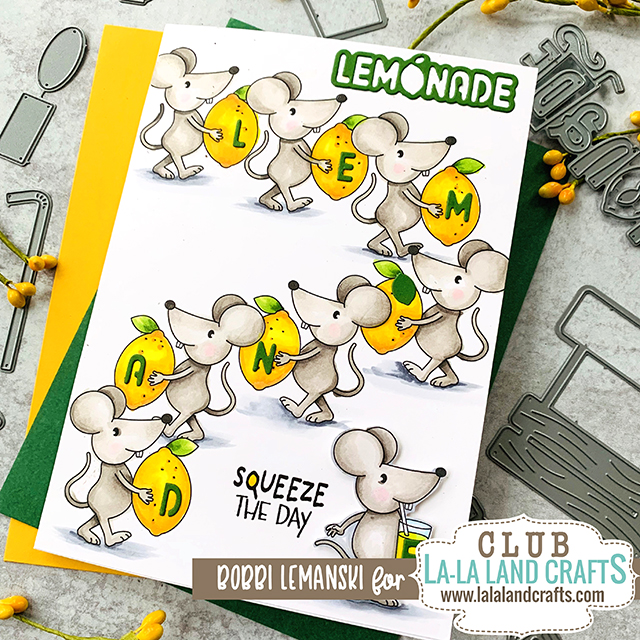 Here's the details on my coloring of the images. I used Copic Sketch markers in warm gray shades for the mice and a cool gray shade for the shading/grounding. The lemons were done in yellows and the leaves in yellow-green shades.
Copic Coloring Details
Mice: W07, W05, W03, W01, W00, RV00
Lemons: YR23, Y19, Y15, Y08, Y04
Lemon Leaves: YG67, YG03, YG00
Shading: C05, C03, C01
I also used one of the dies from the set to cut the LEMONADE letters that were added to the lemons. Notice the "o" is in the shape of a lemon and also acts as a leaf on the lemon! The rest of the die cut word, "Lemonade" is at the top of the card in green. I stamped the phrase, "Squeeze the day" by the drinking mouse and added shading to ground all the mice. Here's another look at the kit's elements for the Sep package.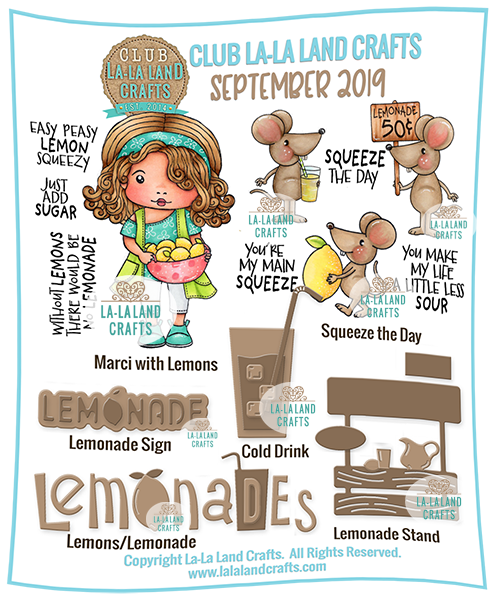 Thanks for stopping by today. Please note: If you want this exact September kit, you must sign up by September 20 (Friday) to get this one. This kit is not available to you unless you are a monthly subscriber. If you sign up for the stamps and dies, you save approximately $45/month, too! Time to sign up here!
Now it's your turn to turn your lemon days into pure lemonade crafting days with Marci and her helpers!
You can find me on my Instagram as @BobbiHartDesign and on Facebook as BobbiHartDesign.
Bobbi Hartmann Lemanski, Bobbi Hart♥ Design,
Adding h♥art into every design