It's Day 2 of the Honey Bee Stamps Holiday Blog Hop and I've got another holiday card to share with you using some of new products now available in the Honey Bee Stamps online store.  I'm using products that I have not gotten to play with yet so it was fun making this one for the hop. To make this card, I used the following NEW Season to Sparkle products: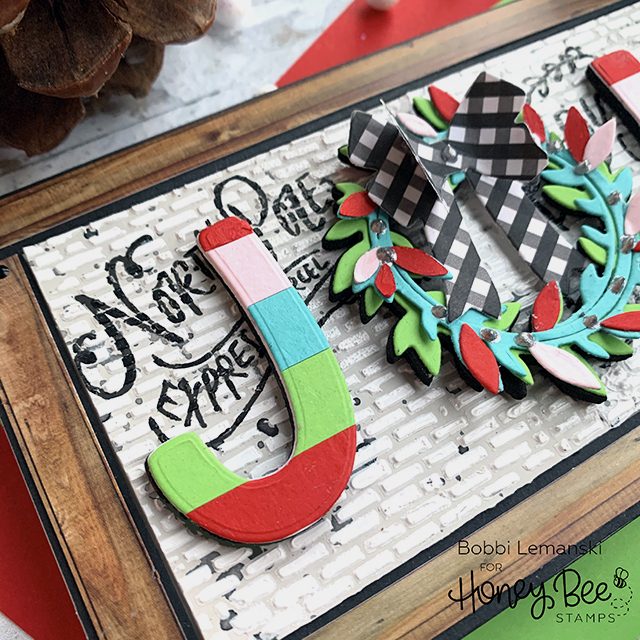 The industrial and rustic vibe is so big now. My inspiration for this slim line card was the look of an old, imperfect brick warehouse building with aged painted logos on the side of it and a mounted sign right over the chipping painted images. I made my entire card front a brick textured sign using a rustic wood frame with heavy, industrial nail heads. Let me tell you, I am in LOVE with this salvage brick stencil. It is GORGEOUS for this look. I can't wait to use it with the House Builder die set. 🙂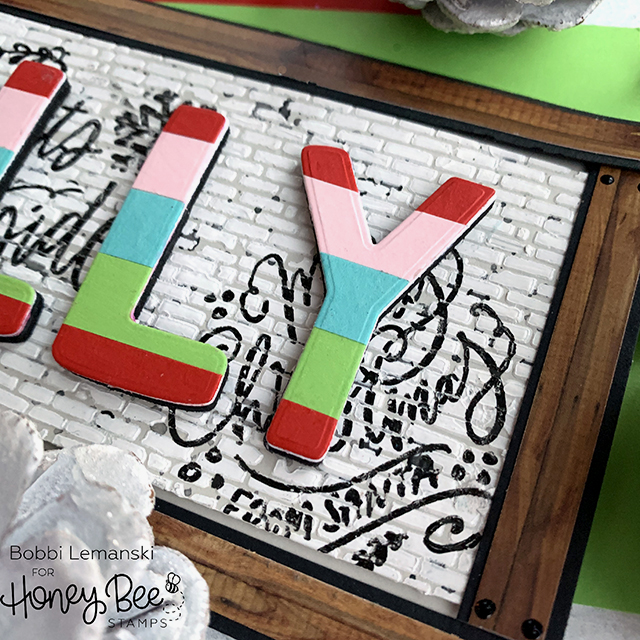 To make this card, I started by splattering black watercolor splotches on a warm gray cardstock piece measuring 8-1/2″ X 3-1/2″. Once it was dry, I taped the Salvaged Brick Stencil over my card front and applied white embossing paste over it. The black splotches show through in the grout lines and I absolutely fell in love with this look. I will be doing this again. 🙂 The embossing paste takes time to dry so I set it aside and worked on the other elements.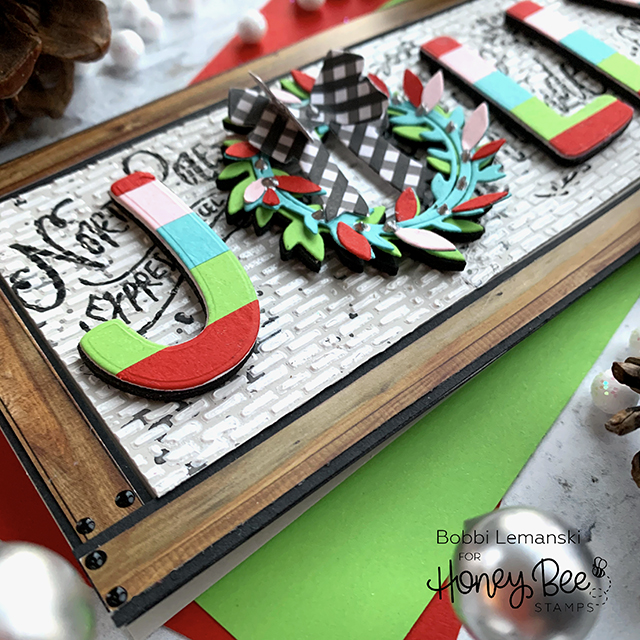 To create the frame, I cut 1/2″ strips of black and layered strips of rustic wood pattern paper cut slightly narrower, over the top.  For the long edges, I pieced two pieces of rustic wood together to extend beyond the 6″ width of the pattern paper. I also cut the card base cardstock to a  8-1/2″ X 7″ piece and scored down the center for a 8-1/2″ X 3-1/2″ folded card.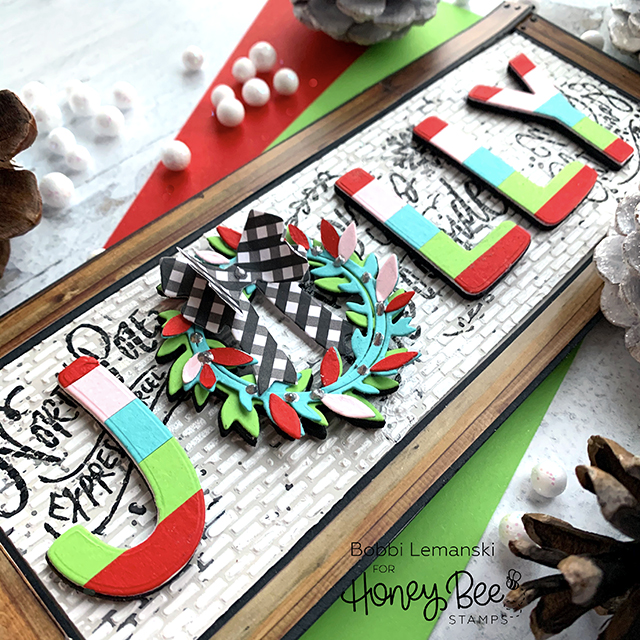 To make the letters, I cut 1/2″ strips of cardstock in red, turquoise, pink and green and adhered them next to each other on another piece of paper. I die cut the letters from the pieced cardstock, cutting the "L" twice to make the word, "jolly." For the "o," I cut two wreath images in turquoise and green and layered them together. I die cut leaves in red and pink and added them to the turquoise base wreath. All of the letters and the wreath were backed with black craft foam, die cut in the same shape. The bow on the wreath was die cut from the black and white checked pattern paper from the Harvest Festival 6″ X 6″ paper pad.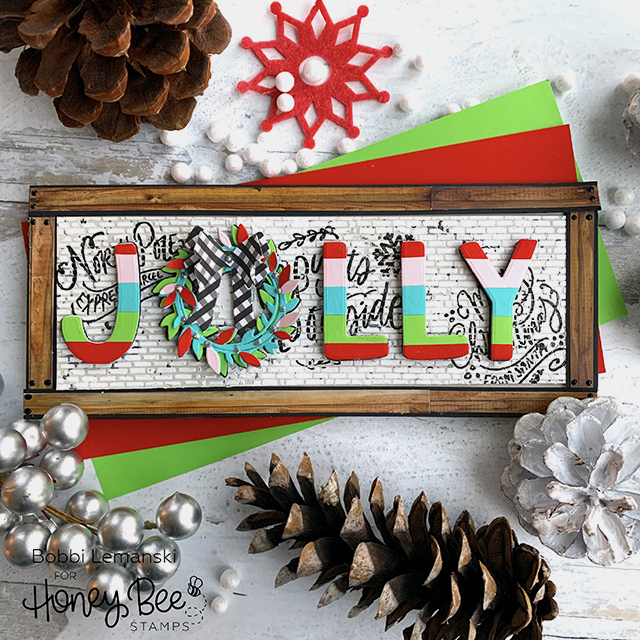 Once the brick was dry, I stamped three images on it using Versafine Black permanent ink. I love the designs of these phrases from Santa Express and Season to Sparkle. They work perfectly for this application! I adhered the frames around the card base  front panel, cut my brick down to fit the inside my rustic wood frame and finally, adhered the J, wreath, L, L, and Y to the front. I added silver bulbs to the wreath and black nail heads to the frame wood edges using Pearl Pen in silver and black, respectively. I love how this turned out and can't wait to use that stencil for more ideas I have!
Want more ideas using products from the Season to Sparkle release? Check out my blog for lots of inspiration (many posts from last week, during sneak peeks!), my Instagram page as well as the Honey Bee Stamps blog.

What's next on the hop?
Want a chance to win a $30 gift certificate from Honey Bee Stamps? Leave a comment at every blog stop on Day 2 of the hop for a chance to win! Now it's time to hop to the next designer, the amazing Carly Minner.  Be sure to check out all of the designers participating in today's Blog Hop. Here's a complete list:
Bobbi Lemanski (You are here)
Thanks for visiting. If you would like to see more of my designs, subscribe to my blog in the upper right.  You can find me on Instagram as @BobbiHartDesign and on Facebook as BobbiHartDesign.
Bobbi Hartmann Lemanski, Bobbi Hart♥ Design,
Adding h♥art into every design