It's time for another Club Kit for La-La Land Crafts! I'm guest designing for another month and boy do I love this month's kit! It's Warm Hugs Marci, all dressed for the season and the Winter Piggies. These cute friends are skating, sledding and just looking cute in their winter wear.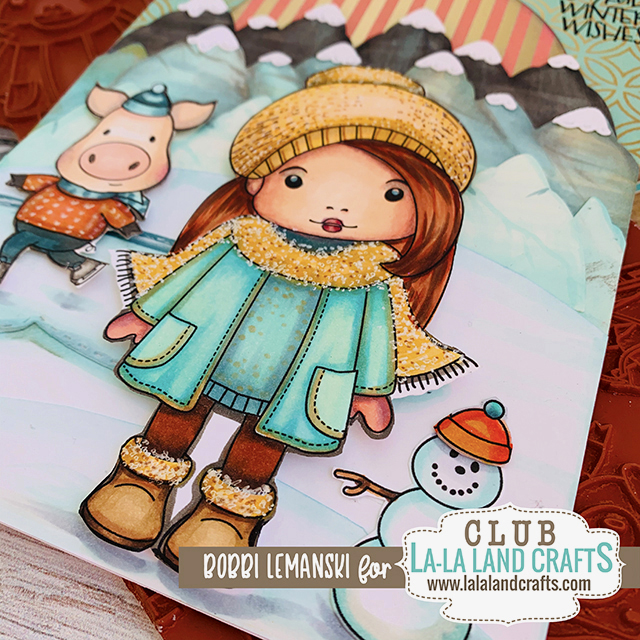 What's Included in the Kit
I absolutely adore these designs and had fun creating with them, too! I've said this before, but it's like playing paper dolls or dress-up Barbie, but for adults and artists! I get to choose what Marci and the gang wears and the color of their hair, skin, lips, boots….well everything! This month's kit comes with Marci, three little pigs, a snowman, various phrases and dies to create mountains and snow caps, trees, a large pond and a small pond or puddle.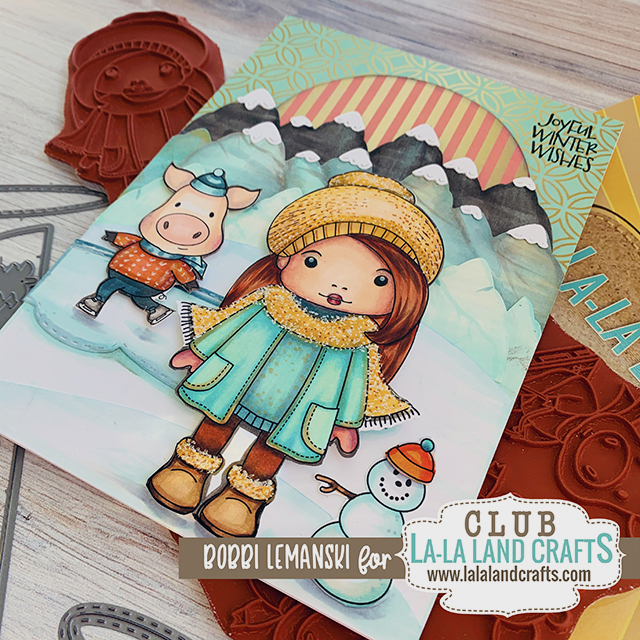 Card Details
To make my 5″ X 7″ card, I used the following:
Dies: mountains, snow caps and pond dies,
Stamps: Marci, the snowman, a pig and a coordinating phrase
Papers: Golden Sunset paper pack now available at La-La Land Crafts
To make the winter scene, I started by creating my sky using one of the papers and the sun using a coral/gold striped paper. I die cut three layers of mountains using one of the dies in the sets out of ivory cardstock and colored them using my Copics, transitioning from lightest in the forefront to darkest in the background. The entire area in front of the mountains is white for snow. I nestled a white with aqua blue coloring pond between the two layers of snow for the piggy to skate. The pond die is part of the set. The pond uses some of the same colors of the mountains. A full list of Copic colors used for this card is listed below.

Coloring Details
I colored Marci using the following Copic Sketch Colors:
Marci Skin: E11, E00, E000
Marci Hair: E47, E55, E19, E15
Marci Lip: R59, RV95
Marci Cap, Scarf and Boots: E55, Y28, YR30, YR31, E51, W1 along with a Uniball Signo White Gel Pen for the fuzzies 🙂
Marci Outfit: BG72, BG70, BG13, BG10, G20, G00
Pig Outfit: BG72, YR18, YR24, BG11, BG10, W7, W3
Pig Skin/Hooves: W9, E11, E00, E000
Snowman: BG11, BG10, YR18, YR24
Mountains, hills and pond: BG72, BG23, BG11, BG10, W7, Y28, E51 (first layer – BG11, BG23, BG72,  second layer – BG23, E51, Y28, BG72 and third layer – W7, BG72)
Other: Shading W5, W3, C5, C3, C1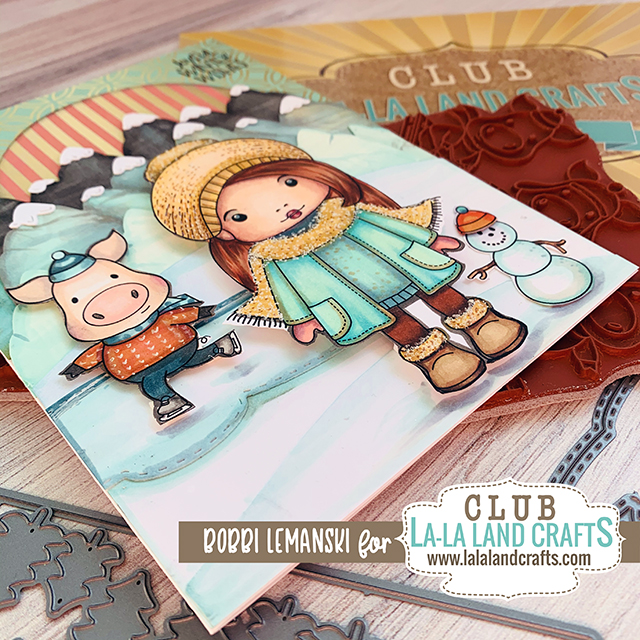 Everything was attached in the scene on the card front. The pig and Marci were "popped" up using dimensional foam underneath the images to stand out. The completed front panel was attached to a 5″ X 7″ card base in white to finish the card.
Watch for more Warm Hug Marci and Winter Piggies designs this month. I'll be sharing 4 looks this month. This is the first of the four. I can't wait to show you more! (Hint: There may be one later today. :))
Want to purchase this kit?
To purchase this adorable kit, go to La-La Land Crafts subscription page . This kit has a $68.99 value, but if you subscribe to the club, you can choose between three levels. To get everything in the kit (dies and stamps) the kit price is $39.99, saving you $29.00 this month. There are options to purchase on the dies and/or only the stamps for less, too. Keep in mind, this is the only way to get these exclusive stamps and dies from La-La Land Crafts. You can read the club details on the same page.
Keep updated on posts by subscribing to my blog to the right. You can find me on Instagram as @BobbiHartDesign and on Facebook as BobbiHartDesign.
Bobbi Hartmann Lemanski, Bobbi Hart♥ Design,
Adding h♥art into every design