It's a new Inky Paws Challenge sponsored by Newton's Nook Designs and this one is themed, "Mixed Holidays." You can pick your holiday – Halloween, Thanksgiving or Christmas for your project. I was so happy that the fall holidays were included because I just got the new set, Pumpkin Latte stamp and coordinating die sets and I've been itching to use this one! Today's card is all about pumpkin season…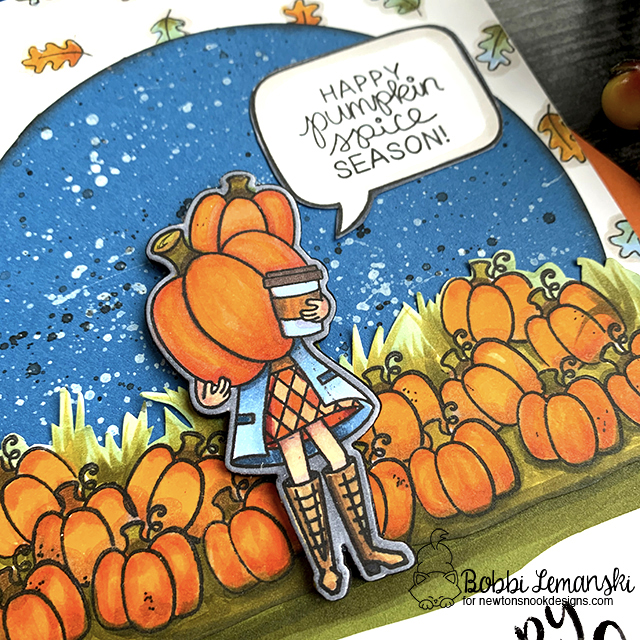 To make this 5″ X 7″ card, I created a background sky by splattering black and white ink on a darker blue shade of cardstock and then die cut it into a circular shape. I edged the circle with a black ink to make it stand out a bit. I stamped a small leaf design on the top half of my card base, front panel and colored them in in rusts/oranges (Copic colors: YR27, YR24 and YR12) and blues/greens (Copic colors: YG67, G20 and Y21). All of the leaves were shaded using a Copic W1 color.
I stamped and colored this adorable girl in blue and oranges shades. These are complementary colors on the color wheel so you know they are going to look great together! I die cut the image out as well as die cut a piece of black craft foam to back the image to  make her stand out from the patch behind her. Here's some Copic colors I used to color her:
Outfit -B45, B41, B21, YR68, R05, YR12
Pumpkins – YR27, YR24, YR04, YR68, YR12,
Boots – E57, E55,
Skin – E04, E11, E00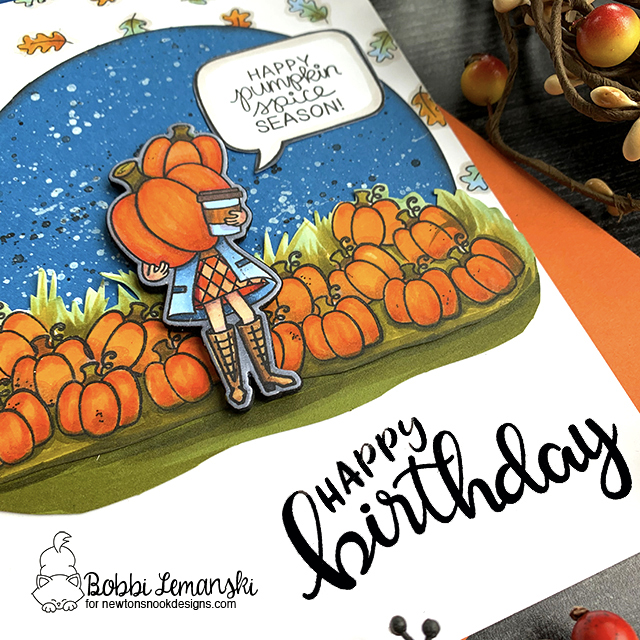 To make the pumpkin patch, I created two pumpkin masks and stamped and masked the pumpkins to create rows of pumpkins behind the front row. I hand drew in some green grassy patches between and around the pumpkins in Copic G20, YG93 an3d YG95 colors. The entire patch was cut out and adhered in front of the circular sky. I also added more YG95 below the patch to create some foreground grass/shading to the patch.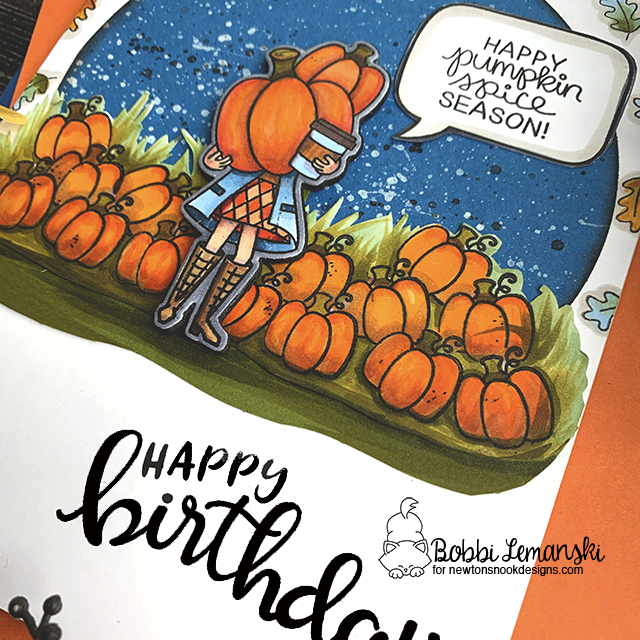 The Happy Birthday sentiment was stamped on the bottom right corner in black from the Birthday Essentials stamp set. A speech bubble with one of the phrases from the Pumpkin Latte set was added to the card, too.
Card Challenge Details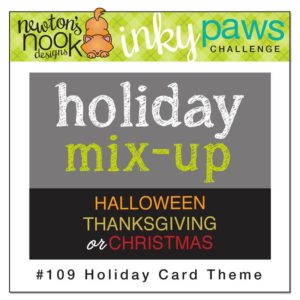 Now, it's your turn to pick a holiday and create a project to enter in the Inky Paws Challenge. You have until Friday, November 1, 2019 to link a card. Challenge rules and details are all on the Inky Paws site. Anyone can participate, but to qualify for the random winner drawing for the $20 store credit, you need to use Newton's Nook Designs products.
Want to see more ideas and inspiration from me? Subscribe to my blog on the right.
I'll send you updates on new posts!
You can find me on Instagram as @BobbiHartDesign and on Facebook as BobbiHartDesign.
Bobbi Hartmann Lemanski, Bobbi Hart♥ Design,
Adding h♥art into every design