I'm guest designing this month for La-La Land Crafts. I'm sharing the October Club Kit featuring Marci and one of her piggy friends. Fresh crisp fall air, fields, mountains, trees… what could be better than that? Well, sharing it with a friend. 🙂 They are having fields of fun this autumn season! For this card, Marci and piggy are colored up in the colors of the NEW pattern papers at La-La Land called Golden Sunset.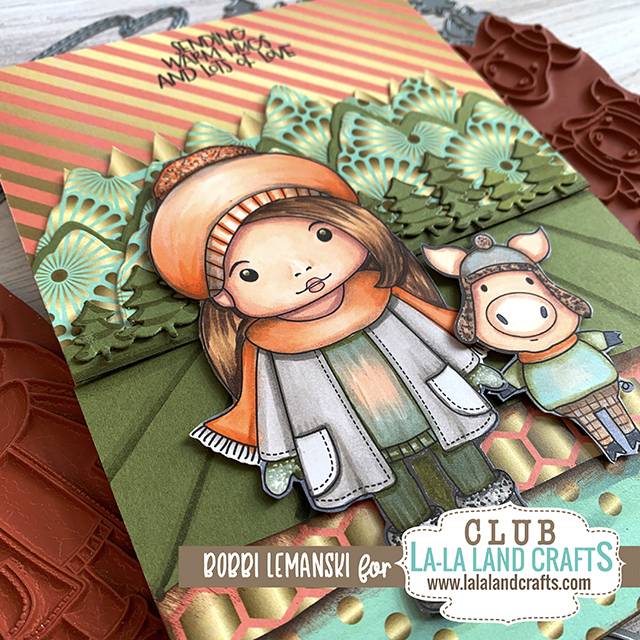 The October kit featured here comes with two red rubber stamp sets called, Warm Hugs Marci and Winter Piggies. You will also receive dies including a mountain range, snow caps, lake, pond, and a line of trees. On this card, I used the mountain range and tree dies for my background setting. I also used the pattern papers to create the sky, mountains and foreground area.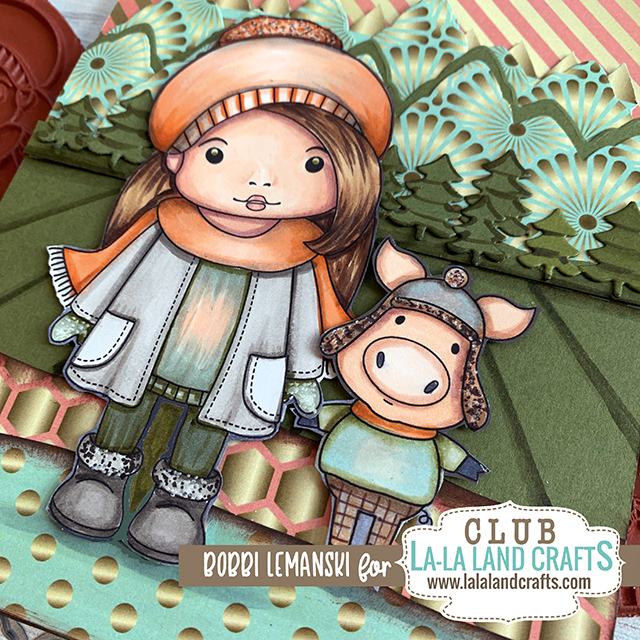 Marci and her piggy friend are colored using Copic Sketch Markers in the following colors:
Copic Coloring Details
Skin: E04, E11, E00, E000
Lip and Cheek: R21
Hair: E47, E57, E53, E50
Hat and Scarf: YR04, YR01, W1
Sweater: BG90, YR01, YG95
Jacket: BG90, W1, W0
Pants: YG95, BG90
Boots: W5, W3, W1
Piggy: E11, E00, E00, W5
Piggy Clothing: E43, E44, BG90, YG93, YG95, W3, W5
Pattern Paper: Goldent Sunset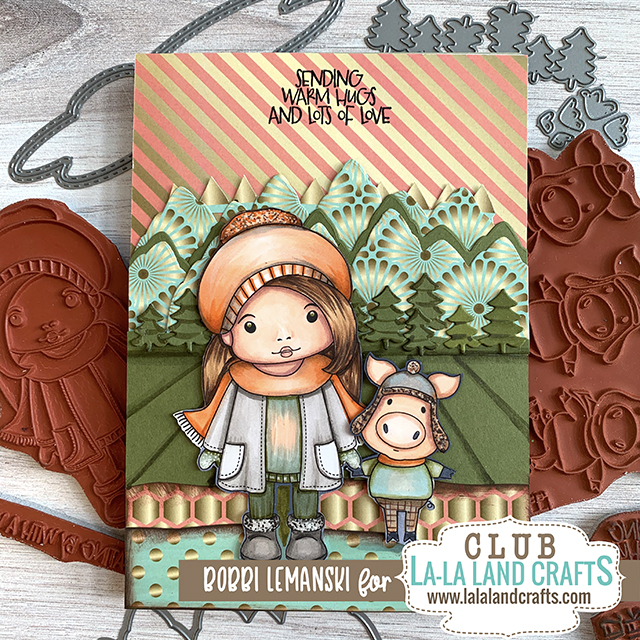 To connect the card's foreground and mountainous background, I added an olive green cardstock to the center of this 5″ X 7″ card and drew lines to create the look of a field in the mid-ground. I was challenged to use pattern papers on this card and I like the texture and interest it adds to the card. Because I used several patterns, I kept the design and focal images to a minimum. I hope you like it!
To get these exclusive stamps and dies, you must be part of the La-La Land Crafts Club Kit. They are only available to kit members. You can choose between stamps only, stamp and dies or dies, only. Each set had a different monthly price, but the best value is getting both the stamps and dies together. Plus, creating is more fun that way, too!  Sign up today and get the November kit sent directly to your home! I've gotten a sneak peek of the November kit and it is pretty fun!
Want to see more ideas and inspiration from me? Subscribe to my blog on the right.
I'll send you updates on new posts!
You can find me on Instagram as @BobbiHartDesign and on Facebook as BobbiHartDesign.
Bobbi Hartmann Lemanski, Bobbi Hart♥ Design,
Adding h♥art into every design