There's one more day left to sign up for the November 2019 Club Kit from La-La Land Crafts This month's kit is about book reading, but my card today is about having a mug with a friend at a coffee bar! I worked some magic with the dies in this set AND two new pattern paper packs called, Christmas Hodgepodge and Little Merry Christmas Pack (both now available to purchase at La-La Land Crafts) to create a stylish and on-trend, coffee bar scene!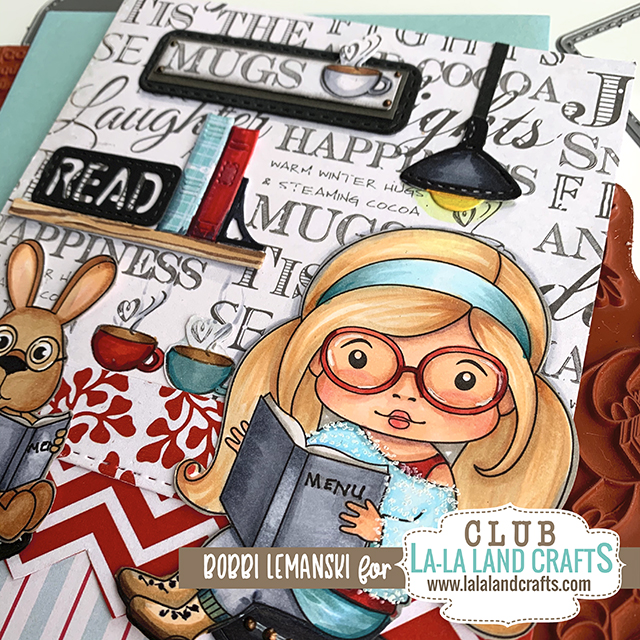 To make this card, I stamped, colored and cut out Marci and her bunny friend. I used the following colors for the images and some additional die pieces:
Copic Colors Used:
Hair: E59, E57, E13, E53, E50
Skin: E04, E11, E00, E000
Outfit/headband and mug: BG09, BG72, B00, B000, R89, R29
Boots: E57, E55
Glasses, mug and book: R89, R29
Cheek and Lip: R21, R20
Menus, barstools, and Shadows: C5, C3, C1
Bunny: E57, E55, ER20, E53
Light: 100, C9, Y35, Y18, Y00
Coffee in mugs and bookshelf: E57, E55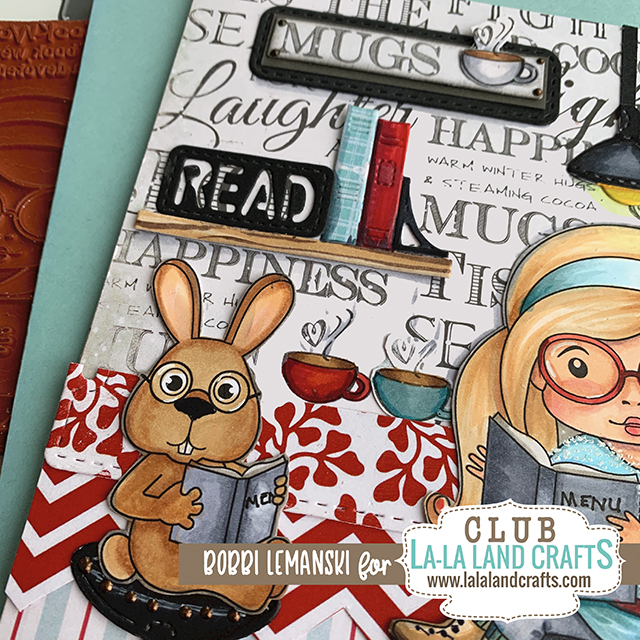 To create the scene on this 5″ X 7″ card front, I used pattern papers for the wallpaper, and the bar top and base from Christmas Hodgepodge  and Little Merry Christmas Pack. The bar top was die cut from the bookmark and sized down to be less wide. The hanging light and the barstools were made using the desk light that is available in the kit's die set. I used a snip here and there and turned the light upside down to create these fun stools. The coffee mugs and mug sign were cut from the wallpaper pattern paper. I die cut the bookshelf from the die in the set to make the shelf on the all as well as the READ plaque. This was a fun card to make because I had to get creative with the dies to make this scene work. Everything was assembled and adhered in place to finish the card.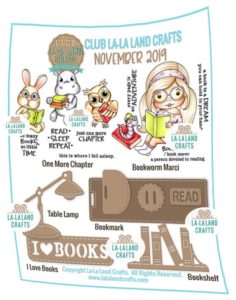 To get these exclusive stamps and dies, you must be part of the La-La Land Crafts Club Kit. They are only available to kit members. You can choose between stamps only, dies only, or stamp and dies together. Each option has a different monthly price, but the best value is getting both the stamps and dies together. The value of this kit is $88.99 and you can purchase it for $39.99, saving your $49.00 for the whole bundle. Plus, creating is more fun that way, too!  Sign up by November 20 and get this kit sent directly to your home! After the 20th, this kit will no longer be available.
Want to see more ideas and inspiration from me? Subscribe to my blog on the right.
I'll send you updates on new posts!
You can find me on Instagram as @BobbiHartDesign and on Facebook as BobbiHartDesign.
Bobbi Hartmann Lemanski, Bobbi Hart♥ Design,
Adding h♥art into every design