My card today featuring Concord and 9th products was inspired by a real-life floral designer located in the Washington D.C. area that sells flowers from her truck. It is the cutest little truck filled with gorgeous blooms. It's a truck made for Instagram lovers!
Each day the truck appears in a new location in the D.C. area and sells bouquets to people passing by. You can check out this sweet ride and business on Instagram at @blueribbonfloral, her website at BlueRibbonFloral.com and on Facebook.
The owner, Ali Chrisler is a wife and mother of a sweet little boy. She's a very accomplished woman with a PhD behind her name. The owner chose to do something different in her life after her son was born. She is the third-generation florist in her family. Interestingly, the name of her business is the combination of her Grandma's floral shop, "Blue Ribbon Bouquets" and her mom's floral shop, "Rainbow Floral." Put them together and you have "Blue Ribbon Floral." Instead of brick and mortar, Ali sells from her adorable blue truck with a bold striped black/white awning. Instead of customers going to her shop, her shop goes to them.  Here's a link to a recently published article in DCist about Blue Ribbon Floral and the owner. Also, read below about why I am so fascinated by this innovative entrepreneur.
Now for my card… When I saw the Special Delivery stamp and die sets  from Concord and 9th, I knew I had to have it. The stamp set is so cute and it reminded me of this adorable flower truck in DC.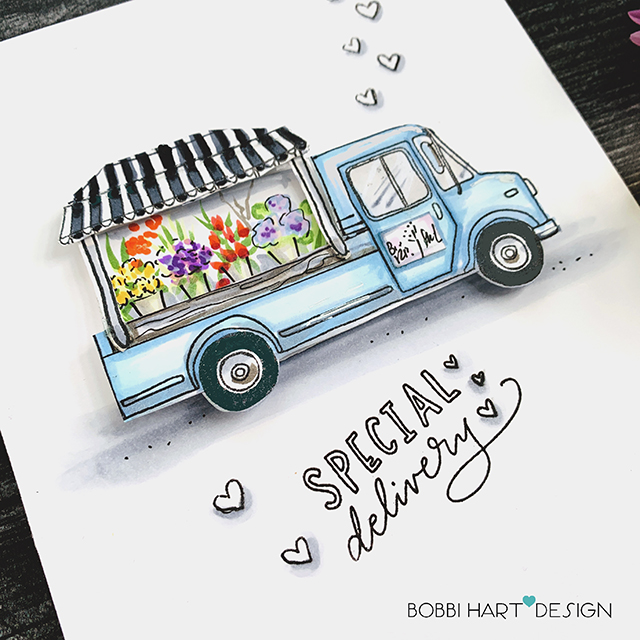 To create this 5″ X 7″ card, I completed the following steps:
I used the  Special Delivery stamp and die sets and converted the food truck it into a truck with a flat bed like the Blue Ribbon Floral (BRF) truck. The truck was colored in soft blue shades.
The awning was added by stamping the top of the truck two more times and cutting out the "poles." Next, I stamped the awning in the set twice and adhered them together to create a longer awning to fit the truck bed. I hand drew a second longer and taller awning in the shape of the BRF truck's slightly domed awning and added it to the back to finish the look.
A logo sign was added to the passenger door to mimic the BRF logo.
The truck was added to the card front using dimensional foam tape so it stands out.
Gray shading was added to the base to anchor the image.
Tiny hearts and the phrase, "special delivery" finished the look on the front.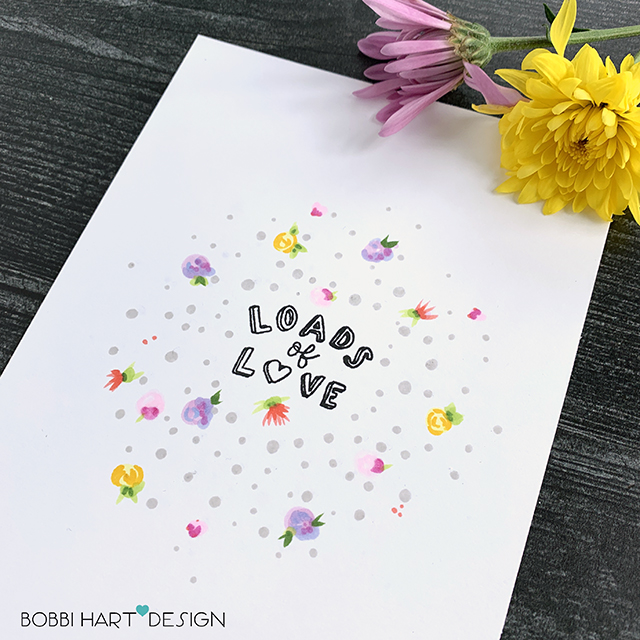 Inside my card, I stamped in a light gray, the Bitty Burst Turnabout first and then stamped the phrase, Loads of Love" in the inside area. It fit perfectly. 🙂 Lastly, I hand drew some buds using my Copics to match the card front for a whimsical look. This card would make a delightful birthday, mother's day, get well soon, thinking of you, thank you or anniversary card for someone.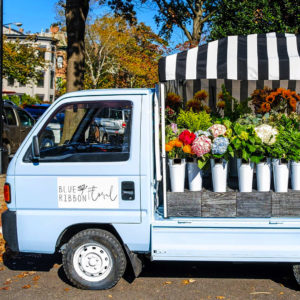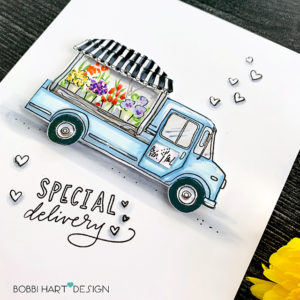 Well, how did I do? I think it looks quite like the real thing. We'll see what the owner thinks! Oh, did I mention… the owner is my adorable niece? Her grandma, Dona was my mom. My mom started the three generations off with her floral shop. All of us girls worked in the shop. My Dad would deliver flowers, too. It was a real small town,  family business and I loved being a part of it!
Want to see more ideas and inspiration from me? Subscribe to my blog, BobbiHartDesign.com.
I'll send you updates on new posts!
You can also find me on Instagram as @BobbiHartDesign and on Facebook as BobbiHartDesign.
Bobbi Hartmann Lemanski, Bobbi Hart♥ Design,
Adding h♥art into every design