It's Day 4 of the  Honey Bee Stamps "Bee Mine" release. This is the final day. Tomorrow, we have a 2-day blog hop planned AND all the wonderful new releases will be available to purchase in the Honey Bee Store. My project today features sneak peeks of the following products:
I also used the following new sets for some of the details you see here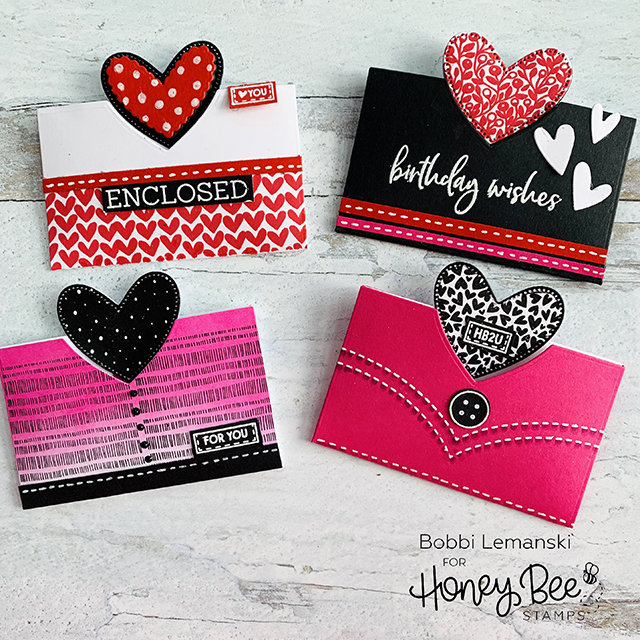 These Heartfelt sets go very well together because they are sized to fit perfectly together to create one-of-a-kind looks for your gift packages. The Heartfelt Pockets could be used for gift tags, secret notes in luggage, lunch boxes and backpacks. They can be tucked inside a gift package, hold a gift receipt or perhaps a gift card, too! They can be one layer or an actual card tucked inside, too.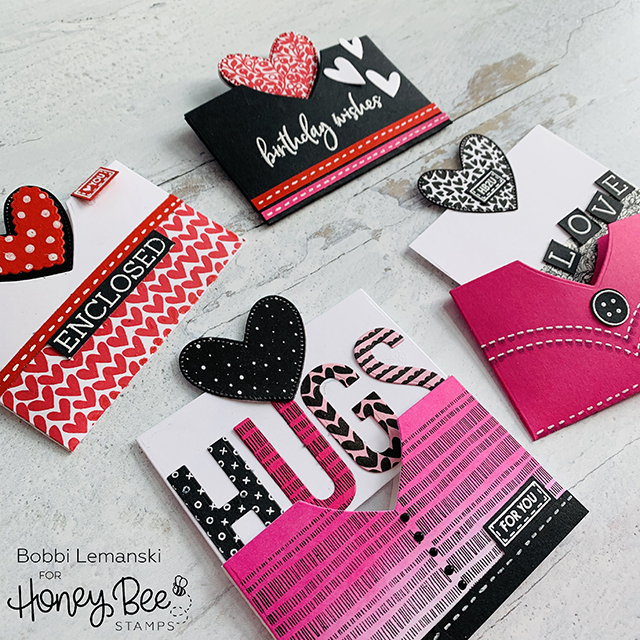 For the HUGS letters inside, I used the Bee Bold Alphabet dies  and the Valentine Patterns stamps. I also used the Valentine Patterns stamps for the outside design on the Hugs and Enclosed pockets.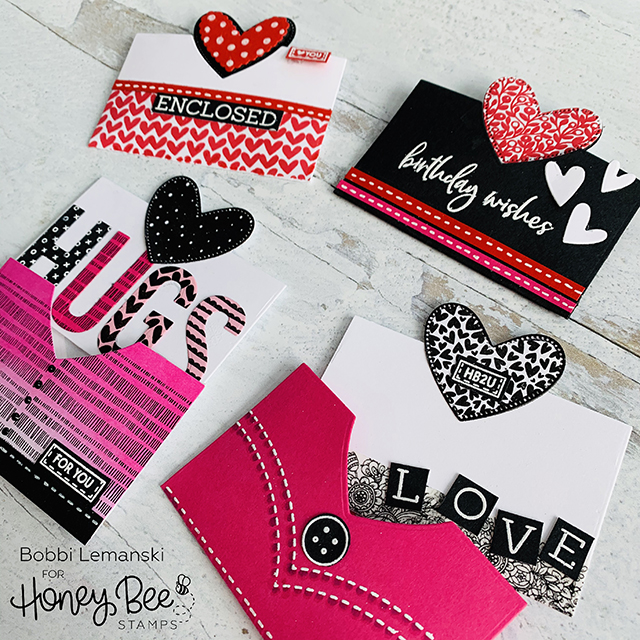 The Pocket Full of Love stamp and die sets were used for the stitching detailing, button and the cute three tiny labels shown, "For You," and "I(heart) you" and "HB2U." The "Birthday Wishes" script greeting is from the same set. The LOVE letters and the word, "Enclosed" are from Love Enclosed stamp set.
Tomorrow is the day for all these amazing new products to be available to purchase here. I'll also be on tomorrow's blog hop so stay tuned for that, too! You can begin at my blog or the Honey Bee Blog and hop to each designer's blog for more fun ideas and a chance to win $$, too! Stay tuned. For now, check out more looks on the Honey Bee Blog featuring the latest new products!
Want to see more ideas and inspiration from me? Subscribe to my blog, BobbiHartDesign.com. You can also find me on Instagram as @BobbiHartDesign and on Facebook as BobbiHartDesign.
Bobbi Hartmann Lemanski, Bobbi Hart♥ Design, Adding h♥art into every design