Woohoo! It's Day One of the Honey Bee Stamps Bee Mine Release Blog Hop. Are you ready for some inspiration and prizes? Visit and COMMENT on each blog on the hop (listed below). Honey Bee will pick one random winner each day from the qualifying entries to win a $25 gift card to Honey Bee! The Bee Mine release is available today in the Honey Bee Store. Visit the blogs, get inspired and then head to the store and get your favorites in time for Valentine's Day! I've got convenient links to all the products I'm using today below.
Today, I'm sharing two cards that feature several new sets in the new Bee Mine release available today in the Honey Bee Store. The first card has lots of fun details for an intricate scene at an outdoor bakery shoppe. If you're not one that likes to spend a lot of time on a card, I have a second card that shows how you can take elements of card one to make a much quicker version like card two.
Fluttering Hearts Coverplate Die (Purchase the bundle and save $1.95)
Fluttering Hearts Pierced Hearts Coverplate Die (Purchase the bundle and save $1.95)
Fluttering Hearts Stencil (two stencils)
Love Enclosed stamp set (for the "Love" script only)
Card One: Vintage Bakery Shoppe Scene (Detailed Version)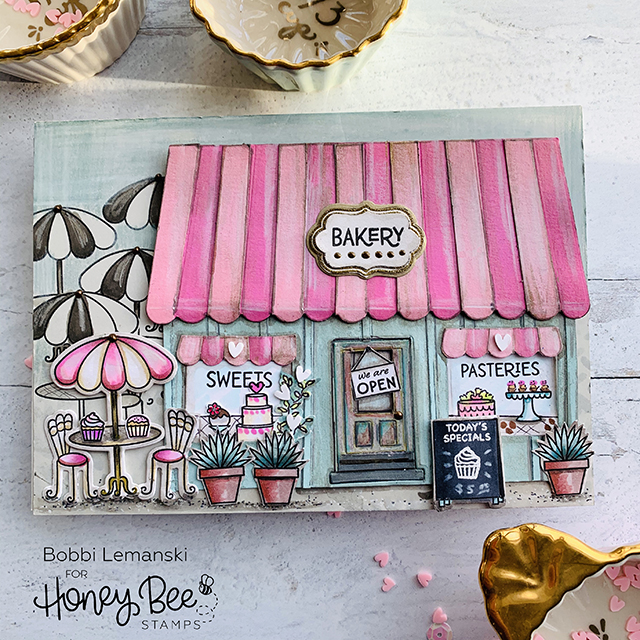 To make this 5″ X & 7″ card, I started with the House Builder Card Die set and added on elements from the new Treat Shop Add-On Stamp Set for a vintage French-inspired bakery. I added the scalloped roof, awnings, chalkboard, plants, outdoor seating and signage. I wanted this quaint, charming bakery to look like something you might see on an old street in Paris.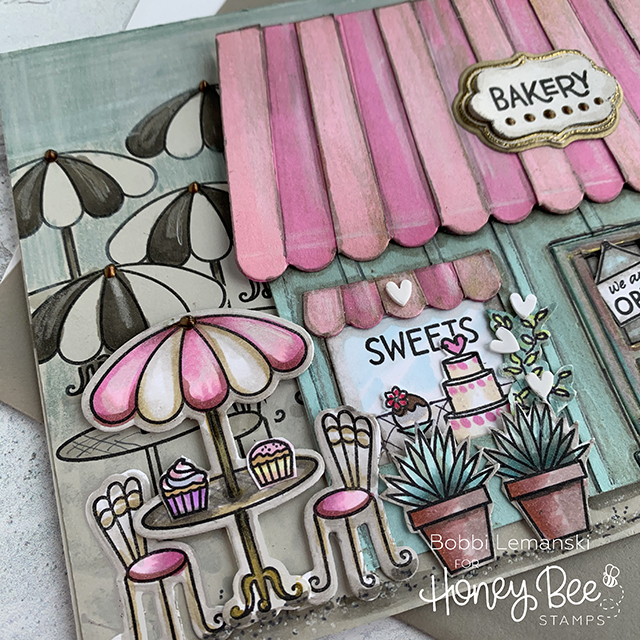 To create the vintage look, I applied metallic watercolor in gold and bronze on my cardstock. I applied the wash to two colors of pink and cut the roof strips apart on one and applied to the other to create the two-toned pink patina-finish, metal roof and awnings. I did with same for the baton board and front door on the front of the shoppe by applying the same finish on an aqua green cardstock. To create the appearance of baton board, I simply cut strips of green and applied vertically to the card base  Other elements were colored using gray-toned colors to give the appearance of aged clays and metals. I used the smaller heart stencil, a darker warm gray ink and my blender brushes to create the subtle heart-shaped stony ground for the bakery to set on.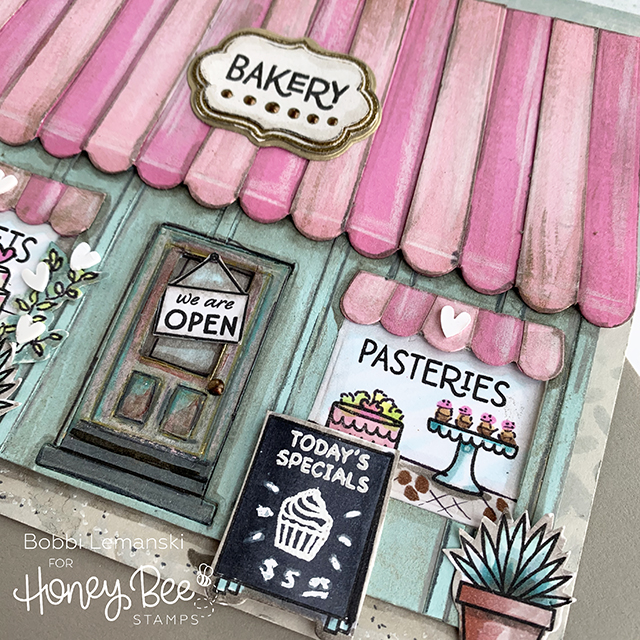 Bakery goodies were stamped in the windows as well as words for front window signs. A cute chalkboard shares the daily special and pebbles were added to the stony heart-stenciled ground. Brass Liquid Pearls were added to the outdoor umbrellas and door knob. This is a time-consuming card, but the fun is adding all the cute accessories that the Treat Shop Add-On Stamp and die set have to offer. It's a little work of art and only for those who enjoy the process as much as the final product! If that's not your thing, check, out my next card that is a much quicker version of card one.
Card Two: Vintage Bakery Shoppe Scene (Quick Version)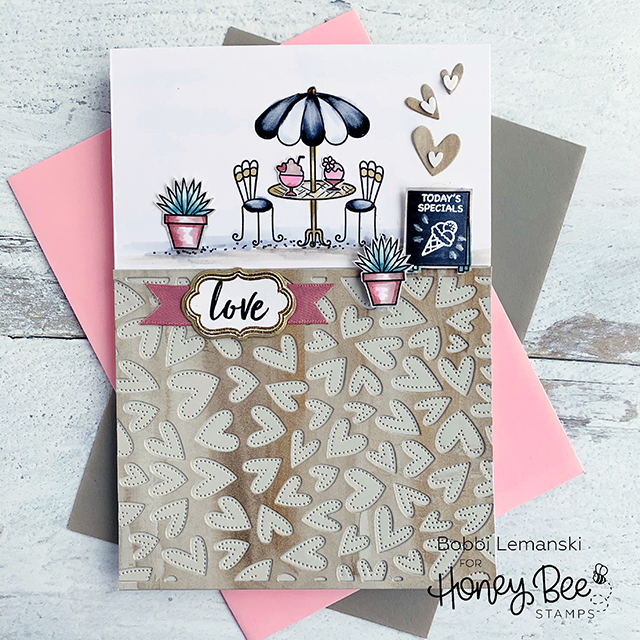 Card two is a 5″ X 7″ quicker version of card one, using many of the same cute elements. I used the cute new coverplate dies that can be stacked together to create this fun dimensional heart look on the lower half. The Fluttering Hearts Pierced Die's stitched hearts line up perfectly with the open heart Fluttering Hearts Coverplate Die. The pierced layer was die cut from a soft gray color. The top open heart die plate was cut from a soft gray cardstock with a metallic watercolor wash on it.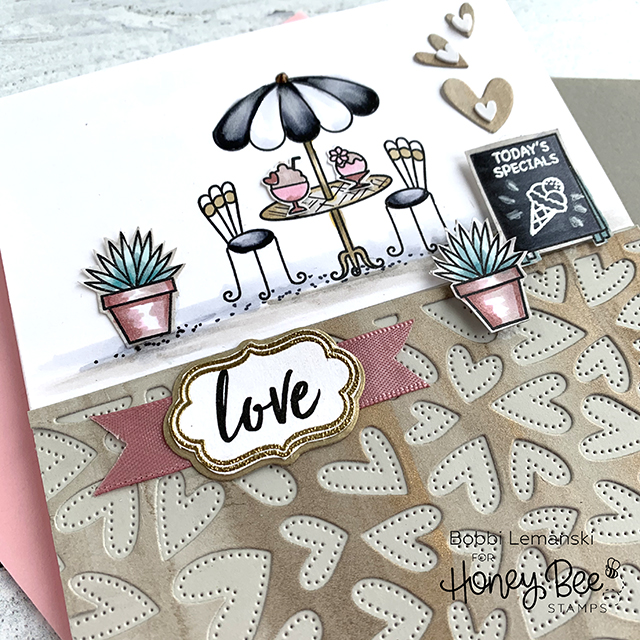 Additional white clay hearts and a simple scripted "love" sign was added with a satin rose ribbon to finish this card. Check out all the fun new products in the Bee Mine release. If you like what you see here, please use my product links to go directly to the items you love or shop the entire release here!
Don't forget to leave a comment on my blog for a chance to win a $25 gift card to Honey Bee Stamps! Leave a comment at each stop to qualify for the win. Blog Stops are listed below! Happy hopping. 🙂 
Blog Hop Links:
Now it's time to hop along to the next person on the blog hop!
Bobbi Lemanski (YOU ARE HERE)
If you want to see more ideas and inspiration from me, subscribe to my blog, BobbiHartDesign.com. You can also find me on Instagram as @BobbiHartDesign and on Facebook as BobbiHartDesign.
Bobbi Hartmann Lemanski, Bobbi Hart♥ Design, Adding h♥art into every design
More inspiration…
Check out these blog posts on other new products from the Bee Mine release.