It's time to reveal the May 2020 La-La Land Crafts Club Kit. If you are a farm girl at heart, Marci is going to pull at your heart strings this month! She's decked out in her work outfit and is accompanied by two cute hard-working, farmhand bunnies! A full list of kit contents are shown below. Here's a card I made using the stamp sets and dies from this month's kit.

These bunnies are ready to work with their gardening gloves and boots on! Marci is also dressed for the dirty business. 🙂 To make this 5″ X 7″ landscape-oriented card, I used the following paper packs available at La-La Land Crafts:
Golden Sunset Paper Pack; https://www.lalalandcrafts.com/Golden-Sunset-Paper-Pack-_p_1105.html
Christmas Hodge Podge Paper Pack: https://www.lalalandcrafts.com/Christmas-Hodgepodge-Paper-Pack_p_1112.html
Other objects / items : Hills, ground and speech bubble were free-hand drawn and fussy cut.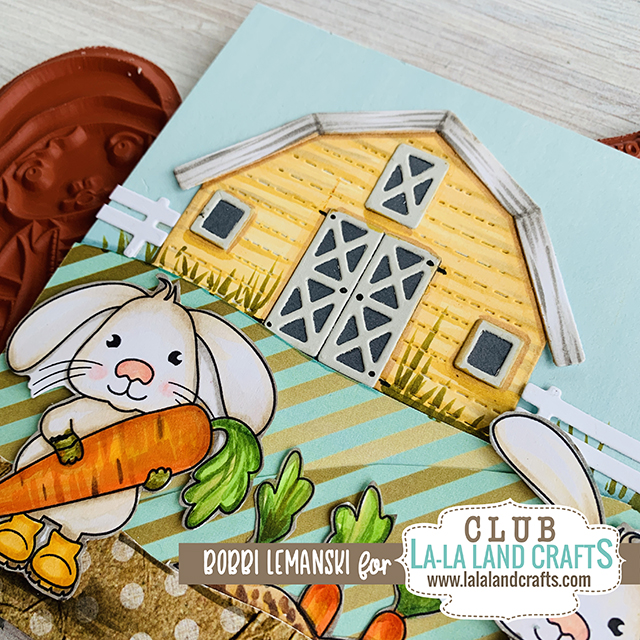 I used the following Copic Sketch Marker colors for coloring the images:
Copic Coloring Details:
Marci face, hands, legs: E04, E11, E00, E000
Marci cheek and lip : R20
Marci hair: E55, E50, E57
Marci bibs: YG99, YG93, YG97, YG91
Marci boots and stocking cap: Y91, Y21, Y15, E57
Marci t-shirt: Y19, YG91, W1
Marci shirt: Y000, Y19, YR27, YG91, W1, YG93
Bunnies: E40, E42, E43, R20, W1
Bunnies' boots: Y19, Y28, Y21, E44, E55
Bunny's shovel: E55, Y27, E57, YG91, YG93
Carrots: YR68, R05, Y38, W3, W1, YG03, YG67, YG91, YG93
Barn: W3, W1, YR24
Check out the reveal video here.
How to Subscribe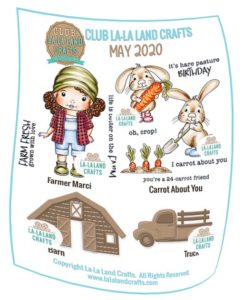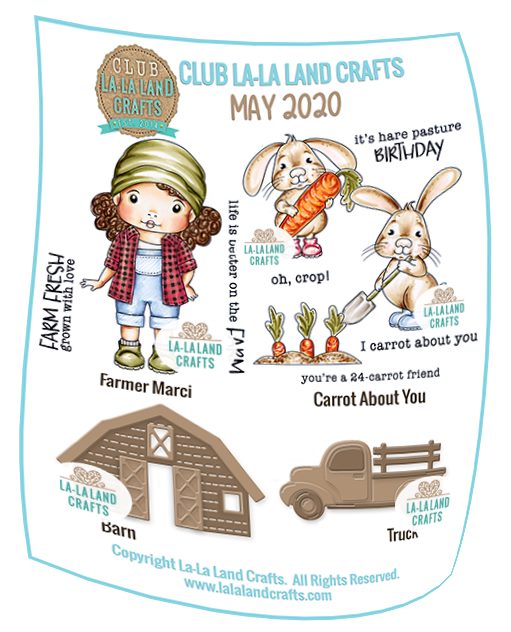 Now for the details…. You can sign up for a monthly La-La Land Club Kit subscription and get just the stamp sets, die or both. Full kits including stamps and dies are $39.99/month (a savings of $29.00 when you purchase the entire kit – a retail vlaue of $68.99) which is the best value. Plus, you get all the goodies for your cardmaking, too. ?  For details on the Club Kits and how to sign up, go to La-La Land Crafts today. Keep in mind – these kits are only available on a subscription basis. You must be a member to purchase this kit and past kits, too.
Sign up by 6/10/2020 to get this kit!  Once you are a member for two consecutive months, you will also be eligible to purchase other past months' kits (one/month and while supplies last). This is a benefit of being a member of the Club! Full details on the kit subscription page.
Sign up now to receive this kit in the mail. Here's a link to the page to sign up.
Want to see more ideas and inspiration from me? Subscribe to my blog, BobbiHartDesign.com.
I'll send you updates on new posts!
You can also find me on Instagram as @BobbiHartDesign and on Facebook as BobbiHartDesign.