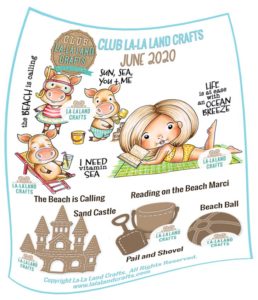 It's reveal day for La-La Land Crafts June 2020 Club kit. I love this month's theme because it is ALL about summer at the beach. If you are already a member, awesome. http://La-La Land CraftsThis one will be showing up in your mailbox this month. If you are not a member and you want this kit, sign up by Tuesday, June 30 to get this one as your very first kit! Details and links to sign up are here. This kit has a retail value of $77.99, but is only $39.99 when you are a member. Note: The only way to get this kit and past kits is by being a member of the La-La Land Crafts Club.
I've got a video to share along with two cards I made using this set. Take a look…
Here's some more detail on how I made these cards…
Card 1 Three Little Pigs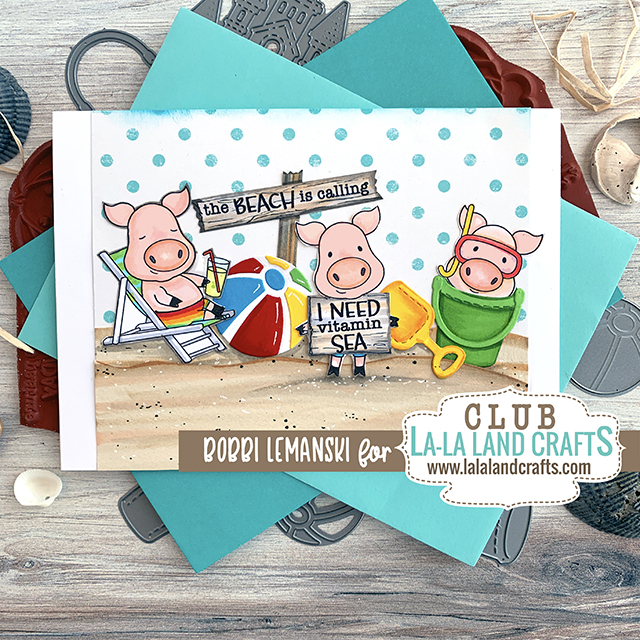 A few tips on making this card…
I used Copics to create the sandy hills. Using a white gel pen and thin tip black marker on the top creates the look of shell pieces. The wood signs are simple to create by making woodgrain with streaks of the Copic colors mentioned below.
To add the pig to the pail, trim the piggy's body to fit inside the pail slit. To add the sign to the middle pig, trim the limbs and reapply to the back of the sign so that they show up on the sides and bottom.
The pattern paper used for the background of this scene is from the Spring Has Sprung paper pack.
The colors used on this card are the following:
Copic Coloring Details
Pigs: R000, R00, R11, C9
Pig clothing and accessories: R29, YR68, Y19, YG03
Wood sign and sand: E43, E42, E55, E53,E00, E000, C1, W3, W1, White gel pen
Beach chair: C3, C1, YG17, B02
Sand pail: YG17, YG03
Sand shovel: Y38, Y19, Y15
Card 2 The Beach Is Calling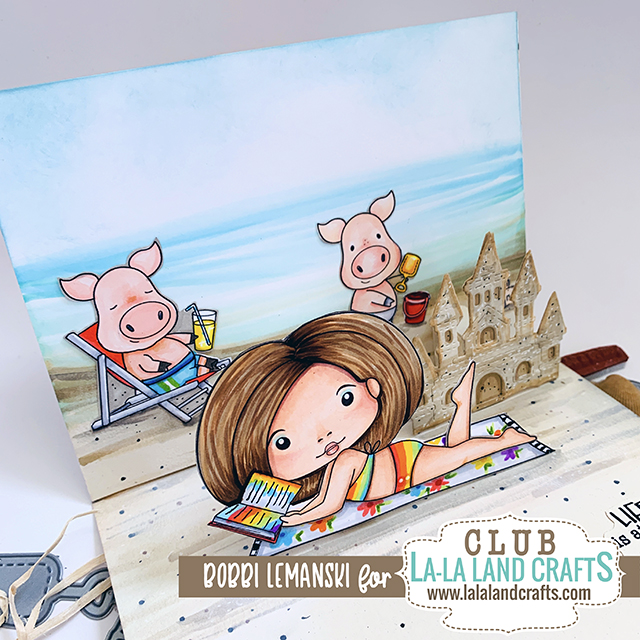 The Copic colors used for the inside of this card are as follows:
Copic Coloring Details
Marci's swimsuit and beach towels: R29, YR68, Y18, YG03, B02, V04, 100
Marci:
Hair: E59, E57, E55, E43, E42
Lip: R21, R11
Eye BG11
Pigs
Skin: R000, R00, R11, C9
Swimshorts: B05, B02, YG17, B02,Y18, R14, C3, C1
Sandscastle E43, E42, black and white pens
Landscape/Sky: E55, E43, E42, W1, black marker, white gel pen, B000, B00, B01, BG11, BG10
The inside of this card is a pop-up. To create the pop-up design, I  used box supports that are adhered to both interior panels.
To create the box supports, cut strips that are 1/2″ wide. Score at the following measurements:
Box support for Marci: Score at 1/2″, 2″. 2-1/2″ and 4″
Box support for the sandcastle: Score at 1/2″, 1″, 1-1/2″ and 2″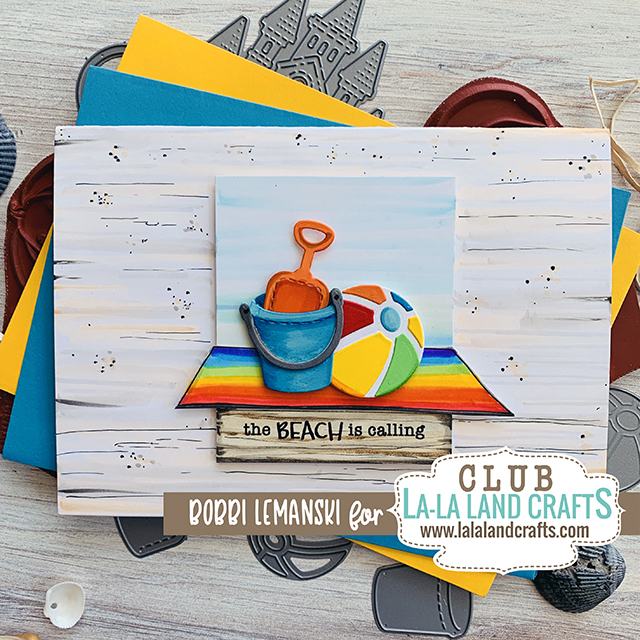 I kept the outside of this card simple since the real excitement is on in the inside. The background and the sign were hand drawn using a fine tip black marker and the Copics listed below:
Card Front Copic Coloring Details
Background: C1, C3, E40, E43, E53, E50, W1, W5, W7
Wood sign: W5, W1, E43, E55
Beach towel: R29 R14, YR68, Y18, YG03, B02, v09
Pail: B05, B02, B01, B00
Shovel: R08, Yr68, R05
Beach ball: Y18, YG17, B02
Sky: B000, B00, B01
How To Subscribe
Now for the kit details…. You can sign up for a monthly La-La Land Club Kit subscription and get just the stamp sets, die or both. Full kits including stamps and dies are $39.99/month (a savings of $38.00 when you purchase the entire kit – a retail value of $77.99) which is the best value. Plus, you get all the goodies for your cardmaking, too. ?  For details on the Club Kits and how to sign up, go to La-La Land Crafts today. Keep in mind – these kits are only available on a subscription basis. You must be a member to purchase this kit and past kits, too.
Sign up by 6/30/2020 to get this kit!  Once you are a member for two consecutive months, you will also be eligible to purchase other past months' kits (one/month and while supplies last). This is a benefit of being a member of the Club! Full details on the kit subscription page.
Sign up now to receive this kit in the mail. Here's a link to the page to sign up.
Want to see more ideas and inspiration from me? Subscribe to my blog, BobbiHartDesign.com.
I'll send you updates on new posts! You can also find me on Instagram as @BobbiHartDesign and on Facebook as BobbiHartDesign.