Today is reveal day for the May 2020 La-La Land Crafts Club Kit. Just in time for June Dairy Month, we have farmer Marci in our kit. The two stamp sets in this kit are Farmer Marci and Carrot About You. Here's a look at the contents.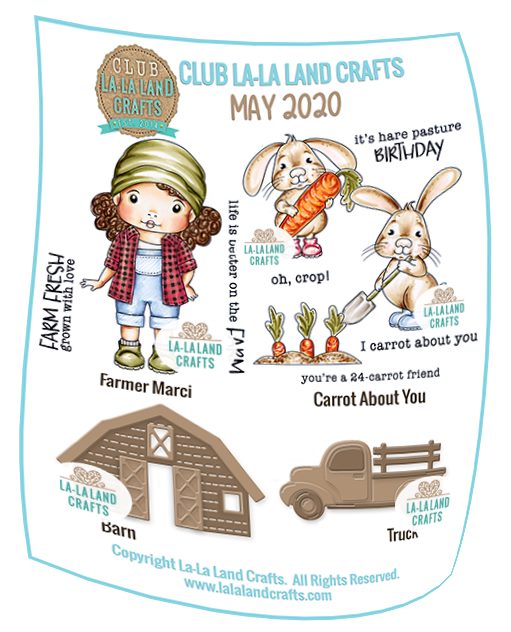 The barn and pickup truck dies are so cute and a perfect complement to Marci and the gardening bunnies. Here's a card I made using the club kit.
Marci is decked out in bib overalls and a plaid shirt. Her bandana headband is keeping her hair out of her eyes as she works in the field. Boots are a necessity for this dirty situation! Her bunny friend is also busy picking carrots for the next bussel of veggies.
To make this card, I used the following paper packs for the background prints:
Love You More paper pack: https://www.lalalandcrafts.com/Love-You-More-Paper-Pack_p_1161.html
Blue Christmas Paper Pack: https://www.lalalandcrafts.com/Blue-Christmas-Paper-Pack_p_1113.html
I colored my images using the following Copic colors.
Copic Coloring Details:
Marci face, arms and legs: E04, E11, E00, E000
Marci cheek: R20
Marci lips: R83
Marci eyes: BG72
Marci hair: E57, E55, E50
Marci outfit and headband: B45, B41, B39, B99, R89, R22,
Marci socks: R89, R29
Marci boots: E66, E57, R89, R14
Truck: R89, R29, C3, C1, white gel pen
Truck wagon and road: E55, E43, E57, W1
Bunny: E43, E41, E40, R00, B45, B41
Carrots: R05, R29, YR68, YG91, YG93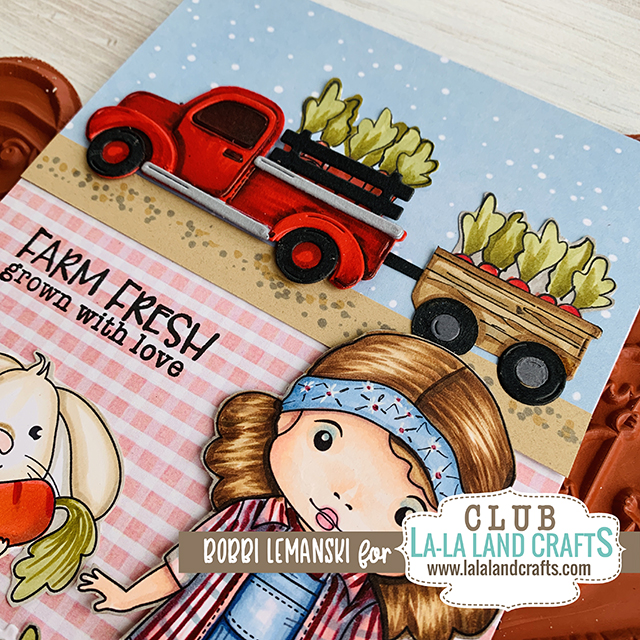 To create the wood wagon, I simply used the truck body and clipped off the cab section. I added the wheels from the truck die, spacing them apart properly for the size of the wagon and added hubcaps. Lastly, I connected the wagon to the truck with a simple strip of black cardstock for the hitch. A simple gravel road was created using a strip of brown cardstock. Carrots were added to the truck bed and the wagon. Time to head to the farmers' market for a full load of carrots to sell!
How to Subscribe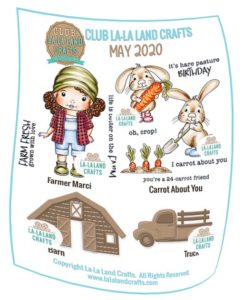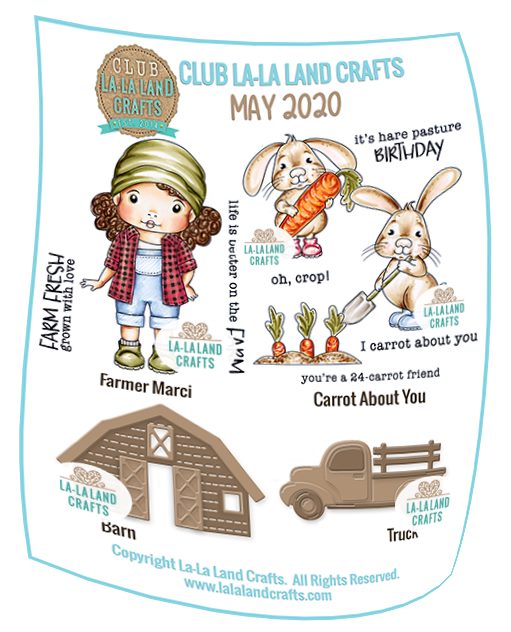 Now for the details…. You can sign up for a monthly La-La Land Club Kit subscription and get just the stamp sets, die or both. Full kits including stamps and dies are $39.99/month (a savings of $29.00 when you purchase the entire kit – a retail vlaue of $68.99) which is the best value. Plus, you get all the goodies for your cardmaking, too. ?  For details on the Club Kits and how to sign up, go to La-La Land Crafts today. Keep in mind – these kits are only available on a subscription basis. You must be a member to purchase this kit and past kits, too.
Sign up by 6/10/2020 to get this kit!  Once you are a member for two consecutive months, you will also be eligible to purchase other past months' kits (one/month and while supplies last). This is a benefit of being a member of the Club! Full details on the kit subscription page.
Sign up now to receive this kit in the mail. Here's a link to the page to sign up.
up.
Want to see more ideas and inspiration from me? Subscribe to my blog, BobbiHartDesign.com.
I'll send you updates on new posts!
You can also find me on Instagram as @BobbiHartDesign and on Facebook as BobbiHartDesign.