Hello! I'm so excited to share with you that I have joined the talented designers of The Greeting Farm. Today is my first preview day as an official design team member. I'm sharing the new stamp set, "Gamer Couple." It includes a male and female gamers holding game controllers in their hands as well as some graphic-styled phrases and more. I have a son that loves to game with friends on line, so this set is quite relevant in our household. 🙂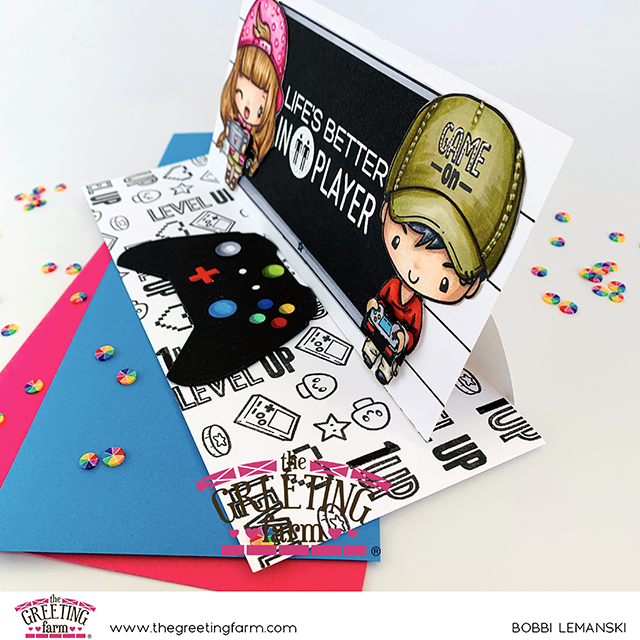 My card design is a slim line easel card. When opened, the players and the big screen from the Movie Night digi set become upright, supported by the easel design. The MFT Stamp's Dienamics game controller in the middle actually works as the "ledge" or "stopper" that keeps the easel design upright and in place when opened.  Notice, I used the phrases from the stamp set to create a black and white patterned background for the inside lower panel, too. I like the sharp contrast with the bright colors of the gamers.
Here's some dimensions:
Overall card size measuring 8-1/2″ wide X 3-1/2″ tall
Easel size measuring 7-1/2″ wide X 4-1/2″ tall and scored at 1″ (for the hinge) and  2-3/4″ (for the easel) from the top edge of the piece.  This panel is connected to the back panel via the hinge section, allowing the easel fold to now be at the 1/2 mark of the 3-1/2″ existing panel.
Front Panel size measuring 7-1/2″ wide X 3-1/2″ tall. This piece is adhered to only the easel's bottom half, under the 1/2 mark score line.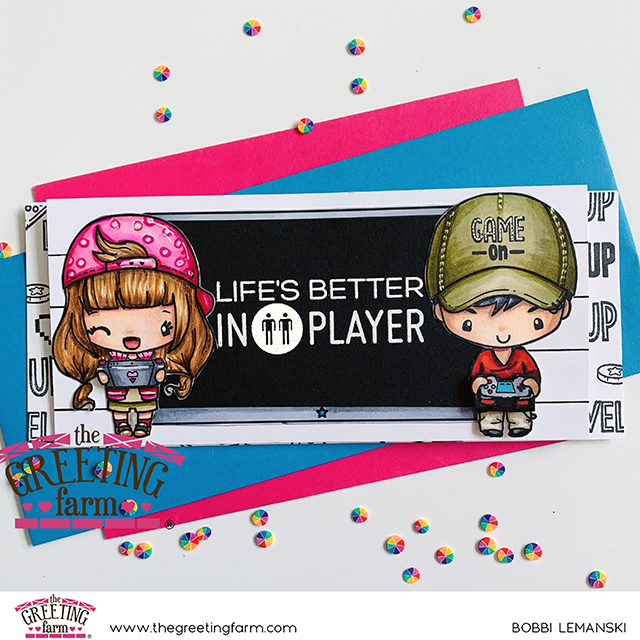 The big screen in the middle of the front panel is from the Movie Night digi set and the phrase, "Life's better in two player" is from the MFT Stamps, Level Up stamp set. I embossed it in white on the black screen. The front panel of this card is smaller than the back panel. I wanted some of the pattern design to show through to the front. I stamped one of the phrases from the Gamer Couple stamp set on the boy's cap, too. When closed, this slim line card lays flat and fits inside a business sized envelope.
The Gamer Couple stamp set will be available on release day, July 15, 2020 at The Greeting Farm. Tomorrow, I'll be showcasing another new release item. Check back here!
Want to see more ideas and inspiration from me? Subscribe to my blog, BobbiHartDesign.com. I'll send you updates on new posts! You can also find me on Instagram as @BobbiHartDesign and on Facebook as BobbiHartDesign.
Bobbi Hartmann Lemanski, Bobbi Hart♥ Design, Adding h♥art into every design