I created this 5″ X 7″ Christmas morning living room scene using the new Christmas digis by The Greeting Farm. This digital set has all the accessories to deck the halls and walls of any scene. There's also perfect phrases to use on your cards and these precious children, ready to make a Christmas morning scene perfect!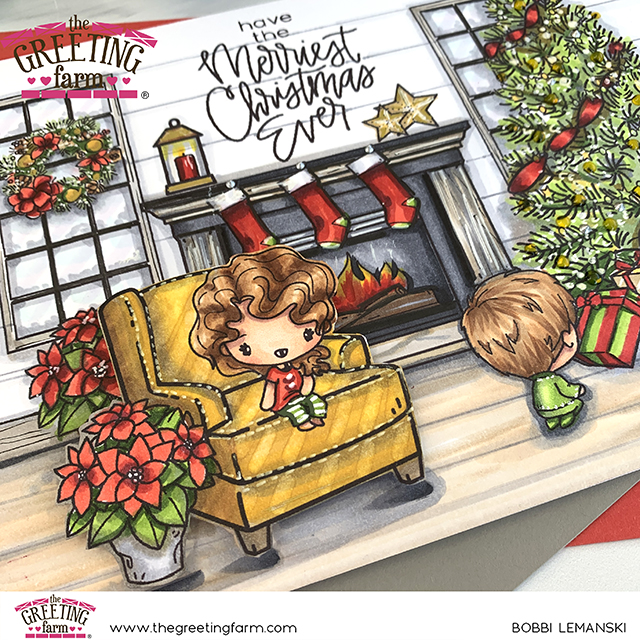 To create this scene, I started by placing my windows and fireplace in the background using Photoshop. I added the tree with all the fixins', poinsettias, presents, wreath, and fireplace accessories. I also added accessories to the mantel, hung the stockings and added the phrase above the fireplace.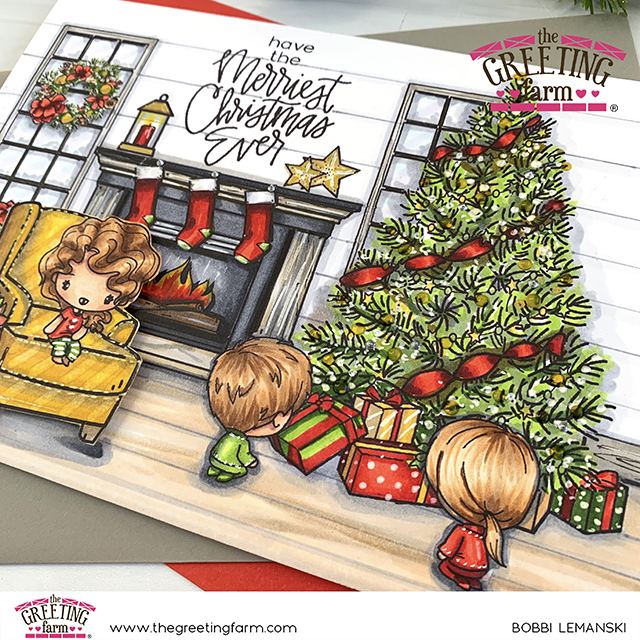 Using a marker and ruler, I added shiplap to the walls, a popular farmhouse decor. I also added the wood floor, too. I used E43, W1, E50, and E42 to create the woodgrain. I simply created it around the elements. I printed, colored and fussy cut out the chair and child on the chair and popped it up off the scene for some real dimension using Scrapbook Adhesives White Foam Squares. To create the striped chair, I colored the chair and then went back with a Copic colorless blender and added in the stripes by stripping out some color. Here's a list of the Copic colors I used for this scene:
Greens: YG00, YG03, YG67, YG63, YG61
Reds: R89, R59, R46, R29, R17, R14
Browns: E57, E43, E44, E53, E50, E11, E00, E000
Yellows: Y28, Y26, Y19, Y06
Warm Grays: W4, W3, W1
Cool Grays: C5, C3, C1
Blue Violets BV0000, BV000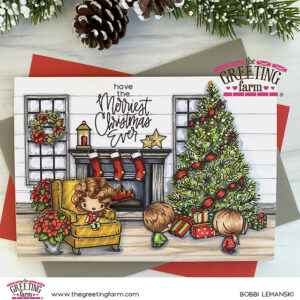 The Christmas digi sets are available now at The Greeting Farm. Download and create today!
Thanks for stopping by today. If you want to see more ideas and inspiration from me, subscribe to my blog, BobbiHartDesign.com. I'll send you updates on new posts! You can also find me on Instagram as @BobbiHartDesign and on Facebook as BobbiHartDesign.
Bobbi Hartmann Lemanski, Bobbi Hart♥ Design, Adding h♥art into every design