Day 3 of The Greeting Farm October release previews brings us Holiday Anya. Anya is dressed up and ready for the holidays. She comes with the scripted word "Cheers" and a sweet little holiday tree,  small enough that she can even hold it in her hand!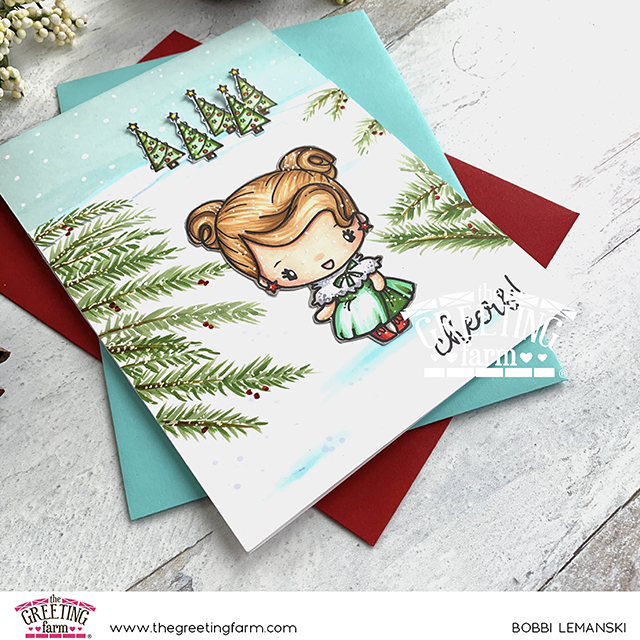 For my 5″ X 7″ card, I stamped and colored Anya and five little trees.  Since the trees are much smaller than Anya, I created a scene with a background and foreground. The small trees were put in the snowy banks in the background and Anya was placed in the foreground.  To show the spatial difference, I added tree branches to the sides of the foreground. I saw the very talented Amy Young, a fellow Farm DT member, do this on a card once and I thought it was so pretty and brilliant!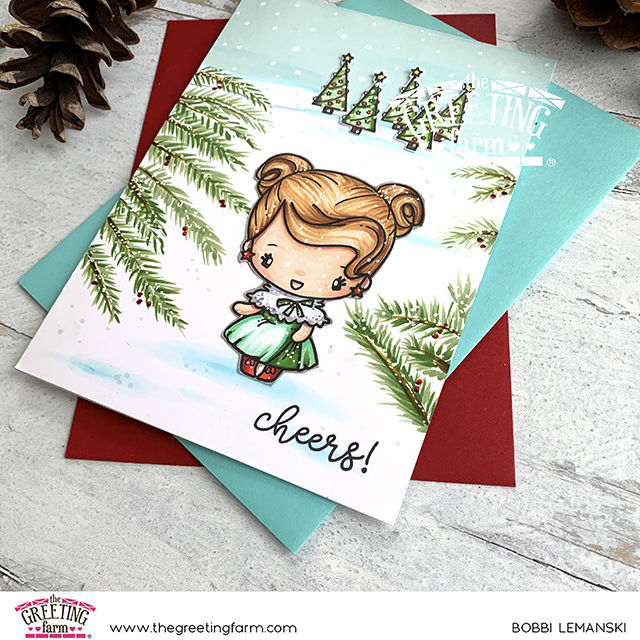 Touches of blue (B000, B00) were added to the snow to "ground" Anya. I added berries to the branches. I also added snow using a Copic C1 on the white and a white gel pen for the snow in darker areas such as the sky, in front of Anya, etc. For Anya's dress, I used green shades and colored the boots in a red.
This new stamp set along with the rest of the October release products will be available in the The Greeting Farm store on 10/15/2020.
Thanks for stopping by today. If you want to see more ideas and inspiration from me, subscribe to my blog, BobbiHartDesign.com. I'll send you updates on new posts! You can also find me on Instagram as @BobbiHartDesign and on Facebook as BobbiHartDesign.
Bobbi Hartmann Lemanski, Bobbi Hart♥ Design, Adding h♥art into every design