The OCTOBER 2020 RELEASE is now available for purchase in The Greeting Farm Store! First up, we introduced you to STAR COUPLE featuring Anya and Ian ready to hit the stage. Next, we bundled up big Anya and Ian along with their pets in a cozy set called WARM WISHES. Our 3rd set featured an adorable girl all ready for the holiday parties named HOLIDAY ANYA 8. And finally, we showcased an awesome digi set called HELLO FALL combined with FALL SAYINGS and BACKS 3. 
To celebrate this release we are having a short BLOG HOP! One lucky fan will take home all 3 clear stamps sets! You have until OCTOBER 18th, 12pm CST/1pm EST to leave your comments on each Designer's Blog and The Greeting Farm Blog (letting us know you completed the hop). Please only leave 1 comment. We will announce the random winner later in the week on the Blog and in our Facebook Group: The Greeting Farm Fan Page.   
Now for the hop… Here's my featured card for the hop. I am using the Warm Wishes stamp set and the Hello Fall Digi set.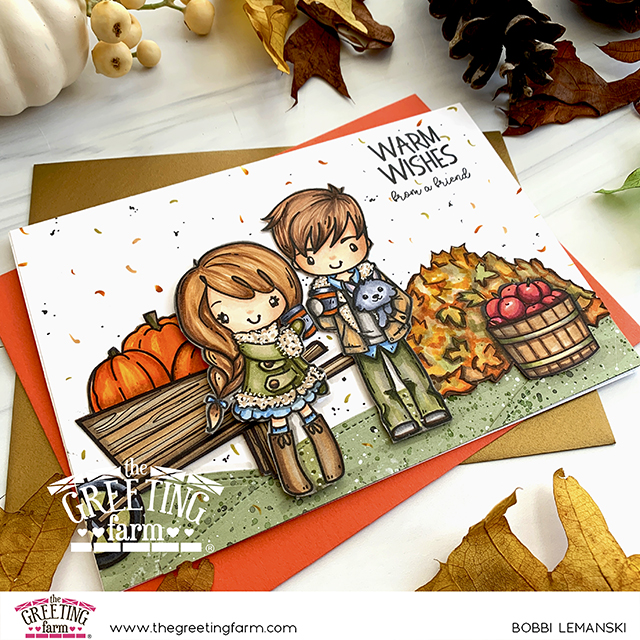 The wheel barrel, pumpkins, apple bushel and leaf pile are from the Hello Fall digi set. This sweet couple and the phrases are from the Warm Wishes stamp set. For the background I splattered greens, white and and black paint on a light moss green for the landscape. For the background sky, I added specks of leaves and twigs in the air for this fall scene.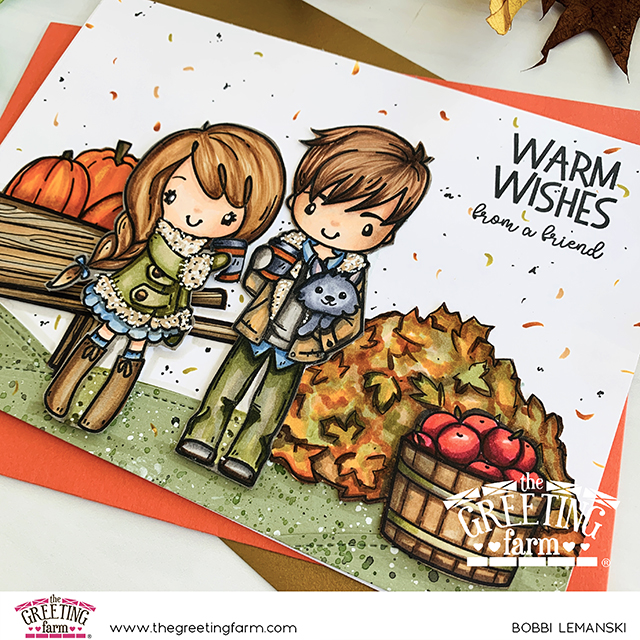 This card is a 5″ X 7″ card, fitting in an A7 envelope. Here's a lit of colors I used to color this scene:
Copic Colors
Barrel – E57, E55, E44, E43
Pumpkins – YR09, YR68, Y38, YG99, E44
Apple Barrel – E44, E55, E42, YG97, YG91, R89, R56, R27, R14
Leaf Pile – YR27, YR24, YG97, YG93, YG91, E55, E49
Boy – YG97, YG93, YG91, C9, C5, C1, E53, E50, E000, E00, E11, E57, E55, E43, W4, W2, W1, B45, B41
Girl – YG95, YG93, YG91, B45, B41, E57, E55, E44, E43, E53, E000, E00, E11, R20, E57, E15, E53
Background Leaves: YR27, YR24, R89, YG91, 100, R56
Dog – C5, C3, C1
 NOTE: Please use the same name on all the blogs when leaving a comment, and do not pick the Anonymous option when leaving a comment (otherwise we won't be able to verify that it's you). Thank You!