Happy New Year! It's time to celebrate with a new digital set by  The Greeting Farm. We are headed to the carnival this month. There's bumper card, a big top, Ferris wheel, merry-go-round, cotton candy, and more! I created this 5″ X 7″ pop-up card to create a carnival scene.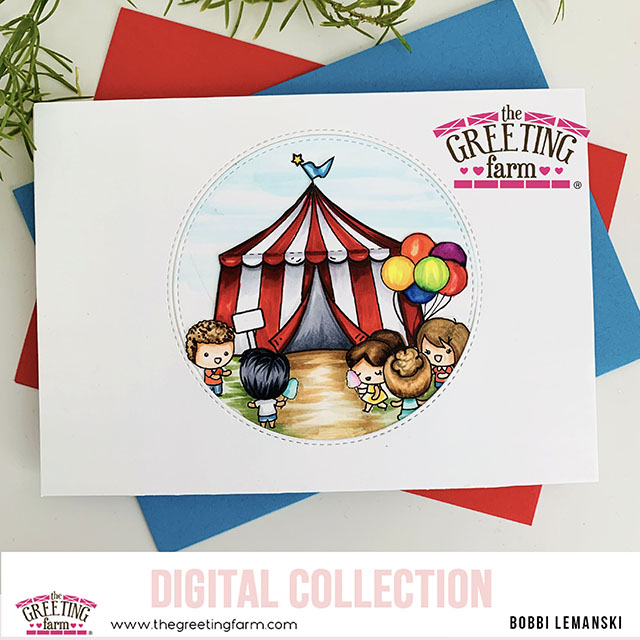 On the outside, I kept is really simple. I did a circle stitched die cut in the middle and replaced the circle with a big top scene that I set up in Photoshop, printed on cardstock and colored using Copic Markers.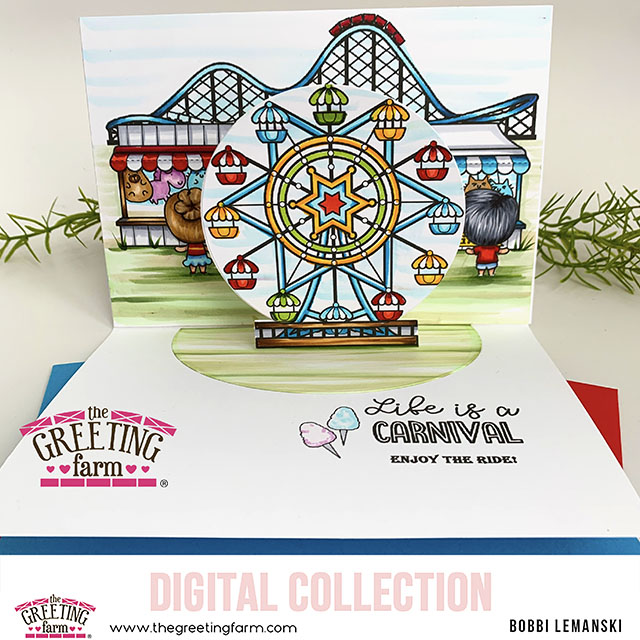 The inside of this card is where the action takes place. 🙂  The background boasts a large rambling rollercoaster, a couple of game booths, a bright banner and ta-da… a Ferris Wheel that pops up and out. I used a circular die to cut out the Ferris Wheel and then reattached the base at the bottom. It was backed with white cardstock to make it sturdy. I sized the ride so that I could position it about 1-1/4″ away from the background and still fit inside the 5″ height when the card is in its closed position.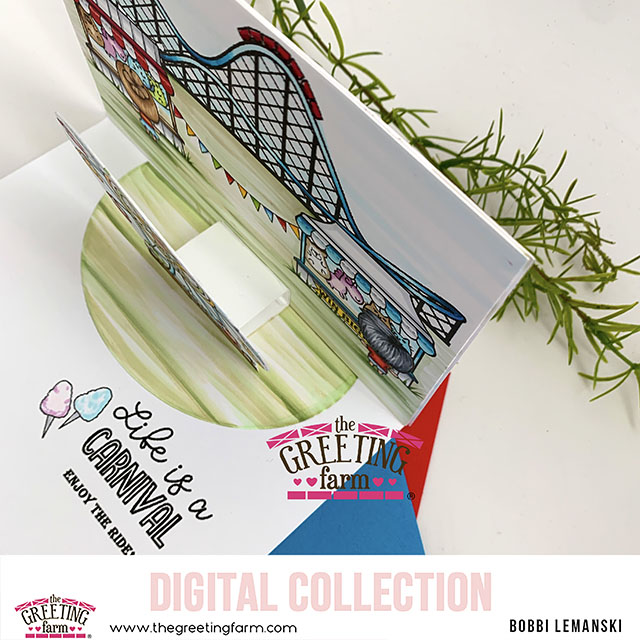 To create the pop out, I constructed a pop-up support box behind the wheel. It folds flat when the card is closed. When opened, the background pulls the box and the attached ride as the card is opened. The box support was created by cutting a strip 1-1/4″ wide X 4″ long and scoring at 1/2″, 1-1/2″, 2″, 3′, and 3-1/2″ to make the foldable box. I use Scor-Tape double-sided .25″ tape to attach the ends of the box together and to attach the box to the insides of the card base and image.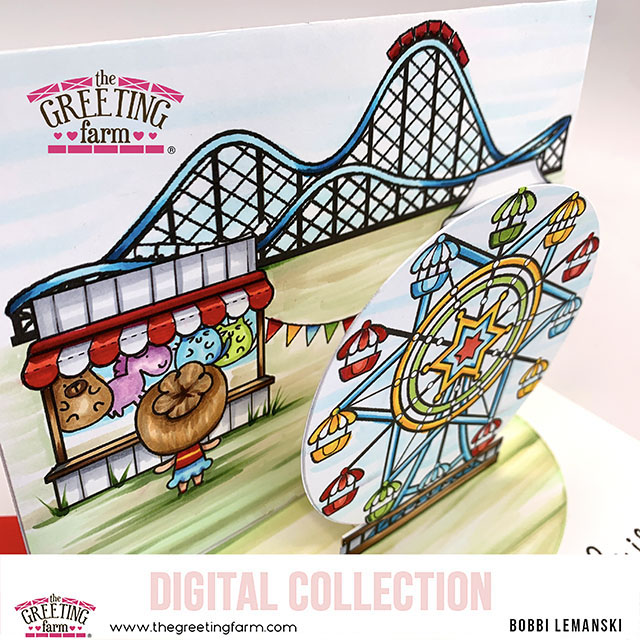 At the bottom, I extended the green grassy area of the carnival scene by using an oval die cut, colored in as a green grassy area.  This addition helps ground the Ferris wheel in the scene and create a nice separation from the phrase printed inside the card base.  This digital stamp set is available now at The Greeting Farm!
Thanks for stopping by today. If you want to see more ideas and inspiration from me, subscribe to my blog, BobbiHartDesign.com. I'll send you updates on new posts! You can also find me on Instagram as @BobbiHartDesign and on Facebook as BobbiHartDesign.
Bobbi Hartmann Lemanski, Bobbi Hart♥ Design, Adding h♥art into every design