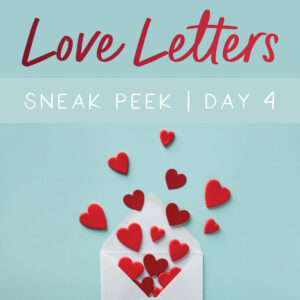 Lucky us! It's Sneak Peek Week at Honey Bee Stamps! The new release is called Love Letters and it is filled with fun food sets, lots of hearts, cool dies, colorful papers and more! Today, I'm using  two new food stamp sets called:
Fortunate To Have You stamp with its coordinating dies and
Slimline Sentiments: Stitched die set
May Luck Be On Your Side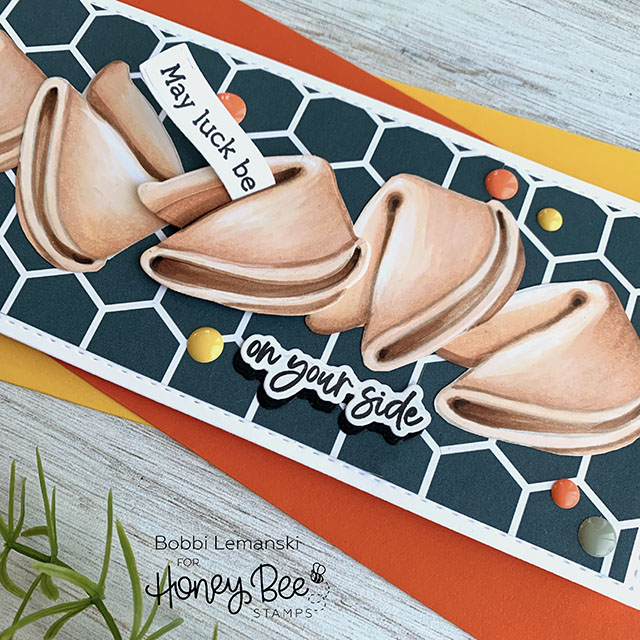 To create this 8-1/2″ wide X 3-1/2″ tall slimline card, I started by cutting the front panel using the Slimline Sentiments: Stitched die set. I added pattern paper from The 6″ X 6″ Bees Knees paper pad. I cut it slightly smaller to fit inside the the stitched lines so that they would leave a clean border around the paper. Next I stamped and die cut four cookies from the Fortunate To Have You stamp with its coordinating dies sets and die cut one cookie from the Fortune Cookie Slider dies set. The slider set has fun ways to create an interactive card. There is a slider option, a pull option and layered cookie pieces if you don't like to color. Anybody can create fun cookies with this set! I used the pull option for this card. It looks very similar to the static cookie in the Fortunate to Have you set, but includes a nice slit for the message strip. I combined the two layers that make this cookie and colored all five cookies in the same manner.
I used the following Copic Marker colors for the cookies: E57, E51, E50, E30, E23, E21 and E11. The 50s will make them more yellow and the E11 will add some pink. I think my cookies could have used a bit more yellow on this card to look more authentic. I used E57 and E23 for the darker shaded areas to add depth in the crevices and slit area. I created another card on a different day and like how those cookies turned out better.) It's really like baking. You have to keep looking at them while you bake them to decide if they are done or not!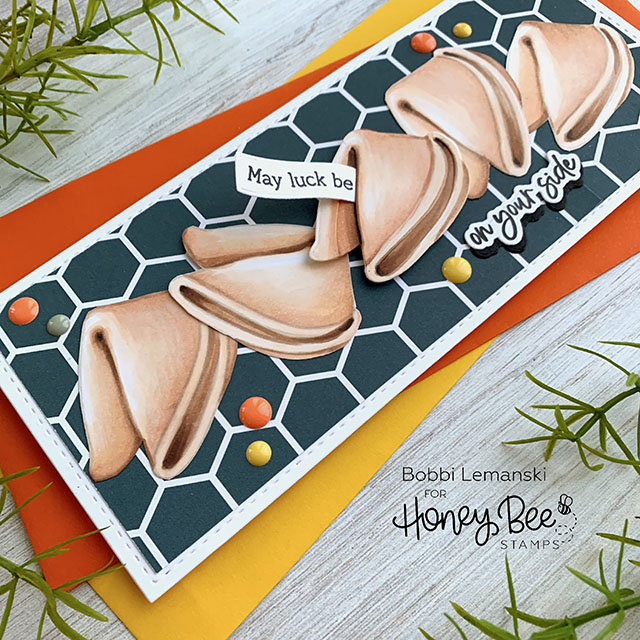 I attached the cookies using HBS Precision Glue. The center cookie with the pullout message was attached using dimensional foam tabs so that it would stand you from the rest. I stamped and die cut the message strip and phrase. The Fortunate to Have you set has loads of sentiment strip options. Both were added to the card. Lastly, I added some enamel dots to the front. I kept this card simple and clean with no flowers, that way it is suitable for males, too. Inside, I added a happy birthday message to the card.
These products along with the entire Love Letters release will be available on Saturday, January 2, 2021 at Honey Bee Stamps! It's almost time. 🙂
Thanks for stopping by today. If you want to see more ideas and inspiration from me, subscribe to my blog, BobbiHartDesign.com. I'll send you updates on new posts! You can also find me on Instagram as @BobbiHartDesign and on Facebook as BobbiHartDesign.
Bobbi Hartmann Lemanski, Bobbi Hart♥ Design, Adding h♥art into every design