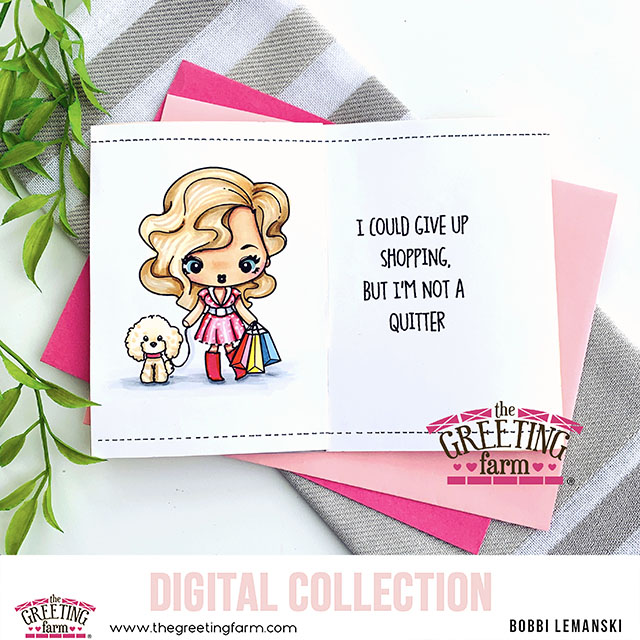 Hello, friends! Are you ready to shop?! Need some retail therapy? The Greeting Farm just released these fun digi sets called Store Fronts and Cheeky Shop. These sets make the cutest shopping themed cards for friends and family. I made this 5″ X 7″ gatefold card using both sets together. With digi sets, you can size all the images to fit your needs which makes the options endless!
Gatefold Shopping Card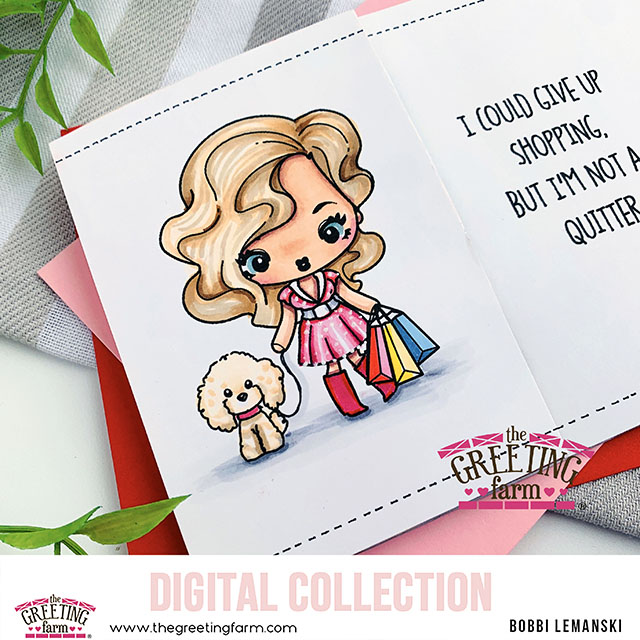 On the outside of this card, I used the sweet shopper from the Cheeky Shop digi set. She has a sweet pup for a sidekick, too. I dressed her in pinks and added shopping bags to her left hand and the puppy and leash in her right.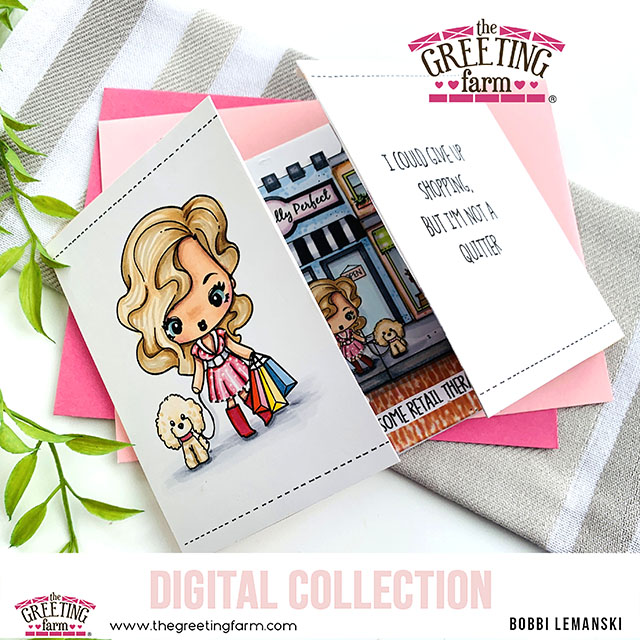 I created a custom saying that I placed on the righthand side of this gatefold card using a handwritten font. You could simply handwrite a custom phrase on this panel or use a font on your laptop. I thought this  phrase was cute and really fit the shopping theme perfectly. Let's head inside…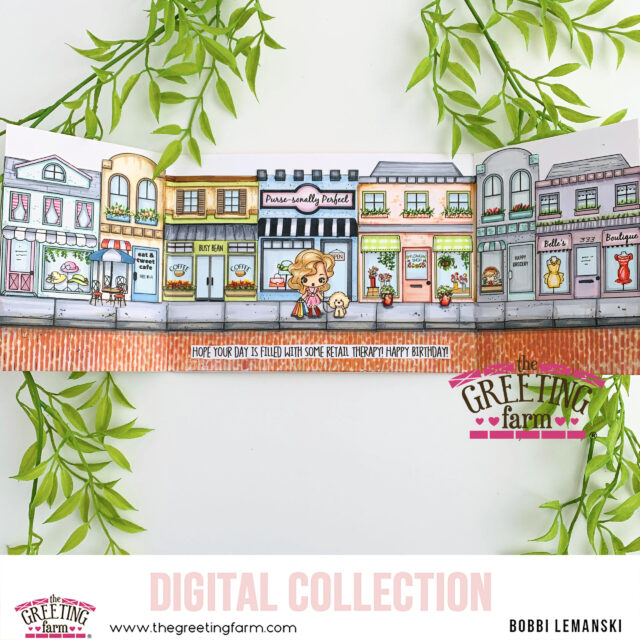 When this 5″ X 7″ card is opened, a colorful and lively 14″ span of decorative stores is revealed. This brick paved city street filled with whimsical shops, pretty patterned awnings and dressed up windows is a sight to behold! I had so much fun designing these intricate store fronts. Marie, owner of The Greeting Farm thought of everything in this digi set which made this card so much fun to make.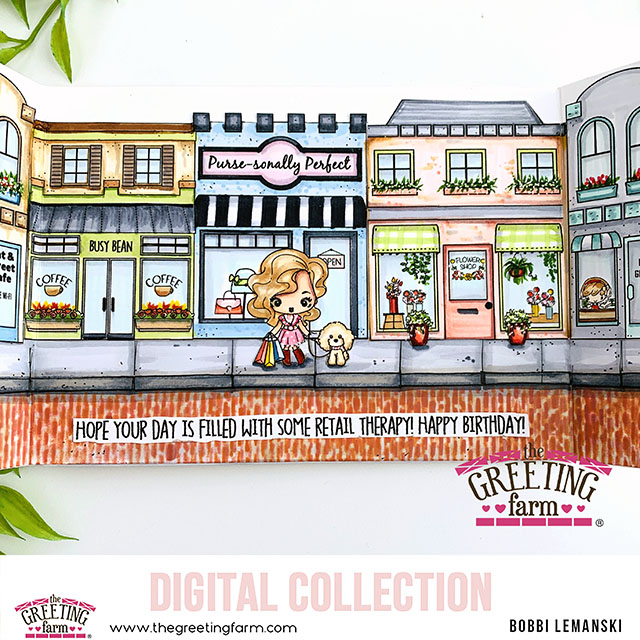 The inside center panel includes the same shopper from the front of the card, but now she is part of the shopping scene and much smaller to fit inside this scene, too. 🙂 There's a coffee shop, purse boutique and flower shop on the street behind her.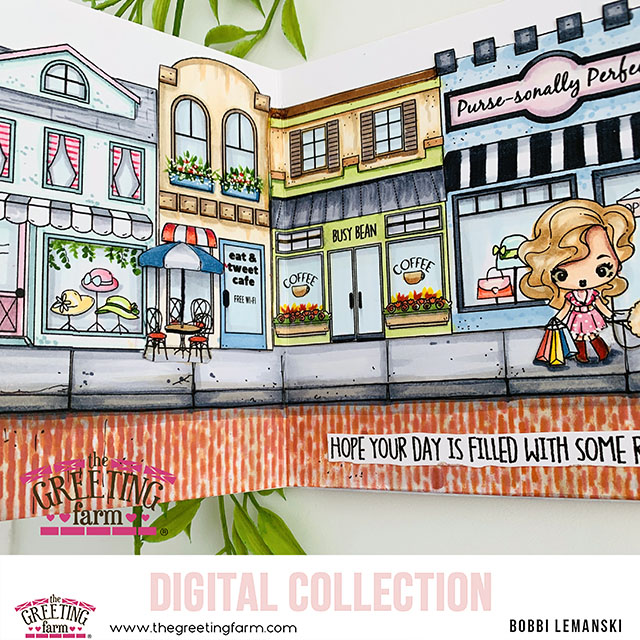 On the inside left panel, there's a hat store and a cute restaurant called, "Eat and Tweet Cafe." With digis, it's easy to add storefront names, signage, etc. to personalize. You can could even use the recipients name to personalize the street with his/her favorite establishments.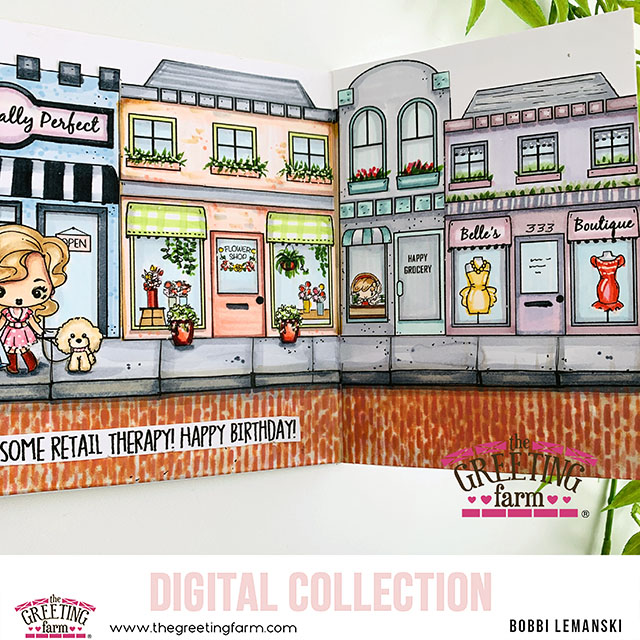 On the inside right panel, Happy Grocery and Belle's Boutique fill the street. I added the female clerk and store counter from the digi set, Cashier B to this window scene.  I added a cement sidewalk and brick-paved street in the forefront from side-to-side… all fourteen inches! I'm not sure my brick paved road was successful here, but I kept it anyway. I like the texture it adds. I also added flowers, plants, planters and hanging baskets to the store windows for more lively looks. I love how this turned out and hope you do, too!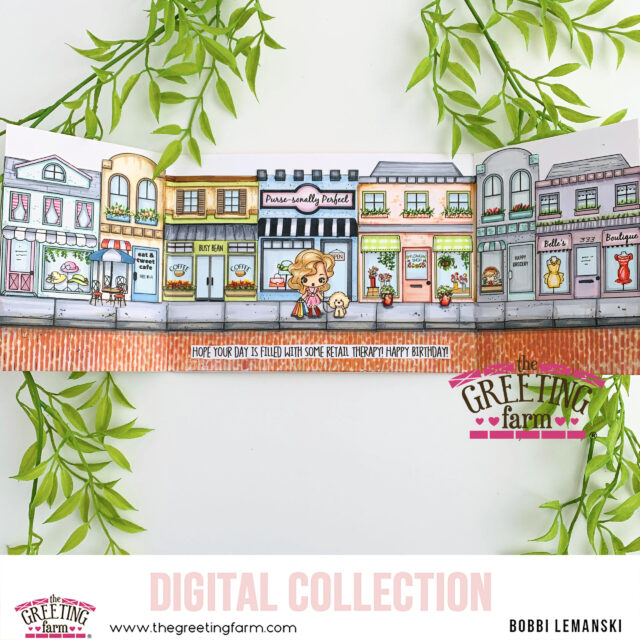 The printed out the inside sentiment using my printer and fussy cut it out and attached it to the brick-paved street.
Thanks for stopping by today. If you want to see more ideas and inspiration from me, subscribe to my blog, BobbiHartDesign.com. I'll send you updates on new posts! You can also find me on Instagram as @BobbiHartDesign and on Facebook as BobbiHartDesign. Bobbi Hartmann Lemanski, Bobbi Hart♥ Design, Adding h♥art into every design