Hi friends! I am sharing another card featuring the digital sets released this month by The Greeting Farm called Store Fronts and Cheeky Shop. I grew up in a floral shop. My parents owned one, my sister owned one and now my niece sells flowers, too! I created an exterior and interior scene for this quaint little two-story flower shop using all digitals by The Greeting Farm.
Here's seven reasons why I love digitals….
Sizing is awesome. You can combine things easily by sizing them appropriately.
Details are easy to add. No masking needed.
Transformations are easy. Erase elements on an image that don't fit your theme.
Lining elements up to created layered cards is quick and easy. Print the front and interior with a few clicks.
Create multiple prints at once or whenever you feel like it.
Adjustments are a snap. Quick and painless. No need to start over
No stamps to clean and put away!
All of these reasons are important for this card.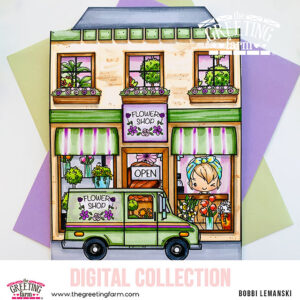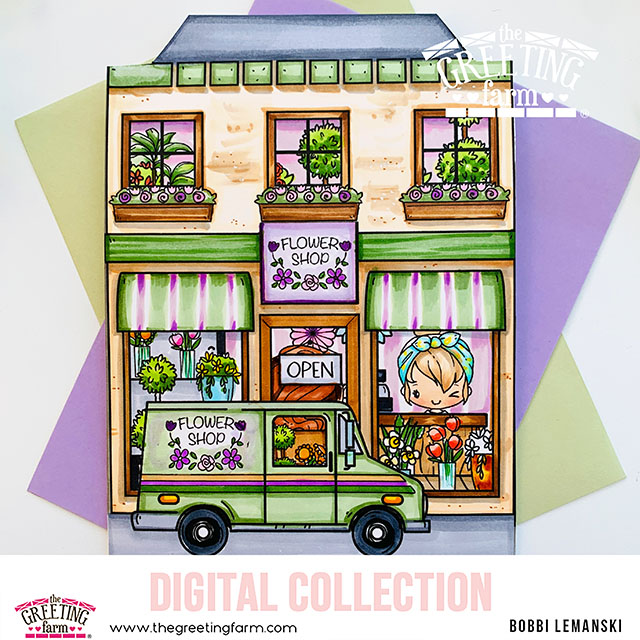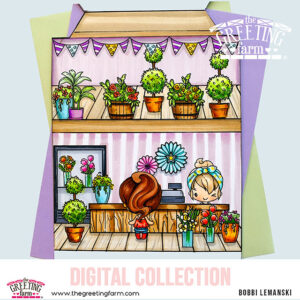 I designed this 5″ X 7″ card in Photoshop so that I could match up the card front scene and the interior shop scene allowing the florist and merchandise/plants to line up with the windows, etc. Once I had it all set up, I printed it on Neenah 80lb Solar White cardstock and colored everything using my Copic Sketch Markers. My first print included the front store, delivery truck, shop sign, etc. For my second print, I removed the outer scene layers by unclicking them so the entire interior space would print in full view. I made one adjustment and reprinted. Well, that was quick! Now I have these scenes set up in a file and I can print them whenever I feel like it!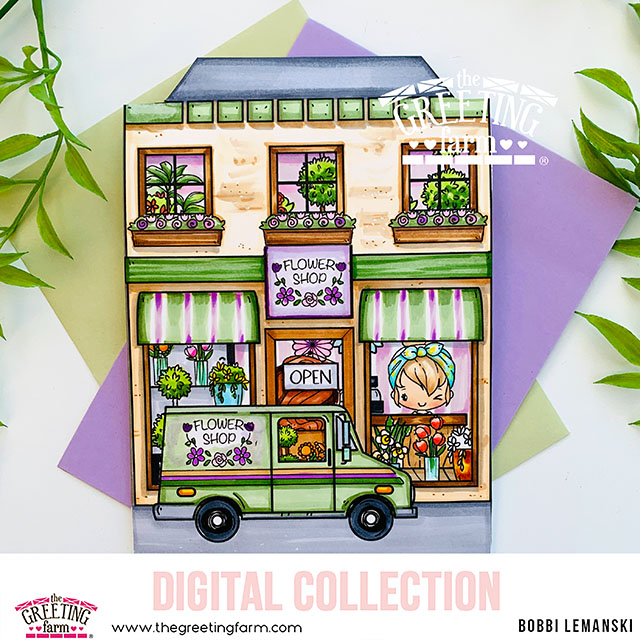 In addition to the Store Front stamp set, I also used the following digital sets to create this card. You can be creative and turn mail trucks into floral delivery vehicles and a chore girl into a sweet florist, behind the counter. Details are so easy with digital because you can add so much and not have to mask anything!
Delivery Truck – from the Postal digi set
Florist – Chore Day digi set
Customer – Backs 2 digi set
Store counter and register – Bakery Cafe digi set
Wall decor and cedar planter – July 4th digi set
Potted plants/ Topiaries – Porch digi set
Potted plant – Build a Living Room digi set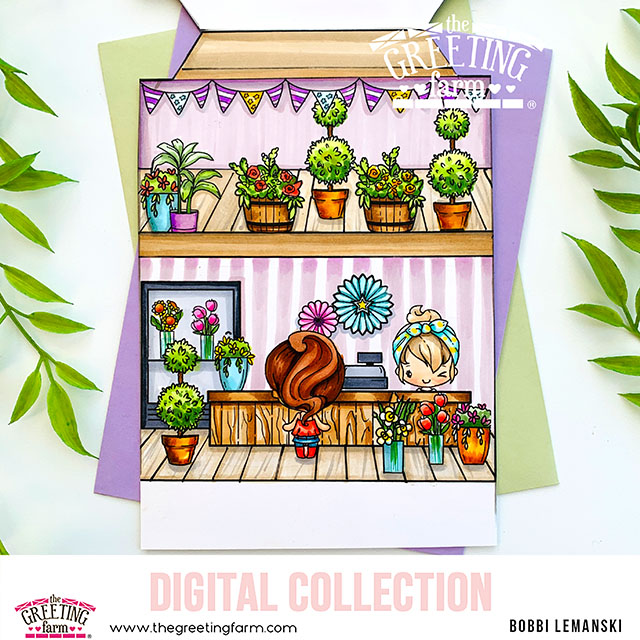 I wanted the inside to feel like a quaint shop. I added wallpaper to the background on the first floor using RV91 and RV93 for the light stripes. I also added woodgraining to the floor and counter in different woods. 🙂 Notice I used some elements from July 4th set to adorn the walls. Once you have several collections, it's fun to mix and match as needed. I keep one file on my hard drive that includes the quick "collection" sheets so that I can glance across all my TGF digitals collections for elements that will work in my scene. For example, the porch set had these cute topiaries that are interesting to look at and add warmth to the space. The register was a key item for this retail space. I found it in the bakery set.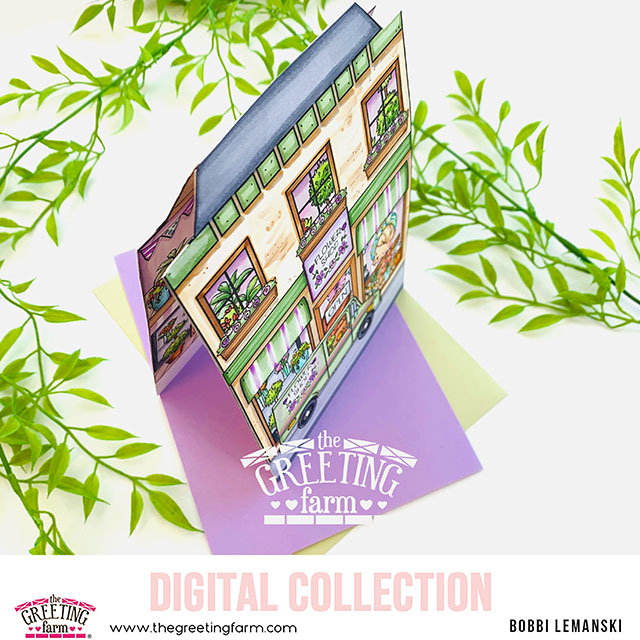 Once my front and inside scenes were colored, I backed them with Neenah Solar White cardstock to cover the Copic bleed through on the back for a clean finish. I hinged them by extending the back panel by 1/2″ and sandwiching it between the colored card front and the white backing. This works great and looks seemless. I also notched the top so that the top edge was in the shape of the roof line.
Here's a few more shots of the card…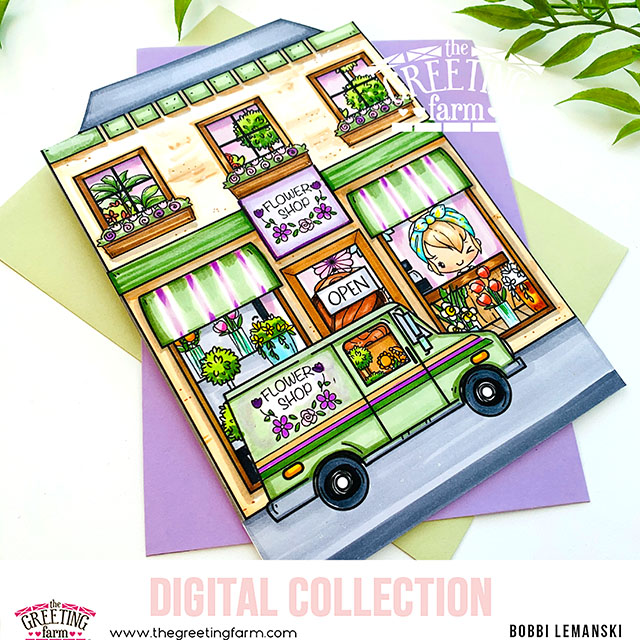 For the bottom, I created a cement look for the road in front of the store. Notice, there are plants inside the truck, waiting to be delivered!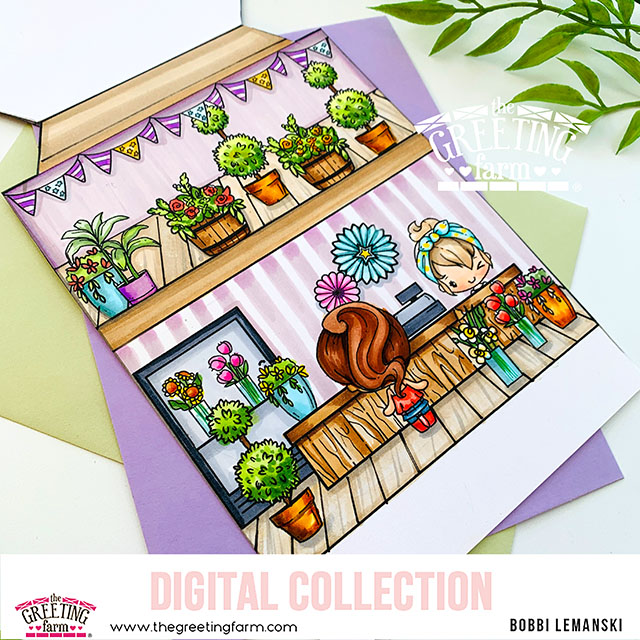 I kept some white space at the bottom to add a greeting/message to the card inside. When I'm not sure how I will be using the card, I wait and personalize before I send it.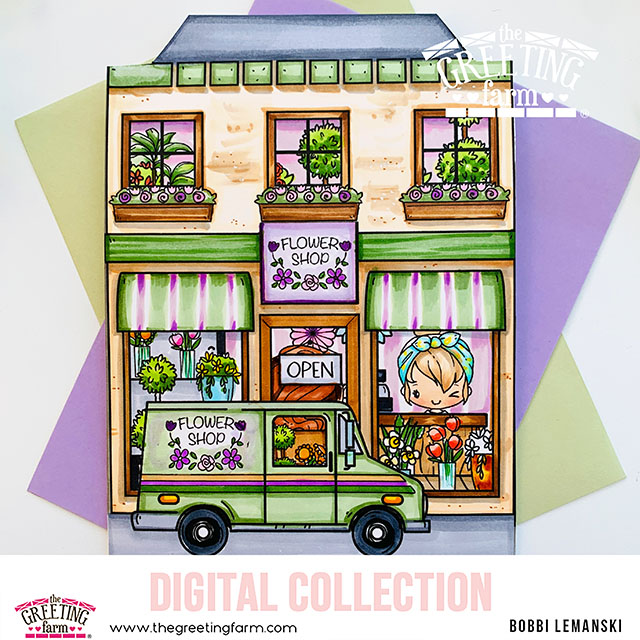 If you decide to place an order, please use my links in this post so that the companies know how you found these products I used! I appreciate it very much. It helps me to continue to bring more ideas to you!
Thanks for stopping by today. If you want to see more ideas and inspiration from me, subscribe to my blog, BobbiHartDesign.com. I'll send you updates on new posts! You can also find me on Instagram as @BobbiHartDesign and on Facebook as BobbiHartDesign.
Bobbi Hartmann Lemanski, Bobbi Hart♥ Design, Adding h♥art into every design