Time for new digis from The Greeting Farm! There's two new digi sets available beginning today that is for all you green thumb gardeners out there. I'm using the new sets: Gardening (all the elements to create a garden scene) and Gardeners (two gardeners and phrases to use with your scenes).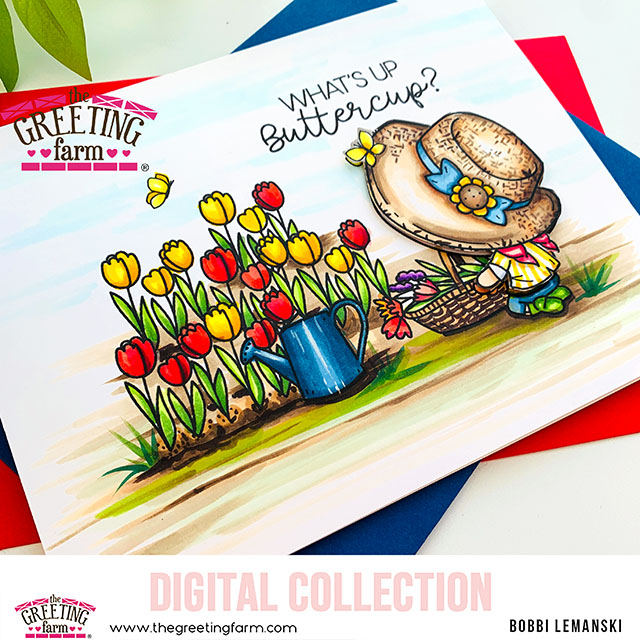 To make this 5″ X 7″ card, I started by setting up my scene in Photoshop. You can use other software to do this and The Greeting Farm blog has tutorials on it, too. Digis are great because you can size everything to fit your scene. I used the cute girl gardener with the big hat along with the basket and a bed of tulips. The water can was added to the forefront for more interest. I also positioned the phrase at the top right corner.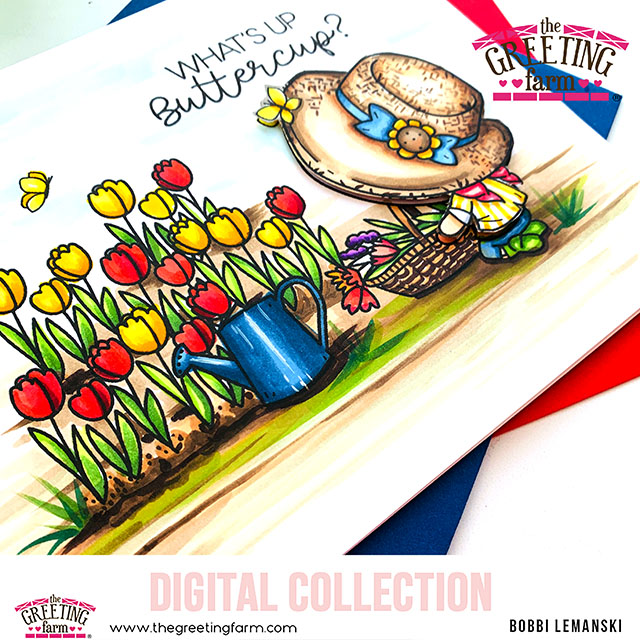 To color the scene, I used the following Copic Sketch Marker colors:
Reds: R29, R14
Yellows: Y19, Y15, Y06
Blues: B39, B45, B41, B21, B00, BG000
Browns: E50, E53, E55, E57, E59, E43
Yellow-Greens: YG17, YG03, YG00
I added a top-layer butterfly to the hat so that I could make it stand out a bit on the front. You can see the original layer wings below it in the photo above. I also added texture to the hat by adding some cross hatching to the image. I kept one portion of the sun hat's brim area clean and very light for a highlight. I added highlight marks on the curved water can using a Uni-bell Signo White Gel Pen.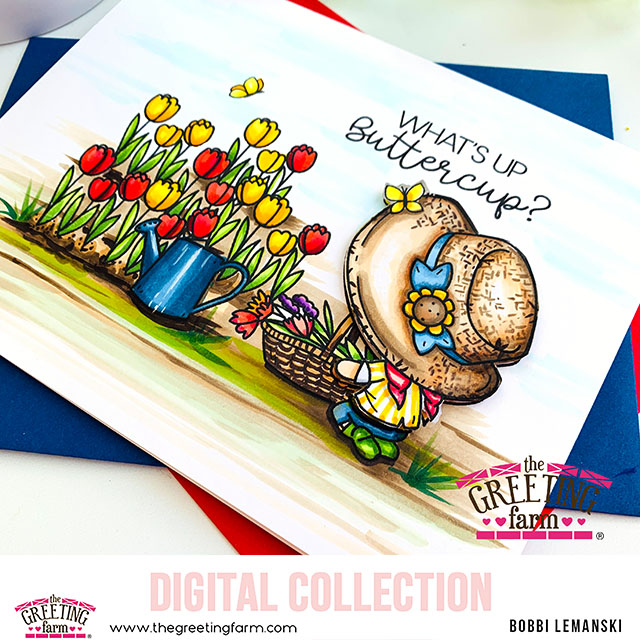 A landscape was drawn and colored in around the bed of tulips and gardener to ground the images and connect them together in one scene. I used the BG000 to add light clouds in the sky to finish the scene. The card front panel was attached to a white card base to finish this greeting card.
If you decide to place an order, please use my links in this post so that The Greeting Farm knows what inspired you. I appreciate it very much. It helps me to continue to bring more ideas to you! You can shop here.
Thanks for stopping by today. If you want to see more ideas and inspiration from me, subscribe to my blog, BobbiHartDesign.com. I'll send you updates on new posts! You can also find me on Instagram as @BobbiHartDesign and on Facebook as BobbiHartDesign.
Bobbi Hartmann Lemanski, Bobbi Hart♥ Design, Adding h♥art into every design