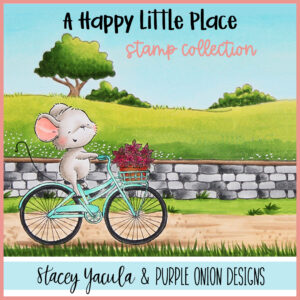 I am thrilled beyond measure to be guest designing for Purple Onion Designs for its latest release, "A Happy Little Place." I absolutely adore the Onion's products including the Stacey Yacula collections. Today, Purple Onion Designs released the new "A Happy Little Place," a 21 stamp collection by Stacey Yacula. The company also released "The Around the Town Sentiment" set, too. The entire collection is available for $105.00 which is a 30% discount. This special bundle price is available through Friday, May 14, 2021. I will be designing several cards in May using the new release products.
My card today features the following images from the Happy Little Place collection: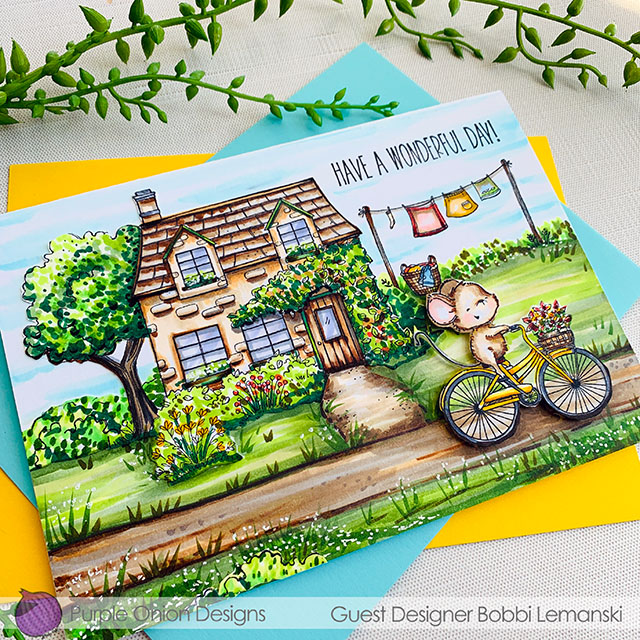 My card measures 5″ X 7″ in size. I used Neenah 80lb cardstock for the card base and the front panel. I always stamp and color on a front panel and then attach it to the card base at the end so that any Copic bleeding is concealed and the inside of the card is nice and white. I used Copic Sketch markers to color the images and create the scene. Here's a list of the colors I used:
Browns: E43, E44, E50, E51, E53, E55, E57, and E59 (cottage, roof, road, mouse, tree)
Greens: YG00, YG01, YG03, YG 61, YG63, YG67, YG91 and G09 (trees, bushes, grasses, flowers)
Reds: R14, R9 (flowers, laundry)
Yellows: Y2, Y26, Y21, Y19 (bike, flowers)
Warm Grays: W1 W3, W7, W9 (road, sidewalk to cottage, tree trunk)
Blues: BG0000, BG000, B00, B21, B45 (sky, laundry)
I stamped all of the images on the card front except for Ana and planned out a road to the front for Ana's country ride on her bike. Then I got busy coloring… lots of coloring!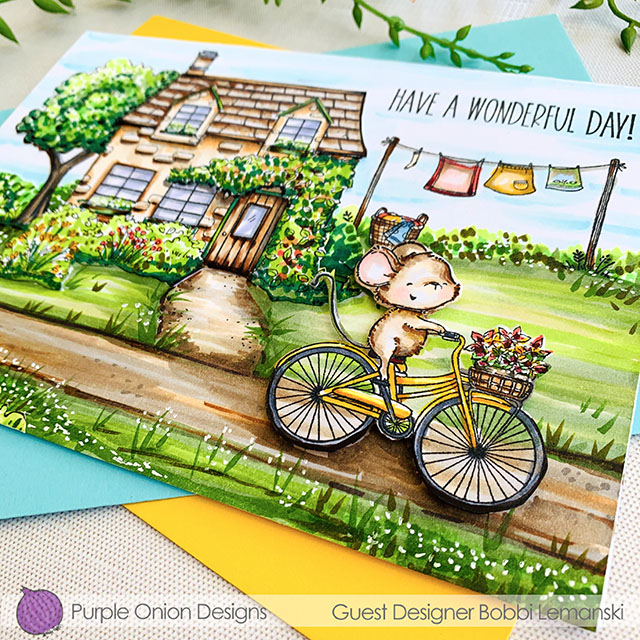 Ana on the bike was stamped on a separate piece of cardstock and fussy cut out. I attached her to the scene using Scrapbook Adhesives White Foam Squares to make her pop out of the scene a bit. Isn't she the cutest?! I love her bike and just had to make it yellow, the color of my corvette. 🙂 I stamped the phrase from the The Around the Town Sentiment stamp set in the upper right corner and finished out my card with some clouds in the sky. I love how sweet this turned out. It's such a sweet scene with these adorable images! Did I tell you how much I love Stacey's illustration style?! There are sooo many fun elements to this collection. I will be sharing more cards soon using other elements from the collection. I can't wait to share!
If you decide to place an order, please use my links in this post so that Purple Onion Designs knows what inspired you. I appreciate it very much. It helps me to continue to bring more ideas to you!
Thanks for stopping by today. If you want to see more ideas and inspiration from me, subscribe to my blog, BobbiHartDesign.com. I'll send you updates on new posts! You can also find me on Instagram as @BobbiHartDesign and on Facebook as BobbiHartDesign.
Bobbi Hartmann Lemanski, Bobbi Hart♥ Design, Adding h♥art into every design