Hi friends! I have one more card for this month to share that uses the April Gardening and Gardener digital sets by The Greeting Farm. I used Photoshop to set up my scene and everything was colored using Copic Markers and then I splashed on watercolors in black and gold to create the splotchy look. I listed the Copic marker colors I used below.
New Home Card
I thought it would be fun to create a "new home congratulations" card using these digis. I always have a niece or nephew that is buying or building a home and this one will definitely get used soon! I added phrases using Photoshop and two fonts I had on my laptop. This card is a 5″ X 7″ A7 card size and lays flat for mailing.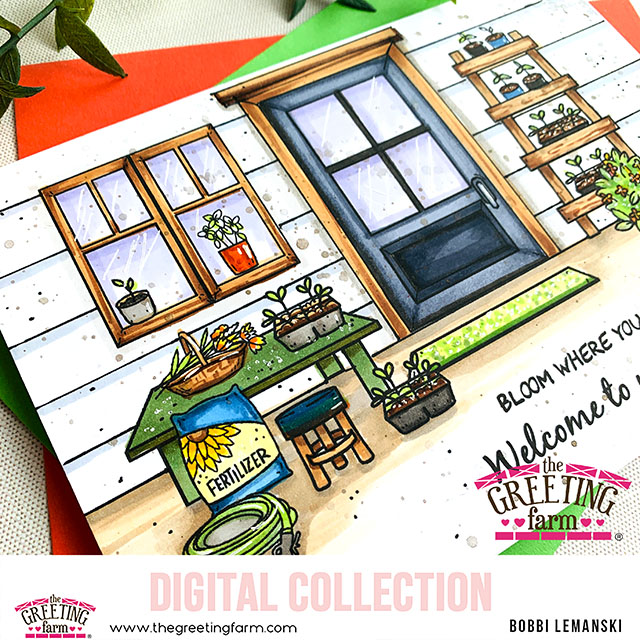 First, I printed my scene on Neenah 80lb cardstock and used a ruler and marker to create the siding on the house, behind all of my elements. I wanted this to look like it was the back porch with a door and windows to the home, off a wood deck platform or covered porch. A potting bench/table sits up along the back of the house as well as a stool and potting essentials. Fresh cut flowers are laying in a wicker basket ready to take inside to arrange into a table centerpiece. The table and bench are from the digi set, Build-A-Kitchen digi set and the door and windows are from the Porch digi set.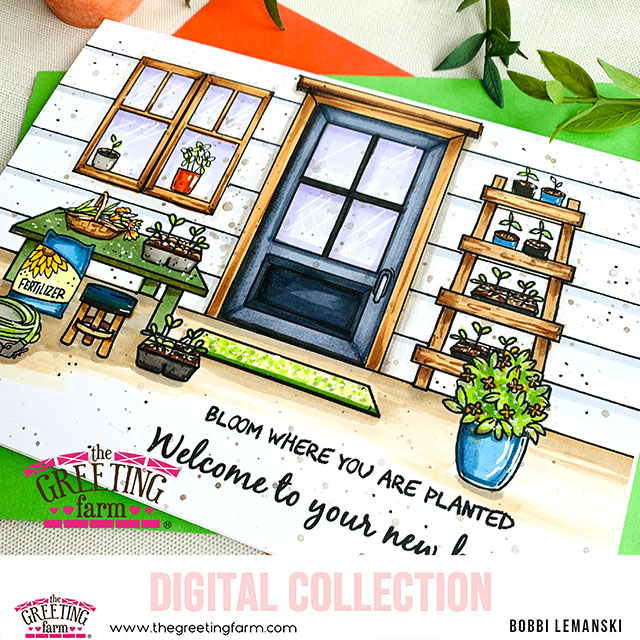 To the right of the door is a shelving unit with seedlings that are sprouting as well as a potted flowering planter. I added a wood-looking floor to ground the scene. This could be deck boards of the back porch. Here are the colors I used to color this scene:
Wood decking and wood moldings/trim: E59, E57, E55, E43
Plants/hose/doormat: YG67, YG03, YG00
Potting bench: YG99, YG67, YG63, YG61
Stool: E57, E55, B99, white gel pen
Planters: B99, B45, B41, B21, white gel pen
Window planter: YR27, YRo4, R14, white gel pen
Seedling pots and dirt: W9, W7, W5, E59, E57, white gel pen
Siding: C3, C1
Back door: C9, C7, C5, C3,
Windows: C3, C1, BV000, BV00, white gel pen
Basket: E59, E57, E55
Flower Buds: YR68, Y19
Fertilizer bag: B99, B45, B41, Y19, Y15, E55, E43
If you decide to place an order, please use my links in this post so that The Greeting Farm knows what inspired you. I appreciate it very much. It helps me to continue to bring more ideas to you!
Thanks for stopping by today. If you want to see more ideas and inspiration from me, subscribe to my blog, BobbiHartDesign.com. I'll send you updates on new posts! You can also find me on Instagram as @BobbiHartDesign and on Facebook as BobbiHartDesign. Bobbi Hartmann Lemanski, Bobbi Hart♥ Design, Adding h♥art into every design