Hello Sunny Studio Stamps friends. It's Bobbi Lemanski with a colorful card set in the ocean. I'm using the new Fintastic Friends stamp and dies by Sunny Studio Stamps. This set contains lots of fin friends and ocean extras that work so well together. For my card today, I did a simple scene set on the ocean floor. It's a good way to show so many of the cute elements in this set. I also added a few images from a coordinating set called, Ocean View.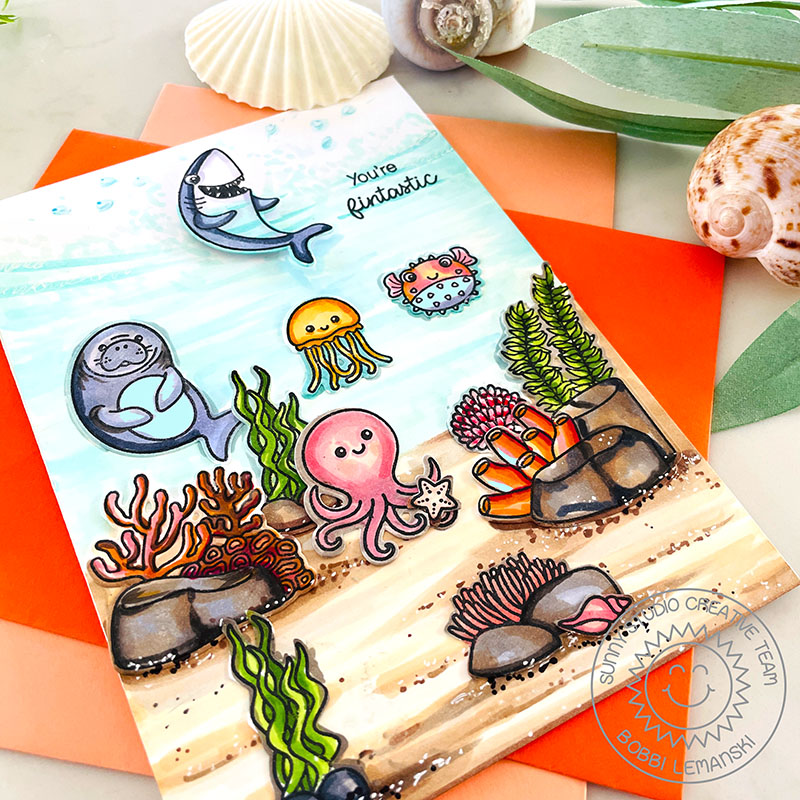 To make this 5″ X 7″ card, I stamped, colored and die cut all most of the elements in the Fintastic Friends set. I also included the two larger rock/foliage images from Ocean View. Before adding them to my card front, I colored in a sand floor to anchor the elements on the deep ocean base. Here's the colors I used to color the background and images:
Floor: E47, E44, E43, E42, E53, E50, W2
Water: BG23, BG11, Bg10, B02, B00, B000
Rocks: E47, E44, E43, W6, W4, W3, C3, C1
Foliage: YG67, YG17, YG03
Shells, Coral: YR27, YR24, R22, R20, E47
Octopus: RV95, RV93, R22, R20, BV000
Shark and Manatee: BV29, BV23, BV000, BG10 and BG11
Other fin friends: YR24, Y19, Y08, BG11, BV000, RV83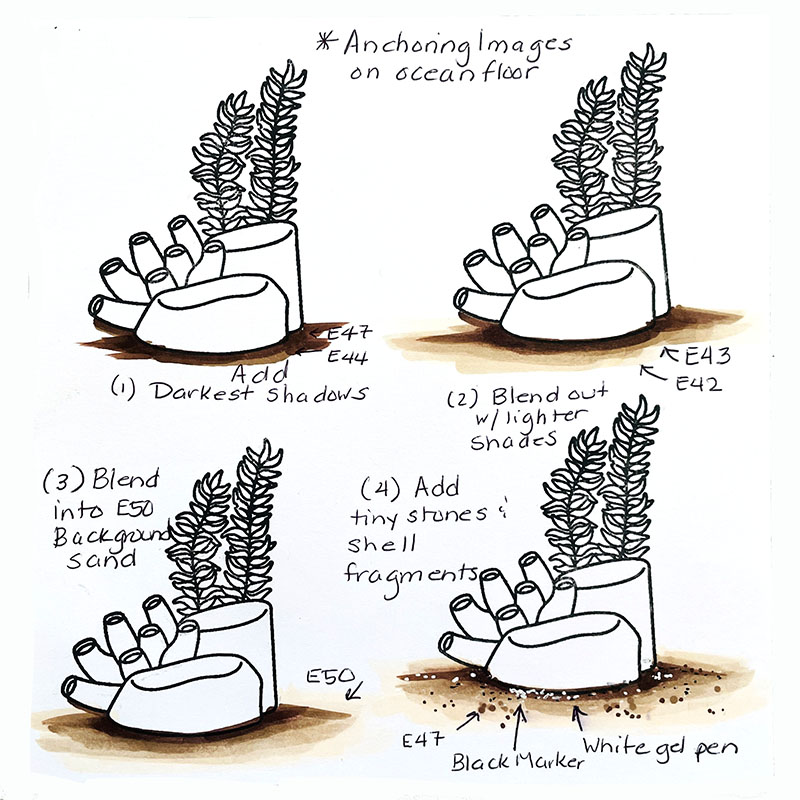 Just a few quick TIPS for the background design:
For the floor, I like to make it appear bumpy, not perfect. You can achieve the look by adding in darker shadows /thicker lines to create dips in the sand. It also helps to anchor the elements using the darker colors around the rocks and foliage bases. Here's a step-by-step process I use to do this. Once I finish step 4, I often will go back over with my darkest shade (E47) and deepen that line again.
I like to use my fine-tip black marker in brown and black and my white gel pen to create the specks in the sand. Tiny stones, bits of shell and other fragments help create an interesting sandy bottom. It's also a good way to fix a speck/smudge at times, too. 🙂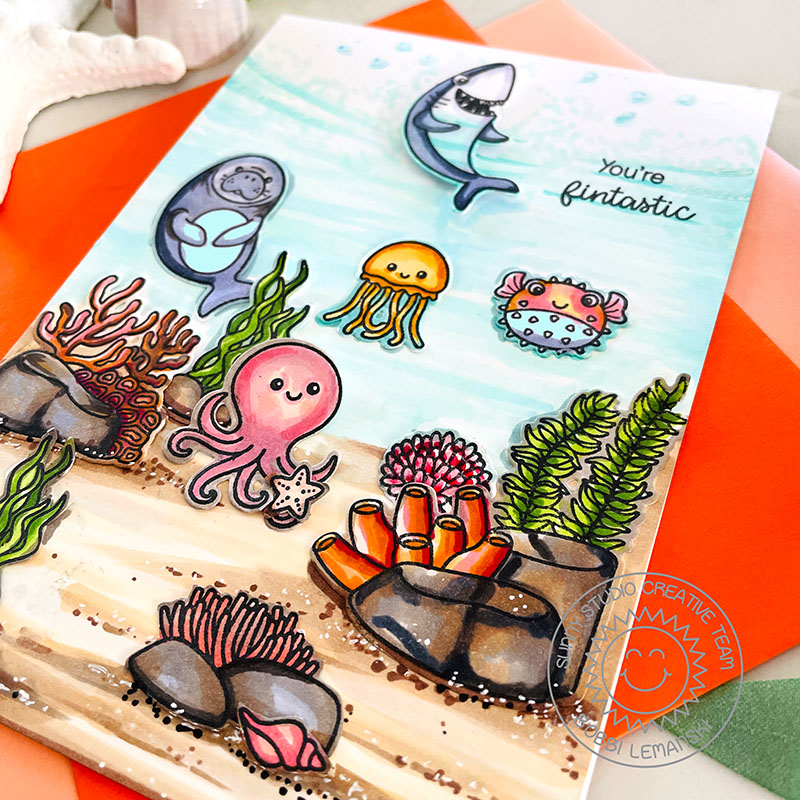 I did a swoop of the blue-greens at the top for the shark to pop through. The swoop defines the water line. I find these scenes a bit harder because, you really should have a water color cast over all the elements UNDER the water line. Instead, I just colored in the whites of the blowfish, shark and manatee to give the appearance of under the water. I think it works without having to have a blue green cast on the entire scene.
To create some "action" at the top, I added water droplets in the sky as if the shark was creating quite a splash.
To finish my card, I stamped the phrase, "You're fintastic" by the shark. I think this guy is pretty fantastic so it works! I also like this phrase because it can be used to congratulate, celebrate or just say, "I'm thinking of you today." It works for so many needs.
Thanks for stopping by today. If you want to see more ideas and inspiration from me, subscribe to my blog, BobbiHartDesign.com. I'll send you updates on new posts! You can also find me on Instagram as @BobbiHartDesign and on Facebook as BobbiHartDesign.