Hello crafters! I'm excited to share that I am guest designing for Papertrey Ink this month. The April release is filled with lots of fun Dad stamps and dies for the men in our lives. My husband has a June birthday and we also will celebrate Father's Day for him and his dad (Grandpa) so I was really happy to make cards for the dads I know!  Here is a card I made using these Papertrey Ink's April Release products. Look for more coming to my blog soon!
Papertrey Ink's April Release products:
A Little Rugged stamp set and coordinating dies
Just for Dad mini stamp set and coordinating dies
Tuck It: Dad Stamp Set and coordinating dies
Just Sentiments: In Motion Mini Stamp set
Larger Than Life: Dad Mini Stamp Set
Dad's Ties Card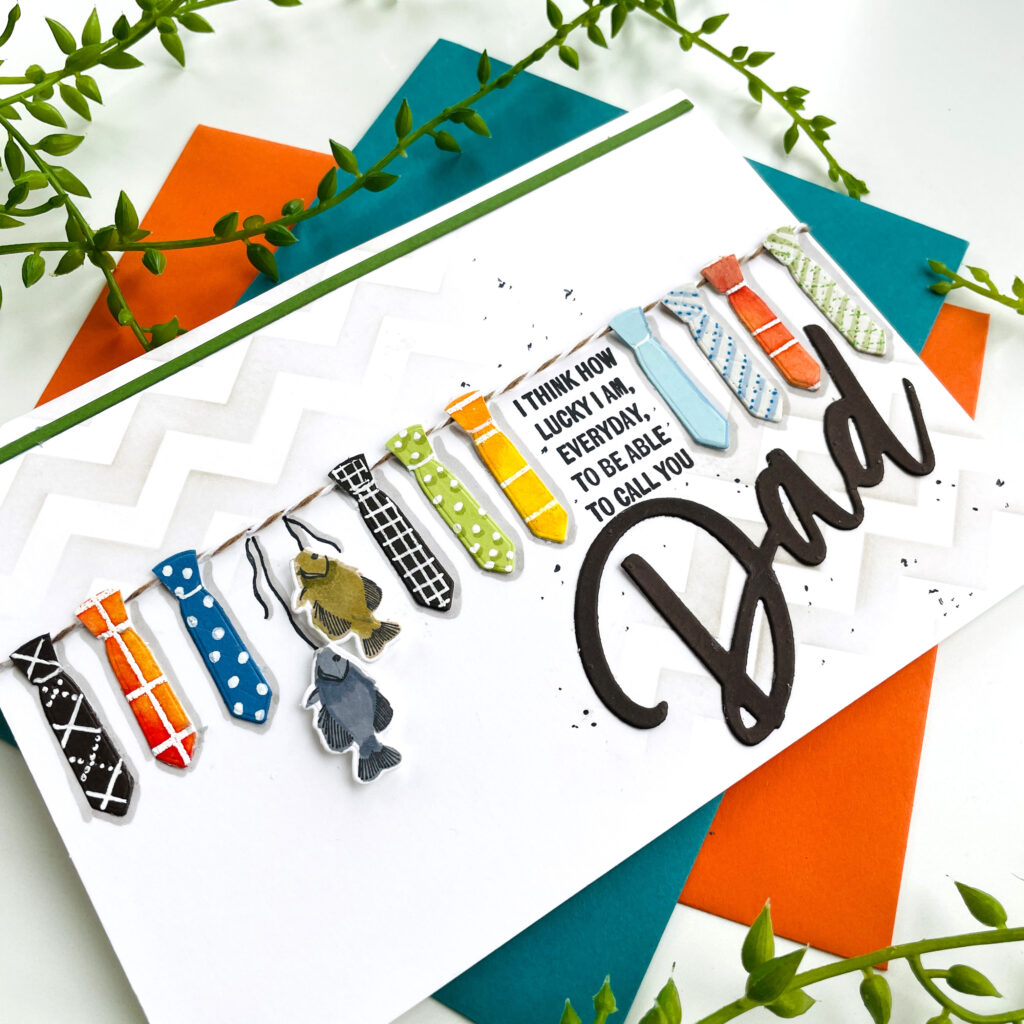 To make this 5″ X 7″ landscaped oriented card, I cut 12 ties using just the die in the Just For Dad die set.  With just two quick snips at the top of the die cut, I made the tie shape into a "tied tie" shape. I die cut the shape out of many different scraps I had and added white gel pen for some fine detailing like argyle pattern. For some reason, I thought it would be funny to add two fish to the lineup. I stamped them (2-step stamping) and die cut them using the coordinating die.
The ties were attached to baker's twine line that I stretched across the middle and taped to the back of the front panel. I attached the fish using foam dots to make them stand out a bit more and hand drew line to them. I left room to stamp the phrase in between the ties and left enough space for the scripted "Dad" die to fit underneath.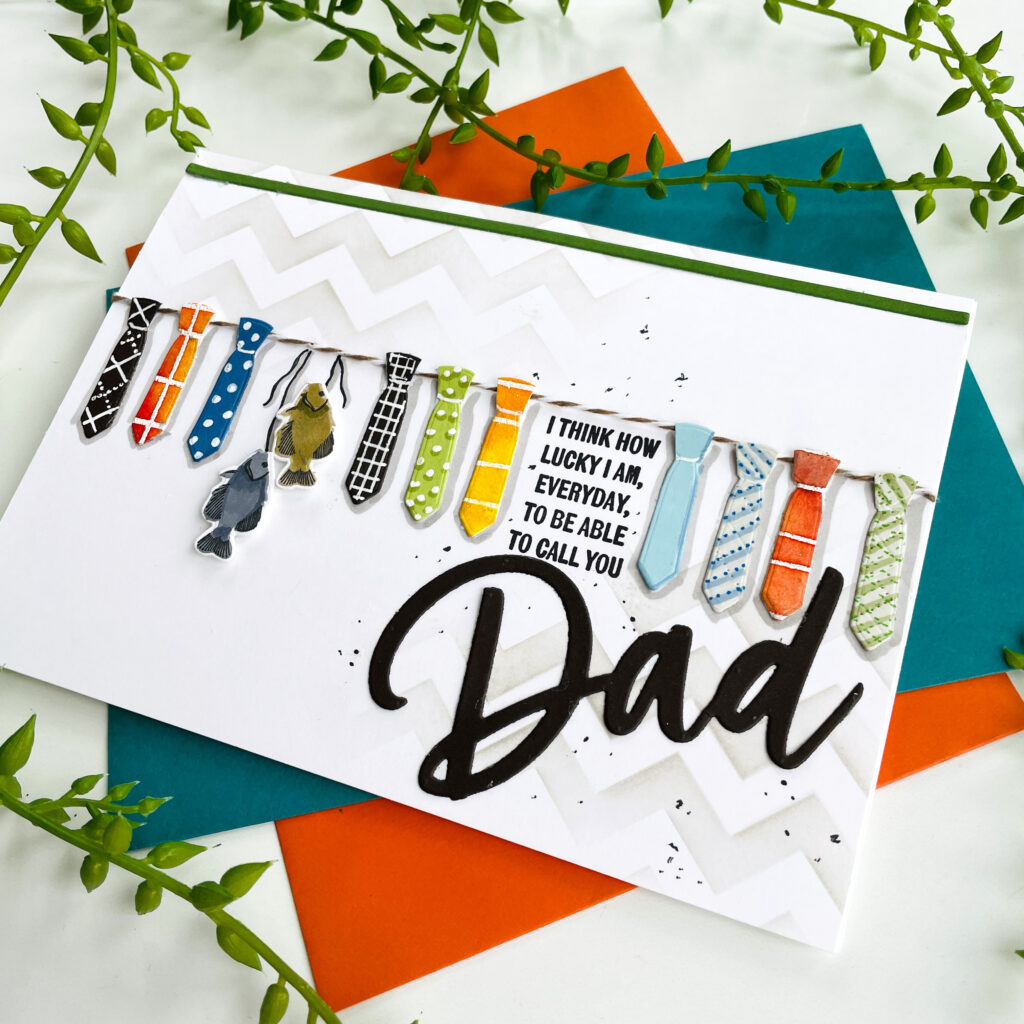 I added some chevron pattern to the left top and bottom right of the front panel using a very warm gray ink. I used my black marker to add specks of black over it. I attached the "Dad" word in a dark brown color over it. I added a 1/8″ strip of a darker green at the top. It will match with the green stripes inside the card. I set aside the front panel to work on the card base next.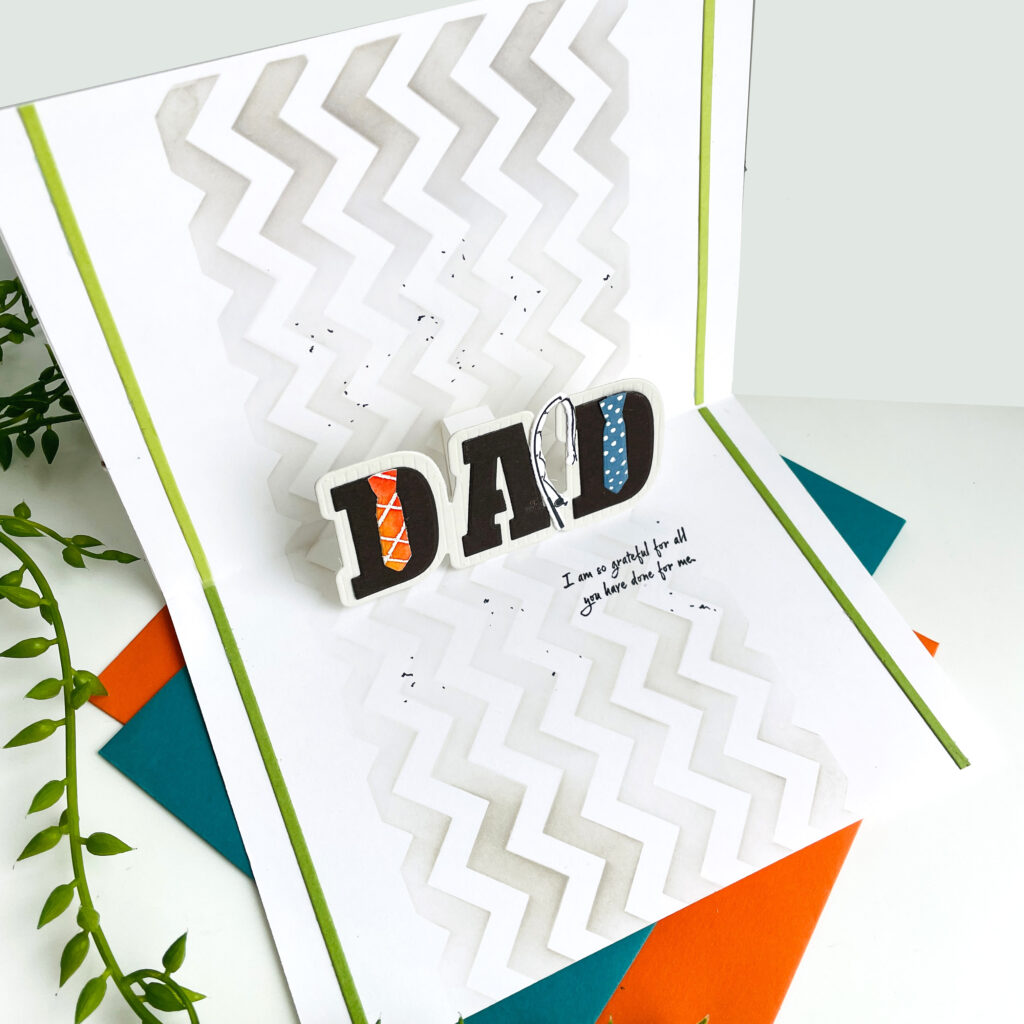 On the inside of the card base (measuring 10″ long X 7″ wide), I stenciled the chevron pattern before creasing the center fold of the card base. I made a pop-up featuring using a 1/2″ X 5″ strip of white cardstock. I scored it every 1″ to make a 1″ square box and attached it to both panels inside, centered, width wise. Before adding the "DAD" pop up feature, I stamped the phrase from the set, Just Sentiments: In Motion Mini Stamp set. Next, I cut and added the DAD letters and shadow die cut to the box and added a couple more ties and a fishing pole using the set, Just for Dad mini stamp set and coordinating dies. I added the green 1/8″ stripes down the sides for added interest, cutting them at the crease for an easier fold.
You can shop the entire April release at Papertrey Ink here. If you decide to place an order, please use the links in this post so that Papertrey Ink knows which ideas inspired you!
Thanks for stopping by today. If you want to see more ideas and inspiration from me, subscribe to my blog, BobbiHartDesign.com. I'll send you updates on new posts! You can also find me on Instagram as @BobbiHartDesign and on Facebook as BobbiHartDesign.