Grab your colored pencils. The latest Newton's Nook Designs Inky Paws Challenge is all about coloring with pencils! I have to admit, I rarely reach for my colored pencil sets. I'm a Copic Sketch Marker girl. I much prefer the markers so this was quite a challenge for me. I took a step back and asked myself, "when do I think pencils look best?" For me, I love that the color sits on the cardstock v. soaks in like a marker. You can achieve beautiful colors even on dark cardstock.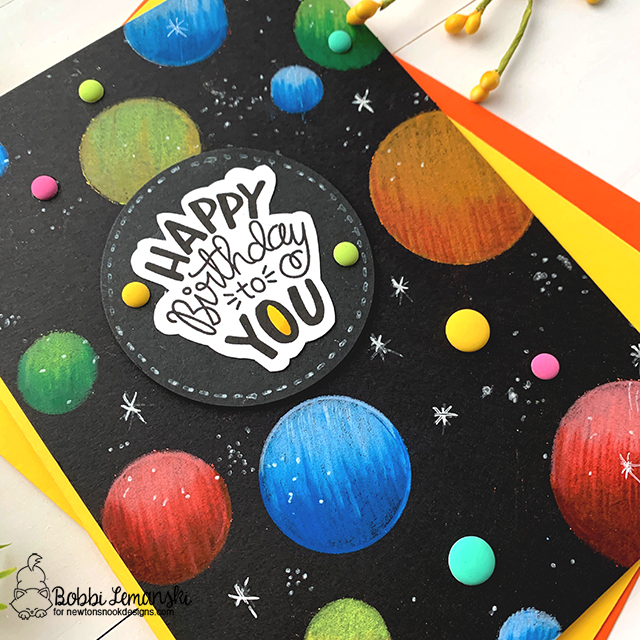 To create this card, I used the fabulous Bokeh Stencil Set and Uplifting Wishes stamp set from Newton's Nook. I simply taped down my stencil over my card front and colored away. I used up to three shades of a color set allowing each one to blend with the others. Going from the darkest shade in the bottom left corner to lightest shade in the top right corner I colored in various Bokeh Circles on the stencil. I did not use every circle on the stencil. I just picked ones that would look balanced on the page and show off nice color. Next, I added white dots and small stars using my Signo Uni-ball white pen around the large circles. Some fun color dots were added. Lastly, I stamped, fussy cut and added the phrase from Uplifting Wishes to a black punched-out circle and attached the circle to the center of the card front using dimensional foam. I added a line of white stitches around the circle to create a border for the phrase and some coordinating enamel dots for more dimension and bling.  This is a 5″ X 7″ card and is really super easy to create.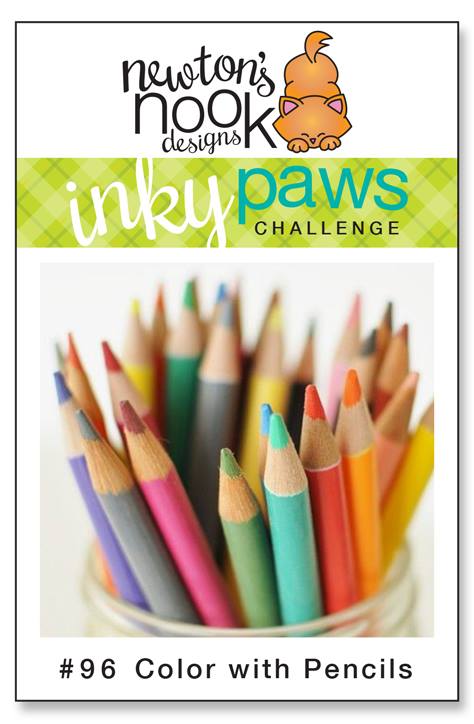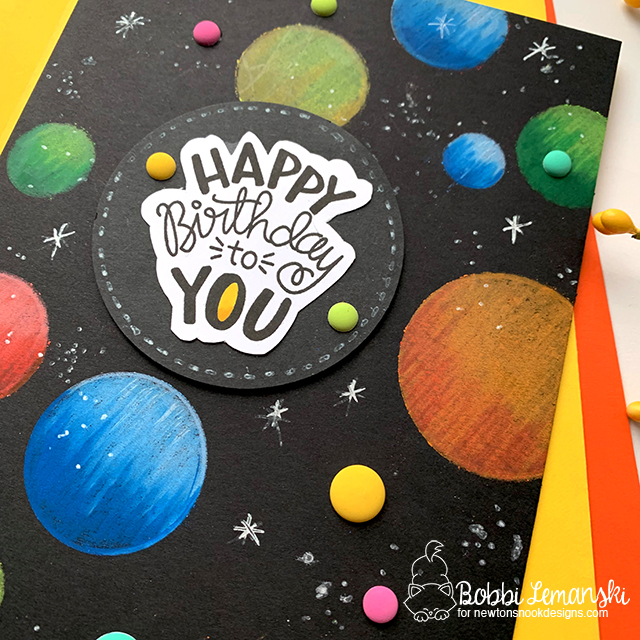 Now for the challenge…Details are available at Inky Paws Challenge. Link your card by Friday, 5/3 for a chance to win store credit at Newton's Nook. All you need to do is use Newton's Nook products and colored pencils for this challenge. That's it! Join us by linking your card. We can't wait to see what you create! 
Thanks for visiting!  Have a colorful day!
Adding h♥art into every design
Bobbi ♥ Design