Hey there! I'm cookin' up something cute with the latest release set, "Chef Trolls" by Craftin' Desert Divas. This set is part of the Diva's April, 2019 release.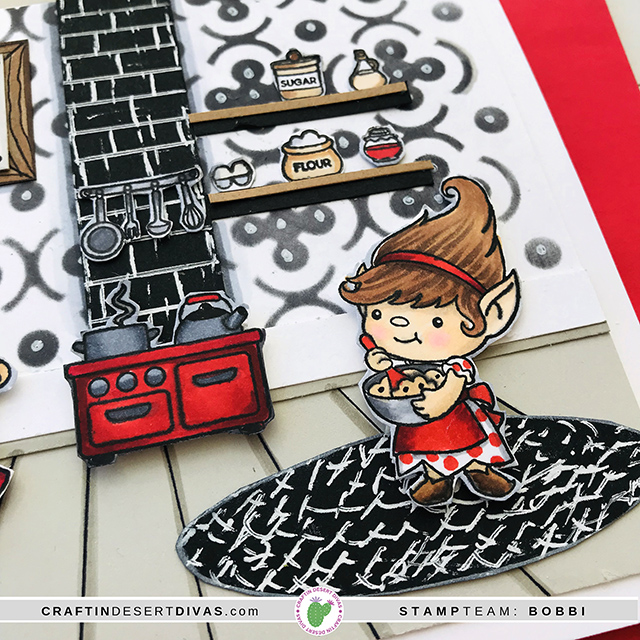 I created this scene by adding a few items to complement the images in the set. First, I added a wood floor by adding lines (one-point perspective) for the wood planks. The chimney was created by hand drawing a few brick mortar lines with my Signo Uni-ball White Pen on a strip of black cardstock. I cut strips of black to create a few shelves on the wall, off the chimney. The black rug is just a punched out black oval with white lines added to create a circular braided design on it.
Now for the fun, I used images from the set for the stove, the stove rack, bakery items on the shelves and the characters. How cute are these little bakers? Images were "popped" up using dimensional foam, too. There is so much detail in the CDD designs that it makes it fun to look around the kitchen!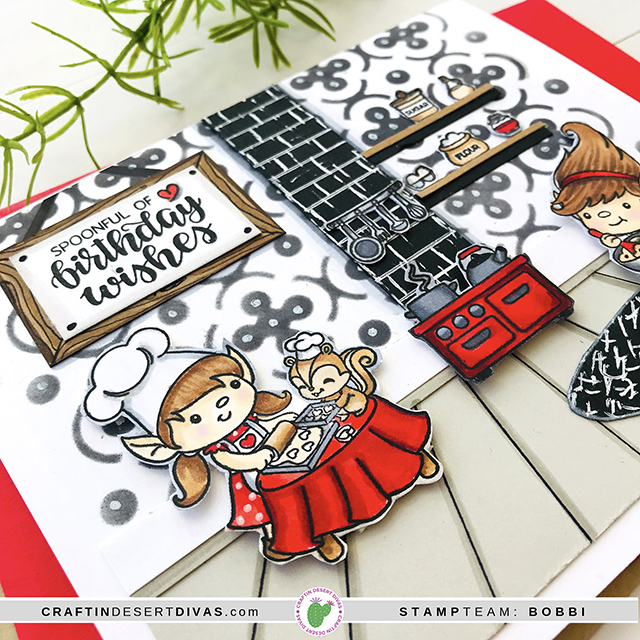 I used the newest stencil design (part of the April release) for the wallpaper in the kitchen, too. The stencil is called Moroccan Stencil  using black ink on white cardstock. I think it looks like an old kitchen or Italian eatery. I also added a framed print to the wall using a phrase from the set and a little hand drawn woodgrain frame. 🙂 
Thanks for visiting!  Hope you have something fun cookin' today! 
Adding h♥art into every design
Bobbi ♥ Design